Topic Page: Zuckerberg, Mark (1984 - )

Summary Article: Zuckerberg, Mark
From Encyclopedia of Social Media and Politics
Cofounder, chairman, and CEO of Facebook, Mark Elliot Zuckerberg was born May 14, 1984, to Edward and Karen Zuckerberg in White Plains, New York. Both parents were well-educated. His father is a practicing dentist, and his mother is a licensed psychiatrist. The couple had four children—Mark, Randi, Donna, and Arielle. Although several sources report that Zuckerberg characterizes himself as an atheist, he was raised Jewish. Growing up in a Jewish family, Zuckerberg celebrated his Star Wars–themed bar mitzvah at Temple Beth Abraham under Rabbi David Holtz. The Greenburgh Daily Voice reported that Zuckerberg was a typical kid in the 1990s, enjoying extracurricular activities at Ardsley Middle School, including cross-country and fencing. Zuckerberg's Facebook timeline reports that he attended Ardsley High School for two years before transferring and graduating from Phillips Exeter Academy.
In his early adolescence, Zuckerberg enjoyed tinkering with computers and writing software. His father taught him some skills of programming early on, until he hired David Newman to tutor his son. Newman later told reporters that Zuckerberg was a prodigy. While his peers were playing computer games, Zuckerberg was creating computer software programs. Among his first software programs was ZuckNet, which allowed users to message each other. Many claim that his father was his first client, using the program in his dental practice. He also built Synapse Media Player, a program that would monitor user's listening habits and in turn recommend music based on what the user liked. He was approached by Microsoft to purchase the entity, but declined.
In 2002, Zuckerberg enrolled at Harvard University to major in psychology and computer science. In his second year at Harvard, Zuckerberg created two different software programs. The first was called CourseMatch, and aimed to help students make class selections and form study groups. The second was called Facemash, a program that allowed students to self-select the best looking person from photos. Journalist Nicholas Carlson notes, "Mark got in trouble for creating it. The way the site worked was that it pulled photos of Harvard students off Harvard's Web sites. It rearranged these photos so that when people visited Facemash.com they would see pictures of two Harvard students and be asked to vote on which was more attractive." Although Zuckerberg was disciplined, he was not expelled from the school.
Although controversy exists over how the idea came about, Zuckerberg is most known for his creation of the Web site Facebook. Some argue that Harvard seniors Cameron Winklevoss, Tyler Winklevoss, and Divya Narendra generated the idea for the social network HarvardConnections.com, and asked Zuckerberg to join their team and create the coding for the program. The three filed a lawsuit against Zuckerberg for stealing their idea. In April 2008, they were awarded $20 million cash and $45 million in stock in a settlement. In April 2011, the Winklevoss twin brothers appealed the case in the 9th U.S. Circuit Court of Appeals, but were denied an overturn of the initial lower court's ruling.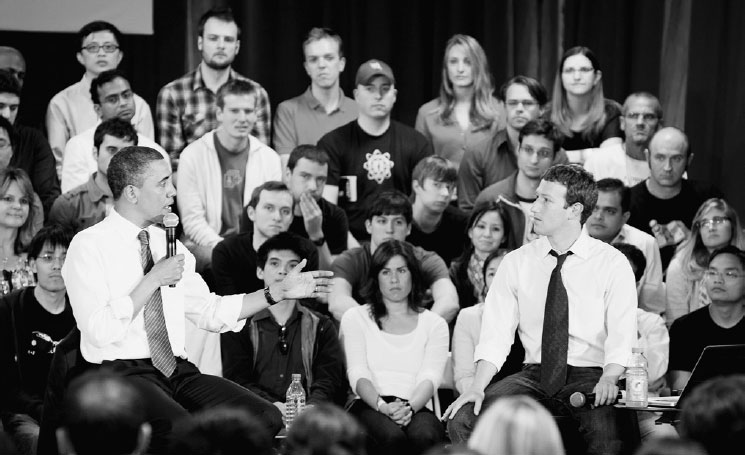 Facebook
Started in Zuckerberg's Harvard dorm room in February 2004, thefacebook.com was originally only for use by Harvard students. Pulling in his Harvard friends Chris Hughes, Eduardo Saverin, and Dustin Moskovitz, the four expanded the site to include other Ivy League schools, and then expanded to other university, high school, and international campuses. The domain name, Facebook.com, was reportedly purchased for $200,000. In 2006 Facebook exploded, and was opened to anyone 13 years and older with an e-mail address. Headquartered in Menlo Park, California, Facebook's newsroom reports that 4,600 employees currently work for the company. It also boasts that as of October 2012, more than 1 billion people were active on Facebook, with 618 million daily active users.
Zuckerberg Ties the Knot
On May 19, 2012, Zuckerberg married Priscilla Chan in a small backyard ceremony at Zuckerberg's Palo Alto home. He told the rest of the world by simply updating his Facebook status to "married." According to People magazine, Chan and Zuckerberg met in college at a fraternity party, as both attended Harvard. According to her Facebook page, Chan is a native of Braintree, Massachusetts, and went to Quincy High School, graduating in 2003. A biology major, Chan graduated in 2007 from Harvard University. After a brief stint teaching middle-school children, Chan continued her education, and in 2012, she graduated from the University of California, San Francisco medical school.
Political Activism
In September 2011, Zuckerberg's Facebook company created a political action committee (PAC) to focus on the election cycle and lobby for support regarding privacy and patents. Facebook had been trying to raise its profile in Washington, D.C., since the hiring of Chief Operating Officer Sheryl Sandberg in 2008. CNN Money reported in October 2012 that Facebook's PAC had raised a great deal of money. Although the company's employees heavily favor Democrats through their personal contributions, the social media company awarded Republicans $13,000 more than Democrats through the end of September 2012.
In April 2013, Zuckerberg, along with well-known leaders in the technology community, unveiled a new bipartisan political advocacy group Fwd.us. According to Evelyn Rusli in a Wall Street Journal article, Zuckerberg highlighted three priorities for the group:
Comprehensive immigration reform that provides a clear path to citizenship; education reform to press for higher standards in schools and a "much greater focus" on math and sciences; and increased investment for scientific research.
Zuckerberg and his wife have also participated in political fundraising. In February 2013, the couple held a fundraising event at their home in Palo Alto for New Jersey Governor Chris Christie's re-election.
Philanthropy
In March 2013, Mark Zukerberg's net worth was reported by Forbes as $13.3 billion. The Chronicle of Philanthropy listed Zuckerberg and his wife as the second-largest charitable donors in the United States for 2012. Zuckerberg is one of the American billionaires who have committed at least half of their wealth to charity during their lifetimes through a philanthropic campaign called the Giving Pledge. Leaders and U.S. billionaires Warren Buffett and Bill Gates launched the campaign in 2010. During the holiday season of 2012, Zuckerberg gifted 18 million Facebook shares to the Silicon Valley Community Foundation for education initiatives that were worth nearly $500 million.
See Also: Evolution of Social Media; Facebook; Pioneers in Social Media and Politics; Social Media, Adoption of; Social Networking Web Sites; World Wide Web, History of the

Full text Article

Why Facebook is the reason fake news is here to stay
The bitter truth buried in recent headlines about how the political consulting company – Cambridge Analytica – used social media and messaging, primarily Facebook and WhatsApp, to try to sway voters in presidential elections in the US and Kenya is simply this: Facebook is the reason why fake news is…
continue
Related Articles
---
Dictionary of Media and Communication Studies
One of the outstandingly successful social networks, with millions of subscribers, exponentially growing, its key feature being the gathering of 'fr
The Hutchinson Unabridged Encyclopedia with Atlas and Weather Guide
US Internet social media entrepreneur, founder and chief executive office of Facebook from 2004. As a Harvard University psychology and computer scie
The Columbia Encyclopedia
1984–, American computer programmer and business executive, b. Dobbs Ferry, N.Y. A computer prodigy as a child, he entered Harvard in 2002 and two y
See more from Credo