Topic Page: Yalow, Rosalyn S. (Rosalyn Sussman), 1921-2011
---
Definition: Yalow from Merriam-Webster's Collegiate(R) Dictionary
---

Summary Article: Yalow, Rosalyn Sussman
from American Women of Science since 1900
b. 1921
Medical Physicist
Education: A.B., Hunter College, 1941; M.S., University of Illinois, 1942, Ph.D., physics, 1945
Professional Experience: assistant, physics, University of Illinois, 1941–1943, instructor, 1944; assistant engineer, Federal Telecommunications Laboratory, 1945–1946; lecturer and assistant professor, physics, Hunter College, 1946–1950; physicist, assistant chief, chief, radioimmunoassay service, Veterans Administration (VA) Hospital, Bronx, New York, 1950–1970, nuclear medical service, 1970–1980; chair, clinical science, Montefiore Hospital and Medical Center, 1980–1985
Concurrent Positions: consultant, radioisotope unit, Veterans Administration Hospital, 1947–1950; research professor, Mount Sinai School of Medicine, 1968–1974, distinguished service professor, 1974–1979; distinguished professor at large, Albert Einstein College of Medicine, Yeshiva University, 1980–1985; Solomon A. Berson distinguished professor at large, Mount Sinai School of Medicine, 1986–
Rosalyn Yalow was a co-recipient of the Nobel Prize in Physiology or Medicine in 1977, the second woman to win in that category (Gerty Cori had been the first, in 1947). She and her collaborators were pioneers in the new science of neuroendocrinology, a discipline that enables doctors to diagnose conditions caused by hormonal changes. Yalow's work combined immunology, isotope research, mathematics, and physics, and established the field of modern biomedical physics. She set up one of the first radioisotope labs in the United States when she was hired in 1947 at the VA Hospital in the Bronx. The initial plan was that radioisotopes would be a cheap alternative to radium for cancer treatment. With her engineering experience, she was able to design her own equipment, as no commercial instrumentation existed at the time.
As a graduate student in physics at the University of Illinois, Yalow was assigned to teach only pre-med students, as no female faculty taught male engineering and science students. This changed, however, as more men were called to war and women were called to fill teaching positions. After completing her Ph.D., she became the first woman engineer at the Federal Telecommunications Laboratory for a year before returning to her alma mater, Hunter College, to teach. In 1947, she began her long tenure with the VA Hospital and a fruitful collaboration with physician Solomon Berson. Together, they invented radioimmunoassay (RIA), or the method of using radioactively tagged substances to measure antibodies produced by the immune system. By accident, they discovered that the insulin obtained from animal sources had minor but important differences from human insulin, namely that human insulin contains antibodies created by the immune system. The result of their research was that manufactured insulin could be genetically engineered to be precisely the same as human insulin. She and Berson did not patent their discovery, and commercial laboratories have realized enormous profits from performing RIA.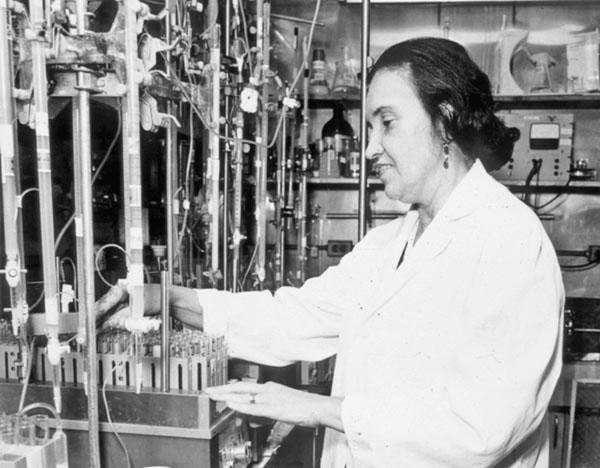 Yalow and Berson published numerous papers together, always alternating first authorship, and earned numerous awards for their work. Although Berson accepted a position at Mount Sinai School of Medicine in 1968, they continued their work together until he died in 1972. It was already rumored at that time that the two were candidates for a shared Nobel Prize, but Berson's premature death in 1972 removed his name from consideration, as the prize is not awarded posthumously. Yalow continued her research and was finally recognized with the Nobel Prize in Physiology or Medicine in 1977. She went on to teach at Mount Sinai, at Montefiore Hospital and Medical Center, and at Albert Einstein College of Medicine. She helped establish and direct the Solomon A. Berson Research Laboratory at the Bronx VA Hospital and held the Berson Distinguished Professorship at Mount Sinai School of Medicine. She retired from full-time research in the 1980s, but retained positions as affiliated faculty at several schools and continued to use her office at the VA Hospital until 2002.
Yalow was elected to the National Academy of Sciences in 1975. She was the first woman and first nuclear physicist to win the Albert Lasker Medical Research Award (1976), and is also the recipient of a National Medal of Science (1988). She was elected president of the Endocrine Society (1978–1979) and fellow of the New York Academy of Sciences. She has been a member of the American Academy of Arts and Sciences, the Radiation Research Society, the American College of Radiology, the Biophysical Society, the American Diabetes Association, and the American Physiological Society.
Further Resources
Out of the Shadows: Contributions of Twentieth-Century Women to Physics

. Cambridge University Press

New York

.
and Gary A. Williams. 2006.
Nobel Prize Women in Science: Their Lives, Struggles, and Momentous Discoveries

. Birch Lane Press

Secaucus, NJ

.
. 1998.
Rosalyn Yalow, Nobel Laureate: Her Life and Work in Medicine

. Basic Books

New York

.
. 1998.