Topic Page: Wright, Frances, 1795-1852

Summary Article: FRANCES WRIGHT (1795-1852)
from Slavery in the United States: A Social, Political, and Historical Encyclopedia
In 1825 Frances (Fanny) Wright became the first woman in the United States to act publicly in opposition to slavery. Her plan gradually emancipated slaves by establishing Nashoba plantation to educate African Americans and to teach them a trade before releasing them and transporting them to another nation.
Born in Dundee, Scotland, to James Wright, a linen merchant, and Camilla Campbell, she was orphaned at the age of two. Sent to live with her socialite maternal grandfather in England, Wright never accepted the popular upper class belief that the many London beggars were too lazy to work. Sympathy for the poor and downtrodden would mark her for the rest of her life.
Left with a sizable inheritance by the death of an uncle, Wright traveled to the United States with her sister Camilla in 1818. Returning to Europe, she described her impressions of the visit in Views of Society and Manners in America (1821). Through this book, Wright developed a friendship with the marquis de Lafayette and learned of his attempt, aborted by the French Revolution, to help the less fortunate by gradually emancipating slaves on his New Guinea plantation.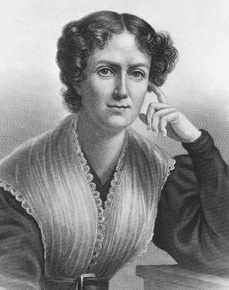 Perhaps because of ties to Lafayette and her upbringing as a member of the British upper class, Wright never wholeheartedly condemned oppressors. Sympathetic to the feelings of slaveholders, she wrote in an 1826 statement to the utopian socialist New Harmony Gazette, "We should consider, that what we view, at first sight, as a peculiar vice and injustice, is not more so, in fact, than any other vice and injustice stamped by education on the minds and hearts of other men." Wright also decided to imitate Lafayette by supporting the gradual emancipation of slaves rather than abruptly turning African Americans loose to fend for themselves, the method that abolitionists favored.
Initially planned as a black emancipation experiment, Nashoba plantation eventually developed into an exercise in communism, racial integration, and sexual equality. It also turned into a disaster, and Wright lost half her fortune in the venture. Weakened by fever, she left for Europe in 1829, where she later began a family with William Phiquepal D'Arusmont. Except for a brief sojourn to the United States to escort Nashoba's slaves to Haiti in 1830, she remained abroad until 1836. Reports of libertine behavior on the Nashoba plantation, acts that took place while Wright was abroad, effectively destroyed her reputation on both sides of the Atlantic.
By the 1830s charges of "Fanny Wrightism" had become a popular way to discredit liberal causes. Never fazed by the scorn directed at her, Wright espoused ever more controversial issues until the end of her life. She often lectured publicly, a shocking act for an early nineteenth-century woman in the United States. Newspapers questioned her virtue and that of any woman so brazen as to attend her talks.
Wright spoke not only against slavery but also about the repressive nature of marriage and religion. Many antebellum women, particularly the Quakers, were inspired by their religious beliefs to act against slavery. Wright's theories deeply offended them and certainly did not add to her popularity in antislavery circles. Reformers distanced themselves from her in an effort to appear more respectable, but Wright's call for better working conditions for laborers made her influential among working-class women. In 1852 she died in Cincinnati, Ohio, following a fall.
An energetic and fiercely determined woman, Frances Wright was easily the most controversial woman in the United States in the antebellum period. Her willingness to experiment boldly to better the lives of downtrodden African Americans made her a household word.
See also: Nashoba Plantation.
For Further Reading
Liberty, Equality, Sorority: The Origins and Interpretations of American Feminist Thought

. Brooklyn, NY: Carlson.
. 1994.
Fanny Wright: Rebel in America

. Cambridge, MA: Harvard University Press.
. 1984.
Frances Wright, Free Enquirer: The Study of a Temperament

. New York: Harper.
, and Theresa Wolfson. 1939.
Life, Letters, and Lectures, 1834-1844

. New York: Arno Press.
. 1972.