Topic Page: Works Progress Administration
---
Definition:
Works Progress Administration
from
The Hutchinson Unabridged Encyclopedia with Atlas and Weather Guide
In US history, a government initiative to reduce unemployment during the Depression (11 million in 1934). Formed 1935, it provided useful work for 8.5 million people during its eight-year existence, mainly in construction projects, at a total cost of $11 billion, and was discontinued only in 1943 when the change to a war economy eliminated unemployment. The WPA was renamed the Works Projects Administration in 1939.
The WPA was an integral part of President Roosevelt's New Deal.
weblinks
American Life Histories, 1936–1941
Federal Arts Projects of the 1930s
---

Summary Article: WORKS PROGRESS ADMINISTRATION
from Poverty and the Government in America: A Historical Encyclopedia
The Works Progress Administration (later called the Works Projects Administration, WPA) was the largest New Deal agency and was designed to provide work to the unemployed. It was created in April 1935, when President Franklin Roosevelt realized that the Great Depression was not ending as quickly as everyone hoped it would. He had ended or was about to end the temporary federal aid and works projects (the Federal Emergency Relief Administration [FERA] and the Civil Works Administration), yet people were still unemployed, hungry, and in need of help. The National Youth Administration, another part of the Works Progress Administration designed to help poor young people, was created in June 1935.
The WPA was one part of the federal government's attempts to more permanently help the unemployed and needy. The other part was the Social Security Act, signed in August 1935 by President Roosevelt, which set up a national program for old-age pensions, unemployment insurance, and aid to the disabled and dependent children (Brown 1940, 301).
The WPA's initial goal was to employ 3.5 million people. In the end, after eight years of existence, it had employed a total of 8.5 million people and spent about $10.5 billion. Its workers built or repaired roads, water and sewer systems, and schools and other public buildings, as well as sewing clothes for the needy, cooking lunches for schoolchildren, providing immunizations, teaching adult education classes, and compiling statistics on chronic diseases, housing, and unemployment. WPA workers constructed some of the most well-known and enduring landmarks in the country, such as the Cow Palace arena in San Francisco, La Guardia Airport in New York City, National Airport near Washington, D.C., and River Walk in San Antonio, Texas (Hopkins 1936, 166-168, 173; Taylor 2008, 2-3).
Although building upon their work, the WPA was also somewhat different from its predecessors, the Civil Works Administration and the FERA. While the Civil Works Administration had taken only 50 percent of its workers from relief rolls (the rest being hired from anyone who applied), the WPA hired 90 percent of its workers from relief rolls—those whom the states said were already receiving aid to the poor, or were eligible to receive it. The program hired only one member of every family—usually the head of the family. The wages and hours of workers under the WPA were slightly different than under the FERA. Whereas FERA workers received the "prevailing wage" of jobs in that area (the wage normally paid for that kind of work), and then were limited in the amount of hours they could work so as not to go above a certain monthly limit, the WPA workers were required to put in 120 hours per month for their paycheck—so they made more money but often worked more hours, too (Hopkins 1936, 167; Meriam 1946, 375-376; Taylor 2008, 197).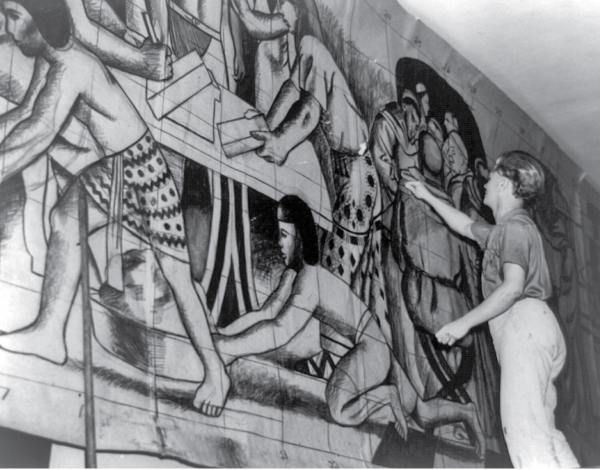 Because the main goal of the WPA was to provide employment, they looked for projects that would employ the most people, with little outlay needed for equipment or other nonlabor costs. According to Harry Hopkins, the administrator of the program, the first things WPA considered when choosing projects were the number of eligible workers in an area, and their skills; projects that would be useful to the community were secondary. "Thus, for instance, although a town may need a school badly, WPA will not build it unless the local labor reserve contains enough skilled construction workers," explained Hopkins. The WPA did not want to compete with private businesses, so all projects had to involve government buildings, land, or services. In addition, the WPA did not want to simply take over existing state and local government functions, such as routine maintenance, repair, and construction, but rather it wanted to create new jobs that the states or cities could not or would not do for themselves. Despite these limitations, the WPA found projects in "almost every type of work imaginable," says Donald Howard. "So vast have the WPA's achievements been that attempts to present them in quantitative terms only stagger the imagination" (Hopkins 1936, 167; Howard 1943, 126; Meriam 1946, 366).
By the time it ended, WPA workers had constructed or improved about 640,000 miles of roads; built or improved 124,000 bridges; constructed or renovated almost 40,000 schools; built or improved 28,000 parks and playgrounds; installed or repaired almost 20,000 miles of water mains; installed or improved 27,000 miles of storm and sanitary sewers; and built or renovated almost 2.5 million sanitary privies. WPA workers had built libraries, tunnels, auditoriums, gymnasiums, swimming pools, golf courses, band shells, hospitals, office buildings, armories, firehouses, jails, airports, fish hatcheries, water and sewer treatment plants, and pumping stations. They repaired 80 million books, sewed 300 million garments, and prepared more than 900 million school lunches. Thousands of WPA-staffed nursery schools served tens of thousands of children, and a million adults were enrolled in adult education classes taught by WPA teachers. Concerts, plays, puppet shows, and circuses were performed by WPA artists and seen by 180 million people. Artists and writers produced 475,000 works of art and 276 books (Leighninger 2007, 78-79; Taylor 2008, 523-524).
"Such numbers convey almost no impact by themselves," observes Nick Taylor. "They are silent on the transformation of the infrastructure that occurred, the modernizing of the country, the malnutrition defeated and educational prospects gained, the new horizons opened" (2008, 524).
Despite its enormous accomplishments, the WPA was the most criticized New Deal agency. "Its workers were mocked as shiftless shovel leaners," says Nick Taylor. "Its projects gave rise to a mocking new word: 'boondoggles'" (which meant a waste of public money). Critics attached the word "boondoggle" to an elaborate WPA-built dog shelter in Memphis, complete with showers; a monkey-house in the Little Rock, Arkansas, oo; and the WPA arts program. In response, President Roosevelt replied, "If we can boondoggle ourselves out of this depression, that word is going to be enshrined in the hearts of the people for many years to come." There were occasional mistakes: a lake was dug in North Carolina which turned out not to have a water source, for example. Nevertheless, according to Nick Taylor, "for the most part the WPA was being run efficiently and free of scandal" (Taylor 2008, 2, 216-218).
A national appraisal of the WPA conducted in 1938 determined how well the WPA did in providing jobs to those who had none. Using surveys sent to cities, the appraisal found that local governments would have liked even more help from the federal government to employ more people. Half the replies from smaller cities said that the WPA programs had provided enough jobs for all the unemployed who were capable of work, and only one-third of the replies from larger cities felt that the WPA had been able to employ every unemployed person who could work. So despite the vast scope of the WPA, even more help was needed (Howard 1943, 607).
See also: Civil Works Administration; Federal Emergency Relief Act; Great Depression; Hopkins, Harry; Indian New Deal; National Recovery Administration; National Service; National Youth Administration; New Deal; Public Works Projects; Roosevelt, Franklin Delano; Social Security Act; Woodward, Ellen Sullivan
Sources
Public Relief 1929-1939.

New York: Henry Holt, 1940.
.
Spending to Save: The Complete Story of Relief.

Seattle, WA: University of Washington Press, 1936.
.
The WPA and Federal Relief Policy.

New York: Russell Sage Foundation, 1943.
Long-Range Public Investment: The Forgotten Legacy of the New Deal.

Columbia, SC: University of South Carolina Press, 2007.
Relief and Social Security.

Washington, DC: Brookings Institution, 1946.
.
American-Made: The Enduring Legacy of the WPA: When FDR Put the Nation to Work.

New York: Bantam Books, 2008.
.