Topic Page: Women's health

Summary Article: Women's Health
From Encyclopedia of Family Health
Women have long borne the primary responsibility for their family's health care giving. In fact, women make approximately 70% of the health care-related decisions for their children, husbands, and even their aging parents. Women tend to provide the health care and also decide from whom their family will seek health care. As recently as a generation ago, the traditional nuclear family was made up of a husband and/or father who went to work, and the wife and/or mother who stayed home and cared for the children, nursing them when they were ill. However, by the end of the 20th century and early 21st century, more than 70% of married women were employed outside of the home, and 13% of families were headed by a single woman, according to Barbara Peterson Sinclair and Judith Wuest. Still, women continue to carry the responsibility of giving care to the family. These family responsibilities leave little time for a woman to care for herself. According to a study by Wuest, women have to consciously decide what they will give up to care for others in their families, and frequently what they give up is taking care of themselves. This entry discusses the historical context, including the unique health concerns of women and disparity, and then reviews preventive health measures for stages of life women experience.
Historical Context
Within the last generation, there has been a change in the social context of health care, with an increased focus on health care for women. Women's health encompasses a broad range of issues along with a multitude of diseases, symptoms, and consequences that significantly differ from the health of men. However, according to Sinclair, it was not until the 1980s through 1990s that research into the disease processes in women began to increase. Prior to that time, methods of preventing, diagnosing, and treating illness were extrapolated from research with men. Historically, the field of women's health addressed reproduction and childbirth issues; however, with the increase in gender-specific health research, the factors affecting the health care of women have been found to be even more distinct from men than previously thought. Women have unique health concerns over their lifetime, and the health care of women is now seen to require a more comprehensive approach that includes not only a woman's entire physical being but also her social, emotional, and spiritual being. The World Health Organization defines health as not just the absence of disease or disability but also the overall sense of well-being.
Traditionally, it was believed that women's physiological systems were the same as men's, other than the reproductive organs. As a result, many of the treatments for health problems in men were applied to women. However, in "Women's Health: An Emerging Definition," Tina Shaw states that there are major differences between the way male and female physical systems develop and handle diseases. There is a growing awareness that factors such as sex, genetics, hormones, and environment play key roles in creating differences in health statuses between men and women. Women respond differently than men physiologically, emotionally, and cognitively to a broad range of diseases, conditions, and treatments. Heart disease, stroke, diabetes, and depression are just a few examples.
According to Sinclair, women access health care more frequently than men. They are more likely to visit a health care provider when not feeling well. Health care for women is more complex than men's because of reproduction and the need for prenatal and contraceptive services; however, women are more likely to have difficulty accessing care. On average, women earn less than men and have fewer resources available for health care including medical insurance. When coupled with difficulties accessing health care as well as financial and insurance issues, factors that affect the health care of women are even more distinct.
Quality health care for women has not progressed to the level of health care for men. The National Women's Law Center recently found that overall the health care of women in the United States is unsatisfactory and behind in meeting the women's health objectives set by the Healthy People 2010 project. Not one state in the United States was found to perform satisfactorily. The health needs of women in the United States are not currently being met.
Women who have a lower socioeconomic status are at greatest risk for inadequate health care. Shaw and Sinclair agree that women who do not have resources have difficulty finding providers who will accept them as patients and have difficulty making transportation and child care arrangements. Women who do not speak English as their primary language have difficulty understanding instructions and educational information from their providers. Women, in general, and poor women especially, are at increased risk for fragmented and incomplete health care. Women of all ages must deal with the problem of poor access to quality health care. According to the Centers for Disease Control and Prevention (CDC) and the National Campaign to Prevent Teen and Unplanned Pregnancy (NCPTUP), adolescent and young adult women have difficulty accessing reproductive health care services, and this population has up to an 80% unintended pregnancy rate. Once pregnant, accessing reproductive health care services requires money, transportation, and acceptance that they are pregnant. For those continuing their pregnancies, lack of adequate prenatal care affects the women and their growing fetuses. Women who are able to access prenatal care in their first trimester tend to stay healthier and have healthier babies.
According to the March of Dimes, CDC, and NCPTUP, preterm birth rates are higher for adolescent women than young adults. Premature infants face many long-term health complications and have a high mortality rate. In general, adolescents tend to engage in high-risk activities that negatively affect the pregnancy, placing both the mother and unborn child at risk. Pregnant adolescents experience more spontaneous abortions, low birth weight infants, and stillbirths. Adolescent pregnancies are also at increased risk for complications such as gestational diabetes and hypertension. These conditions can lead to significant complications if not diagnosed and treated adequately. Sexually transmitted infections (STIs) can cause pregnancy complications as well.
The infants of adolescents are at an increased risk of dying in the first year compared to infants of young adult women, according to the March of Dimes. Complications such as respiratory distress syndrome, cerebral hemorrhage, serious gastrointestinal problems, and vision problems can occur. Children born to adolescents have a 78% chance of living in poverty and are more likely to perform poorly in school. Access to adequate, quality health care for adolescent women and their children can decrease the risks involved.
Minority ethnic and racial populations are at risk for health care disparities. Sinclair states that the rate of maternal mortality for African American women is much higher than for white women. Many of these deaths could be prevented by adequate access to prenatal care. African American women have higher rates of hypertension, embolism, and hemorrhage. The rate of first trimester prenatal care for African American women is roughly 75% as compared to 85% in white women. Rates of infant mortality and preterm delivery for African American women are about twice that of white women. Access to quality prenatal care has the potential to dramatically decrease these rates.
Stages of Life
To understand the health of women, it is helpful to review the various stages of life. Throughout women's lives, complex physiological changes occur related to the hypothalamic-pituitary-gonodal cycle. These changes affect women physically, emotionally, and socially. The physiological differences between males and females occur as early as embryonic development. During the reproductive years, there is a spectrum of sex-specific health issues related to the hormonal differences. Although the same diseases can affect both women and men, the physiological differences between men and women can influence the course of these diseases.
Health risks and concerns change as women age, and improving the health status of women requires them to adopt healthy behaviors and improve their use of preventive health services. Good nutrition, regular physical exercise, and adequate sleep are essential for staying healthy at any age. The risk of diseases varies throughout the life span as well. There are health promotion (primary prevention) measures that every woman should consider (Table 1). According to Sinclair, woman should avoid alcohol, drugs, and tobacco; consume a healthy diet; participate in regular physical activity; and learn appropriate and effective weight-management techniques. Women should practice safe behaviors, such as using seat belts and wearing appropriate protective gear during activities. They should not mix alcohol or drugs with driving or use of machinery. Women should learn conflict resolution skills and, if sexually active, engage in safe sexual practices. Stress reduction, relaxation methods, socializing with friends and family, and seeking counseling if needed along with striving to balance work, school, family, friends, and time for oneself are necessary to maintain an overall sense of well-being.
Health promotion must be accompanied by methods described by Sinclair as disease prevention (secondary prevention). Cardiovascular disease (CVD) is the number one cause of death and disability in women living in the United States. Although CVD is considered a disease of older age, prevention by adopting many of the behaviors discussed above starts in youth. Women need to learn about, understand, and listen to their bodies and empower themselves by becoming informed health care consumers.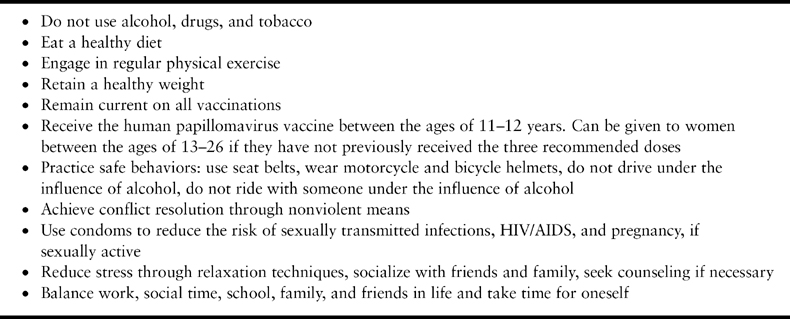 Source: Adapted from Alexander, LaRosa, Bader, and Garfield (2007).
Adolescence
Adolescence begins with the onset of puberty and continues until physical development is complete. During this time, girls transform into women and begin to form their identity and sense of independence. Adolescent girls should be encouraged to foster their independence and begin to understand how to take responsibility for their health.
Adolescents have their own specific health concerns. According to data from the CDC, in the United States the top four causes of mortality in female adolescents ages 15 to 19 are unintentional injuries, homicide, malignant neoplasms, and suicide. Ignoring safe behaviors (Table 1) puts adolescents at major risk for mortality and morbidity. Ten to 15% of adolescents may have some symptoms of depression. Adolescent girls experience depression at a rate of 2 times that of boys. Although adolescents may be moody, it can be easy to confuse this moodiness with depression. Adolescent girls are more likely to consider and attempt suicide than boys of the same age. Risky sexual behaviors can lead to sexually transmitted infections (STIs), including HIV/AIDS and human papillomavirus (HPV), both of which can be life threatening. Cervical cancer is the 10th most common form of cancer in women and is caused by HPV. According to the CDC, adolescent girls should receive the HPV vaccine between the ages of 11-12 years. This vaccine can be given to females ages 13-26 if they have not previously completed the three-dose regimean. The vaccine can be given to girls as young as 9 years of age. There are currently two approved HPV vaccines, Gardasil and Cervarix. It is recommended that all three of the doses be the same brand of vaccine. Gardasil has also been approved for males from 9 through 26 years of age. The American College of Obstetricians and Gynecologists (ACOG) not recommends initiating cervical cancer screenings, or Pap tests, by age 21. Educating adolescent women on safer sexual practices, including the use of condoms, can decrease the risk of these infections. Other secondary prevention options can be found in Table 2.
Many of the common health risks and challenges discussed above contribute to major causes of mortality as the adolescent ages, such as heart disease, diabetes, cancer, and injuries. Prevention is the key to limiting these. Good nutrition is essential, and adolescent girls need to consume enough calcium to develop good bone health and protect themselves from osteoporosis in their later years. Generally, adolescence is a period of good health and, as the adolescent's reasoning capacity develops, it is an excellent time to encourage making healthy and sensible choices.
Young Adulthood
Young adulthood brings additional health challenges and risks to women. Many of the same health challenges of adolescence continue to threaten young adults. The same causes of death as in adolescence continue until the age of 24. From 25 to 44 years of age, cancer becomes the leading cause of death followed by unintentional injuries, heart disease, and HIV/AIDs.
Young adulthood can be a stressful time. According to Sinclair, women may be developing or seeking long-term intimate relationships, starting a family, and having children. Women may also be defining their career paths. Life for young women may be stressful as they deal with child care issues and juggling family and work responsibilities. To have a healthy perspective, young women must manage stress and maintain emotional well-being. As in adolescence, young adult women may deal with health-related problems associated with dating and sexual relationships, including sexual violence, STIs, and pregnancy.
It is important for a young woman to continue with primary prevention strategies. These strategies may help prevent or decrease the risk of many chronic diseases. Regular screenings should be initiated (Table 2). Cervical cancer screenings (i.e. Pap smears) should continue every two years as long as the previous screens have been normal. For individuals with risk factors, screening for STIs and some types of cancer with a mammogram and/or colonoscopy may be necessary. Positive mental well-being is essential for a young woman's overall health. Addressing any mental health issues and finding ways to cope with stress will help establish a sense of well-being. For women who are contemplating pregnancy, a preconception visit with a health care provider is needed. The provider will discuss proper nutrition and the consumption of essential vitamins and minerals, such as folic acid, to reduce birth defects. For women who do not desire pregnancy, effective reproductive health counseling becomes an important preventive health strategy. Finding the best options requires close association with the health care provider.
Midlife
As women progress into midlife, they are often busy raising children, maintaining a career, possibly caring for elderly parents, and working to keep their relationships healthy. They are dealing with their parents' mortality as well as their own. Midlife can be particularly complicated for women. Many women find themselves sandwiched in between caring for their growing children and their elderly, sometimes ill, parents during this time. Others, who have assumed that their children were grown and on their own, find their children returning home again. Many women in midlife find they must extend their caregiving roles. Women in the "sandwich generation" often suffer from severe stress, depression, and anxiety.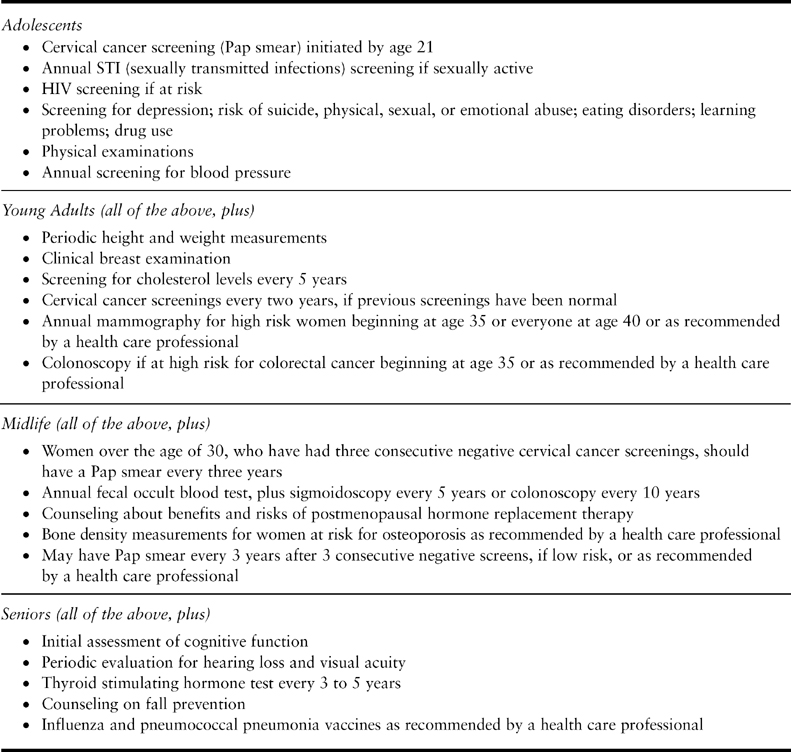 Source: Adapted from Alexander, LaRosa, Bader, and Garfield (2007).
According to the CDC, women are more likely to develop chronic diseases during midlife that are frequently the cause of mortality. Cancer, heart disease, cerebrovascular disease, chronic obstructive pulmonary disease, and diabetes are conditions that can benefit from healthy behavioral changes. A significant transition for women during midlife is menopause. Some women experience numerous health concerns associated with menopause. Women who are postmenopausal are at twice the risk of developing heart disease than men. Their risk of depression is also elevated.
As with other stages in women's lives, they should continue with primary prevention (Table 1). Secondary preventive measures increase for women during midlife (Table 2). Women over the age of 30 who have had three previously normal cervical cancer screens may receive a Pap smear every three years.
The Senior Years
Women are living longer, and there is significant overall growth in the elderly population. The life expectancy rate for women has increased to an average of 79.8 years. The life expectancy of women is longer than men so they account for a disproportionate share of residents in long-term care facilities. There has been a decrease in mortality rates for heart disease and stroke in women, which accounts for this longer life expectancy; however, for women over the age of 65, heart disease remains the number one cause of death in the United States. As the population ages, there are unique challenges to society and health care for this diverse population of women, and senior women are more likely to have financial difficulties that disrupt their medical care.
In senior women, the leading cause of mortality continues to be chronic disease. Malignant neoplasms, heart disease, chronic lower respiratory diseases, cerebrovascular disease, diabetes, and Alzheimer's disease are major causes of death. For women over the age of 85, influenza and pneumonia are frequent causes of death because they complicate other chronic diseases. Physical and mental well-being is often complicated by grief and loss as many senior women experience the death of their partner. Depression is a significant health concern for these women and may result from medication interactions, chronic disease, pain, or loneliness. Senior women are more likely to commit suicide than males of similar age. Many women experience cognitive decline, either as the patient or as the caregiver. As women age, they injure more easily and heal more slowly.
Secondary prevention during this time in a woman's life is similar to previous life stages, with a few notable additions. Cognitive function should be assessed as a normal part of routine prevention. According to the Office of Women's Health, women should have blood work to test their thyroid, and they should receive routine influenza and pneumococcal pneumonia vaccines. Women should take special care of their skin as they age, using proper moisturizers and barriers to protect against skin breakdown.
See Also:
Exercise Promotion and Fitness, Health Needs of Childbearing Families, Health-Seeking Behavior in Families, Nutrition and Nutrition Promotion for Families, Preconceptual Counseling for Childbearing Couples, Teenage Pregnancy
Further Readings
New dimensions in women's health

(4th ed.). Boston:

Jones and Bartlett

.
, , , & (2007).
National Institute for Health Care Management Research and Educational Foundation. Women's health: Prevention and promotion

(Executive summary). (2005). Washington, DC:

Author

. Retrieved February 8, 2009, from

http://www.nihcm.org/pdf/WHOverview05.pdf

.
Women's health: An emerging definition.

National Conference of State Legislatures:

The forum for America's ideas, executive summary.

Retrieved February 19, 2009, from

http:www.ncsl.org/programs/health/forum/womenshealth.htm

.
(2008).
Women and the health care system.

In

Youngkin, E. Q.

&

Davis, M. S.

(Eds.),

Women's health: A primary care clinical guide

(3rd ed., pp. 3-22). Upper Saddle River, NJ:

Pearson/Prentice Hall.
(2004).
Repatterning care: Women's proactive management of family caregiving demands.

Health Care for Women International,

21

: 2000.

Full text Article

Fact Check: Is freezing human eggs really 'extremely unsuccessful'?
Freezing eggs is extremely unsuccessful. Although it's never admitted, it is true from the national statistics, how poor the chances of pregnancy are afterwards. Lord Robert Winston, speaking on BBC Radio 4's Today programme on November 1. In the UK, if a woman wants her eggs frozen, she is given a…
continue
متعلقہ کریڈو مضامین
---
The SAGE Handbook of Health Psychology
In the developed world, women today have a longer life expectancy and lower mortality rates than do men at all ages, but epidemiological studies sho
The Health Psychology Handbook: Practical Issues for the Behavioral Medicine Specialist
In the developed world, women today have a longer life expectancy and lower mortality rates than do men at all ages, but epidemiological studies sho
Science and Politics: An A-to-Z Guide to Issues and Controversies
Health is defined, and pursued differently, within diverse communities. Not everyone enjoys a good state of health, and there are vast differences i
کریڈو سے مزید دیکھیں