Topic Page: Wolfe, James, 1727-1759
---
Definition:
Wolfe, James
from
Philip's Encyclopedia
British general. He commanded the force that captured Québec by scaling the cliffs above the St Lawrence River and defeating the French, under Montcalm, on the Plains of Abraham (1759). This victory resulted in Britain's acquisition of Canada. Wolfe's death in action made him an almost legendary hero.
---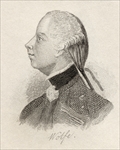 Summary Article: Wolfe, James
From The Columbia Encyclopedia
1727–59, British soldier. After a distinguished record in European campaigns, he was made (1758) second in command to Jeffery Amherst in the last of the French and Indian Wars. Through his skillful siege operations, he became a hero of the capture of Louisburg (1758) from the French, and he was rewarded with the command of an expedition against the French at Quebec, which he himself had urged. After frontal attacks on the positions of General Montcalm at Quebec had failed, Wolfe took 5,000 men in boats down the St. Lawrence by night and forced an open battle with the French on the Plains of Abraham (Sept. 13, 1759). The British were victorious, but both Wolfe and Montcalm were killed. The battle was decisive in the fall of New France to the British. Wolfe is vividly portrayed in Thackeray's Virginians.
Artigos Relacionados ao Credo
---
Chambers Biographical Dictionary
1727-59 English general Born in Kent, he was the eldest son of General Edward Wolfe (1685-1759). In 1745-46 he served against the Scottish Jacobites
Chambers Dictionary of Great Quotations
English general. He fought against the Jacobites at Culloden and was sent to Canada in 1756. Promoted to general after his prominence in the captur
Bloomsbury Biographical Dictionary of Quotations
I would rather have written those lines than take Quebec. Referring to Gray's Elegy, on the eve of the Battle of Quebec,...
Veja mais do Credo