Topic Page: Welles, Orson, 1915-1985

Summary Article: Welles, Orson
from Movies in American History: An Encyclopedia
George Orson Welles, a dominant directorial personality whose films embodied the auteur theory of modernist cinema, was also a radio entertainer, political activist, magician, and commercial actor. By the time of his death in 1985, he had directed more than 40 film and television projects and acted in over 100, ranging from Jane Eyre (1944) to The Muppet Movie (1979). Throughout his career, he had difficulty completing and marketing films, in part because of his unorthodox working style and increasingly experimental cinematic technique. Ultimately, he left a multifaceted entertainment legacy by developing a distinct visual style, establishing new guidelines for cinematic adaptations of literature and initiating postmodern explorations of the line between truth and fiction in mass media. Welles was best known for his first completed feature film, Citizen Kane (1941), which tops the American Film Institute's list of greatest American movies of all time; but he was also widely recognized for his infamous 1938 War of the Worlds radio broadcast and his resonant voice in commercials.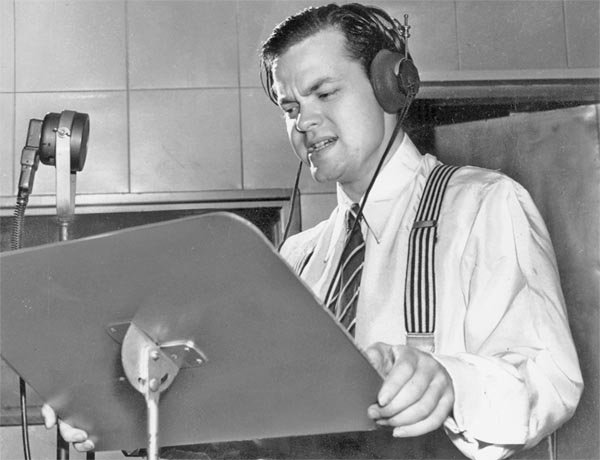 Orson Welles was born in Kenosha, Wisconsin, on May 6, 1915. The strained marriage between his entrepreneurial father and musically inclined mother resulted in his being raised in part by a family friend, Dr. Maurice Bernstein. Following his mother's death when he was nine, Welles enrolled in the Todd School for Boys, where he met another mentor, Roger Hill, and explored magic and theater, initiating an interest that would mark his whole career—spectacular adaptation of the classics. Hill later collaborated with the teenage Welles on the collection Everybody's Shakespeare, a performance guide to Shakespeare. Throughout his career, Welles adapted Shakespeare, including Othello (1952), several different stage and screen versions of Macbeth, and his composite view of Falstaff, Chimes at Midnight (1966). He was working on a version of King Lear at the time of his death. Welles's Shakespeare productions in particular reflect his belief that art should "have an educational function and serve a social purpose" (Anderegg, 1999).
Following graduation and his father's death, Welles insinuated his way into performing at Dublin's Gate Theatre, where he met Hilton Edwards and Micheál MacLiammóir. Both would later appear in his film adaptation of Othello, winner of the Palme d'Or at Cannes in 1952, and in the documentary Filming Othello (1978). Upon his return to the United States he secured work with Katherine Cornell, which brought him to the attention of John Houseman, who cast him in the 1935 stage adaptation of Archibald MacLeish's Panic.
From 1936–37, Houseman and Welles worked for the Federal Theatre Project, where they produced a Haitian Macbeth with an all-black cast, as well as Horse Eats Hat and The Cradle Will Rock. Each of these productions directly addressed contemporary politics through an experimental dramatic form. In 1937, Houseman and Welles founded the Mercury Theatre. They launched the Mercury with a front-page manifesto in the New York Times, articulating their goal of undertaking new approaches to the adaptation of classic literature for the masses.
In 1938, Welles expanded the Mercury Theatre on radio in the series First Person Singular: Mercury Theatre on the Air. Welles and Houseman funded their Mercury projects with income Welles derived from his acting roles on radio in shows such as The Shadow. Welles later recalled, "The radio loot gave us an edge" in terms of staging high-quality productions at a rapid rate of speed" (Welles, Bogdanovich, and Rosenbaum, 1998). The Theatre expanded to become Mercury Productions when Welles moved to Hollywood. From 1937 to 1952, Mercury Productions created a body of work across stage, screen, and radio that changed industry concepts of how mass media could make classic literature relevant to audiences. The Mercury produced a fascist Julius Caesar, the racially controversial Native Son, and an expansive film version of Othello. Welles's innovative use of journalistic style in his 1938 radio version of H. G. Wells's War of the Worlds created panic among some listeners who believed that Martians were actually invading New Jersey. The intense media scrutiny that followed this broadcast led Campbell's Soup to sponsor the radio series, which was renamed Campbell Playhouse. By the age of 23, Welles had created a unique artistic persona and a trademark brand of narrative that invited publicity and allowed him to move to Hollywood as an actor/director/writer with a record-setting contract in terms of both money and power
Welles's RKO contract stipulated that he write, direct, and act in an original production each year. He immediately violated this RKO mandate before he even began to shoot Citizen Kane, as he co-wrote the screenplay for the film with Herman Mankiewicz. The film proved troublesome for RKO before it was ever released, as rumors circulated that Charles Foster Kane, played by Welles, was a thinly veiled portrayal of the powerful publishing magnate William Randolph Hearst. Hearst went so far as to try to suppress the film's release; he failed, and Kane went on to be hailed by critics as one of the greatest films ever made.
With its tightly woven narrative structure, innovative cinematography (largely the result of Welles's collaboration with Gregg Toland), and thematic exploration of the human experience, Citizen Kane helped establish a new vocabulary for cinema. His use of deep focus, high-contrast lighting, and long takes particularly influenced other filmmakers. The film was not initially an audience favorite, however, performing poorly at the box office. This raised concern among RKO's studio heads, especially because Welles had already spent huge amounts of their money adapting a never-completed version of Joseph Conrad's Heart of Darkness for the screen.
Welles's failure to complete Heart of Darkness set the tone for what was to come: the conception and initiation of innovative cinematic projects that were never fully realized. Heart of Darkness, for example, stumbled badly, as Welles cast himself in both lead roles and attempted to use the camera to represent the audience's gaze—equating the "I" of the narrator with the viewer's eye. After extensive preparatory scripting, casting, research, and filming, the project was shelved at a cost of over $160,000. Welles recycled parts of it on radio, but this failure undermined his later RKO projects. Indeed, his adaptation of Booth Tarkington's The Magnificent Ambersons (1942) was reedited without his approval while he was filming his never released "Rio Project," It's All True, in Brazil. Welles disowned the studio cut of the film, and Ambersons was the last of his projects released by RKO.
Welles's subsequent film work reveals a creative working style at odds with the studio film production process in Hollywood. Always a collaborative filmmaker with enthusiasm for the initial phases of a project but impatient with the details of management, marketing, and release, Welles increasingly chose cinematic experimentation over commercial success. He remained politically active during World War II, broadcasting many antifascist and pro-ally wartime radio shows, including Hello Americans, which used material from his time in Brazil to encourage Pan-American identity. He maintained a high profile in Hollywood, and married (and divorced) actress Rita Hayworth, with whom he co-starred in The Lady from Shanghai (1947). His last project before leaving the United States for Europe was a film adaptation of Macbeth (1948), which used some structural features of his Federal Theatre Project adaptation but returned the play to its original Scottish setting. Ultimately, he moved abroad to work on projects such as his ongoing adaptation of Othello and the Harry Lime radio series, which was loosely based on the character he played in The Third Man (1949). This series inspired the film Mr. Arkadin (1955), which exists in multiple forms, and was variously released and distributed in Spain, Britain, and the United States. Welles's third wife, Paola Mori, played the role of daughter to his Mr. Arkadin in this film.
Welles had a chance to reconcile with Hollywood while making Touch of Evil (1958), which has been described as a "daringly expressionistic nightmare vision disguised as a B-movie crime thriller" (McBride, 2006). But on this project, too, Welles found himself at odds with the Hollywood studio establishment. Universal Studios barred him from the lot during postproduction, and he again disavowed the version of the film that the studio released. Returning to Europe, he was embraced as an avant-garde director by filmmakers François Truffaut and Jean-Luc Godard. While filming his 1962 adaptation of Franz Kafka's novel The Trial, he met Oja Kodar, his artistic and romantic partner for the last portion of his life. From 1967–69, he worked on The Deep with Kodar and Jeanne Moreau. Welles returned to Hollywood in 1970, where he met another collaborator, cinematographer Gary Graver, who helped him shift his cinematic style in yet another direction. He now became increasingly interested in exploring the boundaries of documentary form and its potential for self-representation, manipulation, and self-critique. His later films F for Fake (1974), Filming Othello (1978), and the unfinished The Other Side of the Wind reflect this preoccupation.
Welles left a distinctive legacy to the entertainment industry: the development of a cinematic rhetoric that bridged the movements of modernism and postmodernism. He established a visual style that influenced later filmmakers, and his exploration of the line between fact and fiction remains a central theme in contemporary entertainment. Welles's interests in the fact/fiction divide were vividly realized in his 1938 War of the Worlds broadcast and reiterated in It's All True, F for Fake, and Filming Othello. He became adept at representing the state of modern consciousness as it devolved toward postmodern disorientation, and his characters often portray the difficulty of constructing any single "truth" when it comes to personal or public history.
Equal parts huckster and literary master, Welles left behind more unfinished directorial projects than completed ones, and he can be seen as an early proponent of independent filmmaking. He ultimately became as famous for playing himself as for producing, directing, or writing material. His resonant voice, which had been so remarkable in his radio broadcasts, became his logo through his famous Gallo wine slogan, "We will sell no wine before its time," making him a cultural touchstone.
Welles received an honorary Academy Award for superlative artistry in 1970. In 1975, the American Film Institute recognized his work with a Lifetime Achievement Award. The year before his death, the Directors Guild also gave him a Lifetime Achievement Award, its highest honor. Welles died at his home in Los Angeles on October 10, 1985. He is buried on a private estate in Ronda, Spain.
Selected Filmography
The Trial

(1962);.
Touch of Evil

(1958);.
Mr. Arkadin

(1955);.
Othello

(1952);.
Macbeth

(1948);.
The Stranger

(1946);.
The Magnificent Ambersons

(1942);.
Citizen Kane

(1941).
References
Orson Welles, Shakespeare, and Popular Culture

. Columbia University Press

New York

, 1999.
.
Orson Welles: Volume 1, The Road to Xanadu

. Penguin

New York

, 1996.
.
Orson Welles: Volume 2, Hello Americans

. Penguin

New York

, 2006.
.
The Magic World of Orson Welles

. Oxford University Press

Oxford, UK

, 1978.
.
Citizen Kane: A Casebook

. Oxford University Press

Oxford, UK

, 2004.
.
What Ever Happened to Orson Welles? A Portrait of an Independent Career

. University Press of Kentucky

Lexington

, 2006.
.
This is Orson Welles

. Da Capo

New York

, 1998.
, with Peter Bogdanovich and Jonathan Rosenbaum.