Topic Page: Watercress
---
Definition: watercress from Philip's Encyclopedia
---

Summary Article: Watercress
From The Illustrated Cook's Book of Ingredients
A Eurasian native, watercress has spread around the world's temperate regions and often naturalizes where there's a steady supply of running water. The crunchy stems and crisp leaves have a pungent, peppery bite and clean, refreshing flavor. There are many plants that resemble watercress or are used in the same way, including land cress, garden cress, and nasturtium. Although not related to watercress, their leaves have a similar taste.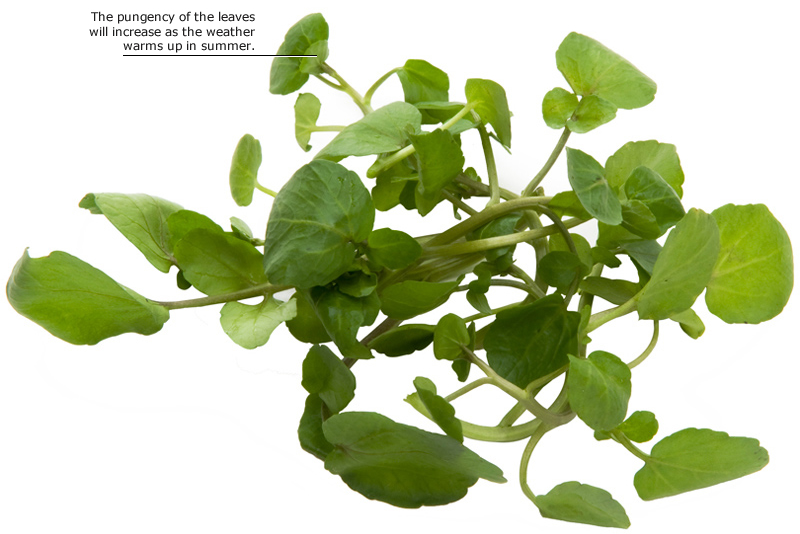 Buy
Fresh watercress is available year-round, at its best from fall to spring. Snap a stem—it should break rather than bend. Look for glossy, deep green leaves, avoiding any watercress that is limp or yellow.
Store
Wrapped unwashed in moist paper towels in a plastic bag, watercress can be kept in the fridge for up to 2 days.
Eat
Fresh:
Use in salads and sandwiches, or as a garnish.
Cooked:
Stir-fry, or make into a soup or a sauce.
Flavor pairings
Cucumber, beets, salmon, chicken, oranges, potatoes.
Classic recipe
Watercress soup.
Classic recipe
Watercress and Pear Soup
One of the oldest-known vegetables, watercress became a popular soup in England in the 1700s.
Serves 4
2 tbsp butter
1 onion, finely chopped
6oz (175g) watercress
3 ripe pears, cored, and coarsely chopped
4 cups vegetable stock
salt and freshly ground black pepper
1 cup heavy cream
juice of 1/2 lemon
freshly shaved Parmesan cheese, to garnish
olive oil, to drizzle
Melt the butter in a saucepan and cook the onion over low heat, stirring occasionally, for 5 to 7 minutes, or until soft but not brown.

Meanwhile, trim the watercress and pick off the leaves. Add the watercress stems to the onion with the pears and stock. Season with salt and pepper.

Bring to a boil, then cover and simmer gently for 15 minutes. Working in batches, if needed, pour into a blender. Add the watercress leaves and blend until very smooth.

Stir in the cream and lemon juice, and check the seasoning. If necessary, reheat the soup, taking care not to boil. Serve topped with Parmesan shavings and drizzled with oil.
Related Articles
---
Dictionary of Food: International Food and Cooking Terms from A to Z
Portugal Potato and watercress soup ...
See more from Credo