Topic Page: Washington, George, 1732-1799
---
Definition:
Washington, George
from
Dictionary of British History
(1732-99) General and first president of the USA (1789-97). A Virginian squire, he fought as colonel of the Virginian troops against the French and Indians (1754-58). Appointed at the outbreak of the American Revolution (1775) to command the Continental Army, he remained commander in chief until Dec 1783. Chairman of the constitutional convention (1787), Washington was unanimously chosen as president of the new nation.
---

Summary Article: Washington, George
From Encyclopedia of American Studies
America's first military hero, first president, and first citizen for all time, George Washington was born at Bridge's Creek in Westmoreland County, Virginia, on February 22, 1732, the first son of Augustine Washington and his second wife, Mary Ball Washington. George's formal education consisted of instruction from the sexton of a local church, who emphasized simple arithmetic, and a short period at a boarding school. A plan to send him to England for further education collapsed following the death of his father in 1743, and in 1747 he surrendered an appointment as a midshipman in the British navy, reportedly at his mother's request. After his father's death, George's half-brother Lawrence, who had settled at Mount Vernon, became his guardian.
At the age of seventeen, Washington became the official surveyor of Culpeper County, and with his earnings he was able to acquire over fifteen hundred acres (608 ha) of land. Together with the Mount Vernon acreage he inherited after Lawrence's death, Washington owned approximately four thousand acres (1,620 ha) by age twenty-one. He became a capable administrator of his properties and matured comfortably among the Virginia aristocracy, which drew on a slave-based economy with virtually no middle class. He also inherited Lawrence's rank of adjutant general of the Virginia Colony, and in 1758 he was elected to the Virginia House of Burgesses.
In 1754, after the French refused to withdraw from their land claims in the Ohio River Valley, Washington, then a lieutenant-colonel in the Virginia militia, was sent with General Edward Braddock to lead an attack. On July 9, 1755, after Braddock was mortally wounded at the Battle of the Monongahela, Washington took command, and he went on to serve with distinction throughout the ensuing French and Indian War. After the war ended in 1758, Washington resigned his commission and returned to Virginia, where he met the young widow Martha Dandridge Custis. Their marriage on January 6, 1759, established them as the largest landowners in Virginia, and for the next fifteen years Washington primarily turned his attention to his estate, the upbringing of Martha's children, and his position in the Virginia House of Burgesses.
In September 1774, British taxes, the passage of the Intolerable Acts, and other complaints resulted in the convening of the First Continental Congress in Philadelphia for the purpose of expressing grievances and prohibiting importation of British goods and exportation of colonial goods to Britain. On April 19, 1775, hostilities broke out at Concord and Lexington ("the shot heard round the world"), leading Congress to make preparations for the colonies' defense. Washington, a Virginia delegate, arrived dressed in the uniform of a militia colonel, prompting Congress to appoint him commander-in-chief of the Continental Army. After declining compensation beyond reimbursement for expenses, he left to assume command at Cambridge, Massachusetts, on July 3, 1775.
Washington became the leader of an untrained, ill-clothed, and poorly equipped army, but he proved to be a strong military leader. In December 1776, after retreating into Pennsylvania, he led his troops across the Delaware River to New Jersey on Christmas night to surprise the Hessian garrison at Trenton and rout the British at Princeton, the first turning point of the war. Although setbacks were still to occur, particularly in the battles of Brandywine and Germantown, and in devastating winter encampments at Valley Forge and Morristown, in October 1781 the British were overwhelmed at Yorktown, Virginia, and General Cornwallis surrendered. The British forces finally evacuated New York in November 1783, and on December 4, Washington gave his emotional farewell address to his officers at Fraunces Tavern in New York. He then left for Annapolis where he resigned his commission on December 23. It was an enormous triumph—the first successful rebellion in history by a colony against a mother country, and Washington became America's first great military hero, having spent eight years in a devoted quest for American independence.
Washington returned to Mount Vernon, intent on leading a private life dedicated to "cultivating the affections of good men, and the practice of the domestic virtues." The United States, however, remained a group of independent states. Since the central government created by the 1781 Articles of Confederation was deemed inadequate, in 1787 a convention was held in Philadelphia to consider amendments, and Washington was unanimously chosen as its president. It soon became apparent, however, that a new document would be needed. Four months later the convention completed the Constitution, and Washington presided over the creation of a new form of representative government.
In 1789 Washington was unanimously elected by the electoral college as the first president of the United States, and on April 30, 1789, after making a triumphant tour from Virginia to New York City, he was inaugurated at Federal Hall. Although he sought to balance the interests of both major political parties (the Federalists and the Republicans), he generally supported a strong federal government (the Federalist position). He was faced with an empty treasury, great debt, domestic agitation, and foreign intrigue, but he also defined the presidency and established the country's first governmental institutions. During his second term problems included the resentments caused by his suppression of the 1794 Whiskey Rebellion and criticism of Jay's Treaty, which was originally intended to settle Britain's violations of the 1783 Treaty of Paris.
In 1796, after rejecting a third term as president, Washington retired to Mount Vernon, content to look after his estate and entertain a constant flow of visitors. He lived there comfortably until December 14, 1799, when he died following a short illness after a ride around Mount Vernon on a snowy winter day.
No American president has been as accomplished as George Washington. Holders of the office have included military heroes, effective administrators, and great leaders, but Washington possessed a combination of all those attributes—"a citizen, first in war, first in peace, first in the hearts of his countrymen," declared Henry "Light Horse Harry" Lee in a speech to Congress after Washington's death.
During Washington's lifetime and in the decades following his death, writers and artists idolized him, his face and form symbolically placed on the pedestal from which Britain's King George III had been removed. The United States was a new nation lacking in traditions and heroes, and therefore Washington, a hero even before his ultimate heroism, was idolized. "He has become entombed in his own myth—a metaphorical Washington Monument that hides from us the lineaments of the real man" (Marcus Cunliffe, George Washington, Man and Monument, 1958). He is reported to have sat for his portrait repeatedly, although reluctantly, for Charles Willson Peale, beginning in 1772; and over the next quarter century, most of the major painters of the day documented his image. The most famous examples are those that were created by Gilbert Stuart beginning in 1795, the "Athenaeum," the "Vaughan," and the "Landsdowne." It was the period of the Enlightenment when religious saints of the Old World were being replaced by the secular saints of the New. In some sense Washington was in the right place at the right time, but outstanding achievements had also earned him his iconic status.
In fact, secular sainthood was the position in which most Americans placed him. In 1789, when he arrived at the foot of Wall Street on the way to his inauguration, some were heard to say that "they could die content, having cast their eyes at last on the savior of their country." After his death an outpouring of adoration came through eulogies and orations delivered everywhere. Writers extolled his virtues (John Marshall, The Life of George Washington, Philadelphia, 1804–1807), and artists created images of him ascending to heaven as Christ had (John James Barralet, Commemoration of Washington, 1800) or delivering the laws to America as Moses had delivered the Ten Commandments to his followers (J. P. Elven after H. Singleton, Washington Giving the Laws to America, circa 1800).
To some Washington had become America's saint, but others also saw financial opportunities in promoting his life and his image. The noted "parson" Mason Locke Weems, the fictitious "former rector" of Mount Vernon parish, was motivated by financial profit to publish the first posthumous biography of Washington (The Life of George Washington, 1800), which was reprinted in twenty-nine editions during the author's lifetime. In his fifth edition he created the apocryphal cherry-tree story ("I can't tell a lie, Pa, you know I can't tell a lie; I did cut it with my hatchet"), which provided America with its most beloved Washington legend—one that "documented" Washington's honesty and has continued to encourage the same in America's children.
Since that early period, as America has evolved from a rural nation into a political and technological world power, Washington's persona has been markedly altered by changing historical, cultural, and social contexts. Indeed, the image of Washington and its use for inspiration, and at times even derision, has changed. By the mid-nineteenth century, when ordinary citizens began to take their places as full participants in American civic life, the image of Washington in the collective American imagination began a symbolic descent from the pedestal. This transformation was evident in illustrations and descriptions of all aspects of his life, including his marriage, a subject hardly discussed or illustrated during his lifetime and in the decades following his death. By the middle of the nineteenth century artists began to depict him taking part in this common ceremony (Junius Brutus Stearns, The Marriage of Washington to Martha Custis, 1849), and writers began to discuss the event, especially after interest in restoring Mount Vernon began in the 1850s (Benson Lossing, Mount Vernon and Its Associations, 1859).
During the Civil War, when the North and the South sought inspiration for their respective causes, Washington's image again filled a need. For the North he became a symbol of Union, as his critical role in the republic's establishment was remembered; for the South, on the other hand, he was the inspiration for a "second American revolution." During the celebration of the United States International Exhibition of 1876 (the Centennial), Washington's relics and image were symbolic of the newly reunited nation, just as he had represented the revolution a century earlier. During the ensuing Colonial Revival, a period of nostalgia for America's past, his human foibles as well as Martha's were remembered along with his role as model patriot. In the twentieth century, however, his image and persona faltered when, after World War I, during a time of disillusionment and isolationism (the 1920s and 1930s), he and many aspects of American life were debunked while Americans questioned their institutions and patriotism.
Each anniversary associated with Washington, including the centennial and bicentennial of his birth (1832 and 1932), his first inauguration (1889 and 1989), and his death (1899 and 1999), has encouraged rites, pageants, and exhibitions. His face has been seen in major paintings and in the millions of prints disseminated to schoolrooms and homes across America. His image appears on plaques, paper and hard currency, sewing tables, and monumental bronze and marble sculpture; he is the subject of folk art and sophisticated statues gracing famous buildings. Each year, Washington inspires advertising campaigns for mattresses and car sales. George Washington can be seen on ice cream molds, plates and pitchers, and, indeed, every conceivable kind of salable item handled by flea-market vendors. Even the Barbie doll comes in a Washington uniform. Nevertheless, despite commercialization, a continuing reinterpretation of his image by late twentieth-century American painters (Larry Rivers, Washington Crossing the Delaware, 1993), and the changes in American society since his lifetime, Washington continues to maintain a position of awe and reverence.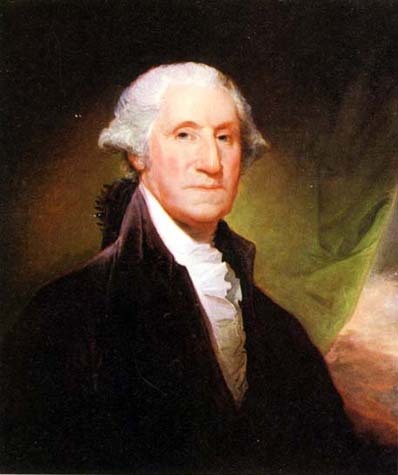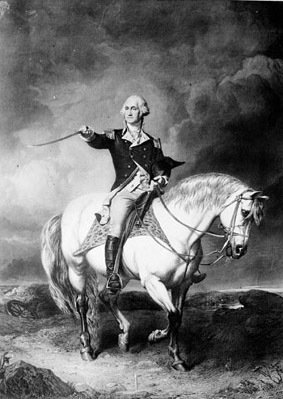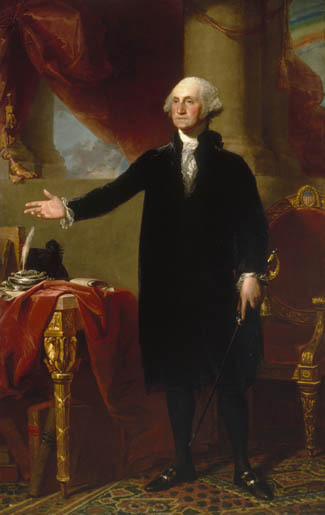 Bibliography
Washington: A Life

(

Penguin

2010).
,
George Washington: Man and Monument

(

Little, Brown

1958).
,
George Washington

,

4

vols. (

Little, Brown

1965-1969).
,
George Washington: A Biography

,

7

vols. (

Scribner

1948-1957).
,
Realistic Visionary: A Portrait of George Washington

(

Univ. of Va. Press

2008).
,
Higginbotham, Don

, ed.,

George Washington Reconsidered

(

Univ. of Va. Press

2001).
Life of George Washington

,

5

vols. (

Putnam

1856-1859).
,
George Washington: Ordinary Man, Extraordinary Leader

(

Fordham Univ. Press

2002).
,
The Life of George Washington

,

5

vols. (

C. P. Wayne

1804-1807).
,
George Washington and the Art of Business: The Leadership Principles of America's First Commander-in-Chief

(

Oxford

2008).
,
Mitnick, Barbara J.

, ed.,

George Washington: American Symbol

(

Hudson Hills

1999).
The Political Philosophy of George Washington

(

Johns Hopkins Univ. Press

2009).
,
George Washington: The Making of an American Symbol

(

Free Press

1987).
,