Topic Page: Walker, C. J., Madam, 1867-1919

Summary Article: Walker, Madame C. J. (1867–1919)
from Clothing and Fashion: American Fashion from Head to Toe
Madame C. J. Walker was born into poverty in Delta, Louisiana, in 1867. By the time she died in 1919, she had become the first African American woman to become a millionaire by establishing a line of beauty and hair care products sold nationwide. She was also a leader in the black community, known for her philanthropy and dedication to antilynching campaigns, world peace, and providing business opportunities for black women.
Walker was born Sarah Breedlove, the daughter of former slaves who died when she was a child. Like many blacks in the late 19th century she moved north to St. Louis, where she worked as a laundress and housekeeper to support her daughter, Lelia (Peiss 1998, 69).
Breedlove's life changed when she began to lose her hair. She developed a formula to treat the problem that contained sulfur and capsicum, combined this with a hot comb treatment that put less strain on the scalp than earlier treatments, and used hot tongs.
Breedlove moved to Denver in 1905, but drugstores run by white pharmacists would not carry her product, Wonderful Hair Grower, so she began selling it door-to-door in black neighborhoods. She then married newspaperman Charles Walker, who assisted her in developing a mail-order business and an advertising strategy. At this time she also changed her name to "Madame CJ Walker," which added to her charisma and appeal. She toured the country relentlessly to promote her products, taking advantage of African American social contacts established through the church. She moved to Pittsburgh, where she established a school to train black women, called "hair culturists," to use her products and open their own businesses. By 1911 when she incorporated her company, she had expanded her business to the South and the Midwest and had moved to Indianapolis. Here she built a factory to manufacture her products. By this time her marriage to Charles Walker had ended, but the name with her new persona remained. Madame C. J. Walker developed a system that empowered black women to be entrepreneurs at a time of increasing racial tension, which enabled her empire to grow in a market virtually ignored by white businesses.
Walker herself moved into elite black society. She demanded recognition from the male business community even though they viewed the beauty business as a less than respectable calling. In 1912 she confronted prominent leader of the black community Booker T. Washington at a meeting of the National Negro Business League. The next year she was a featured speaker and showed that she was not ashamed of her humble roots by declaring, "Don't think because you have to go down in the wash-tub that you are any less a lady!" (Peiss 1998, 81).
Walker believed that black women should cultivate their own natural beauty. She never sold hair straightener or skin-whiting creams. By 1917 the Madam CJ Walker Manufacturing Company was the largest black-owned business in the nation, bringing in $500,000 a year. In 1919 Walker added to her line by developing a group of beauty powders and cosmetics specifically for black women (Peiss 1998, 112–113).
In 1916 Walker moved to Harlem, where she became active in political causes. She was a leader in the NAACP's campaign against lynching. Walker also campaigned for fair treatment of black soldiers in World War I. She was an active leader in the National Association of Colored Women, appealing to its members to form closer ties with her agents. Her efforts to educate blacks were also notable. She established and funded a school for girls in West Africa and supported the Tuskegee Institute and other prominent schools for black women.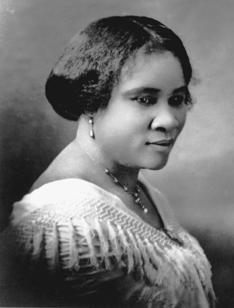 By the time Walker died in 1919, women across the United States, the Caribbean, and South America were using her products. Forty thousand women had been trained as Walker sales agents. She left a personal fortune of over $1 million, a prosperous company, and valuable real estate. The daughter of former slaves, Walker challenged the perceptions of African American women and enabled thousands of black women to support themselves.
See also African Americans, Asian Americans, and Other Ethnic Groups, 1900–1919; Cosmetics, 1900–1919
Further Reading
On Her Own Ground: The Life and Times of Madam C. J. Walker

. Washington Square Press, Pocket Books

New York

.
. 2001.
HBS Cases: Beauty Entrepreneur Madam Walker

."

Harvard Business School

, June 25,

http://hbswk.hbs.edu/item/5662.html

.
. 2007. "
Hope in a Jar: The Making of America's Beauty Culture

. Henry Holt

New York

.
1998.
Related Articles
---
The Columbia Encyclopedia
1867–1919, African-American entrepeneur, b. Delta, La., as Sarah Breedlove. Thought to be America's first black female millionaire, this daughter of
African American Almanac
Entrepreneur Walker was born Sarah Breedlove near Delta, Louisiana, in 1867. She was orphaned as a child, raised by a sister in Vicksburg, Missis
Gale Encyclopedia of U.S. Economic History
Madam C. J. Walker, born Sarah Breedlove (1867–1919), was an inventor, businesswoman, philanthropist, and political activist who founded the Madame
See more from Credo