Topic Page: Walker, Alice, 1944-

Summary Article: Walker, Alice
From Encyclopedia of American Studies
Author Alice Walker was born on February 9, 1944, in Eatonton, Georgia. She attended college at Spelman and transferred to Sarah Lawrence, where she graduated in 1965. Walker began her writing career at Sarah Lawrence and has since published several books of poems, essays, criticism, and short stories and several critically acclaimed novels. Perhaps her most famous work, the novel The Color Purple (1982) won both the American Book Award and the Pulitzer Prize in 1983 and was made into a successful feature film in 1985.
The Color Purple provides an illustration of Walker's own "womanist theory." Walker articulated "womanism" from an African American woman's perspective in her 1983 collection of essays In Search of Our Mother's Gardens, in which she argues that "womanist is to feminist as purple is to lavender." Simply put, womanist theory boldly embraces life's complexities from rage to love. For Walker the womanist "loves music. Loves dance. Loves the moon. Loves the Spirit. Loves love and food and roundness. Loves struggle. Loves the Folk. Loves herself. Regardless." In The Color Purple, despite the abuse she endures at the hands of fathers and husbands, Walker's heroine Celie learns to love herself, her life, and Shug Avery, "regardless."
The Color Purple and its characters live on in two of Walker's later womanist novels. Celie's lover Shug Avery reappears as a mentor to Celie's granddaughter Fanny in The Temple of My Familiar (1989), and Celie's son Adam and her daughter-in-law Tashi are the main characters in Possessing the Secret of Joy (1992). Although she is perhaps best known for her art, Walker has been a tireless political activist since her college days; thus her fiction and her political activism often intersect quite deliberately. Possessing the Secret of Joy, like The Color Purple, is about a womanist-informed politics of healing; it is a fictional account of Tashi's experience with female circumcision, or female genital mutilation (FGM), and the ways in which the practice of wounding the vulva simultaneously wounds the spirit. Walker's involvement in trying to bring about an end to such practices led to the making of the film Warrior Marks as well as to a book of the same title, both of which were coproduced with the British filmmaker Pratibha Parmar in the mid-1990s.
Walker's global political activism extends far beyond her involvement with anti-FGM movements. In the 1990s Walker spoke out against the Persian Gulf War, against the anti-Castro politics of the Clinton administration and the trade embargoes that serve to impoverish the people of Cuba, and against the continued degradation of the earth. For Walker womanist concerns are global concerns. Arguing for a connection between her own womanist political views and experiences and a global politics of healing in her 1997 book Anything We Love Can Be Saved: A Writer's Activism, Walker suggests that the "Earth itself has become the nigger of the world," for "while the earth is poisoned, everything it supports is poisoned. While the earth is enslaved, none of us is free."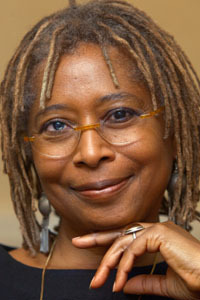 Bibliography
Appiah, Kwame Anthony

;

Henry Louis Gates

, eds.,

Alice Walker: Critical Perspectives Past and Present

(

Amistad Press

1993).
Alice Walker: A Critical Companion

(

Greenwood Press

2005).
,
Byrd, Rudolph P.

, ed.,

The World Has Changed: Conversations with Alice Walker

(

New Press

2010).
Dieke, Ikenna

, ed.,

Critical Essays on Alice Walker

(

Greenwood Press

1999).
Alice Walker

(

Chelsea House

1993).
,
Alice Walker

(

St. Martin's

1999).
,
Alice Walker: A Life

(

Norton

2004).
,
Alice Walker: A Life

(

Norton

2005).
,