Topic Page: Twain, Mark (1835 - 1910)

Summary Article: Clemens, Samuel Langhorne
From Encyclopedia of American Studies
There are few writers in American literary history who have become cultural icons. Yet Samuel Langhorne Clemens, born in Florida, Missouri, on November 30, 1835, and later known as Mark Twain (a nom de plume taken from his riverboat piloting days meaning two fathoms deep, or safe water), has clearly staked a place for himself in the larger American collective conscience, leaving a legacy not only as a fountainhead of American literature itself but also as a resilient and persistent figure in American popular culture. Ernest Hemingway famously remarked that all American literature comes from one book by Mark Twain called Huckleberry Finn. William Faulkner echoed Hemingway's canonizing praise, acclaiming Twain "the father of American literature." At the same time, Twain's image, humorous quips, and aphorisms have been a constant of the popular media. His novels and stories have been remade into comic strips, children's films, and cartoons; his image and his words regularly figure in commercial advertising campaigns; and his likeness even appeared in a 1990 segment of the television program Star Trek. That he continues to predominate and to be celebrated in circles of both high and low culture is only fitting, for in his life as in his art, Twain played with and on the distinction between high art and popular culture and in doing so fashioned a literature grounded in the American vernacular. In this light, he joins Walt Whitman in fulfilling Ralph Waldo Emerson's call for a truly American voice and literature.
The tension between serious art and popular culture in Twain's work and career can be traced to his earliest writing. In 1866 he published The Celebrated Jumping Frog of Calaveras County, a Western tall tale that earned him a national reputation. This story resonates with the influence of his literary forerunners: Augustus Baldwin Longstreet, Artemus Ward, Josh Billings, Bret Harte, and Joaquin Miller, writers who established the tall-tale tradition and dialect humor that would become the staple and hallmark of Twain's literary style and success. Capitalizing on his popularity, Twain then moved East in order to fulfill, as he said, a 'call' to literature of a low order—i.e. humorous. Twain's relocation signaled an attack on the aesthetic stronghold exercised by New England literary culture and the genteel tradition. Along with his contemporary realist and naturalist writers, he undertook to democratize American literature, linking local-color and the Western tradition with the social, economic, and intellectual concerns of the Gilded Age, a term coined by Twain (and coauthor Charles Dudley Warner). A self-fashioned cultural weathervane and critic, Twain employed his homespun materials and lowbrow style in the service of biting social commentary and satire and in doing so became a far reaching and influential writer. Twain died on April 21, 1910, in Redding, Connecticut.
Yet, although an insightful critic of late-nineteenth-century American culture, Twain was also at one with his time. The Gilded Age saw America become a culture of exchange and speculation, a world generated by claim-holders, imaginative schemers, and confidence men. Twain not only recognized and lampooned this aspect of American culture but was himself representative of this particular zeitgeist, a fact perhaps best borne out by his disastrous and bankrupting speculation in the Paige automatic typesetting machine, an invention that Twain hoped would make him a fortune. His sense of the market and his awareness of his audience's taste to a certain extent informs the generic and formal composition of many of his novels. He paid close attention to the bestseller market and incorporated in his fiction such popular forms as children's books, European romance fantasies, the detective story, and historical costume romances. He was highly aware of the late-nineteenth-century craze for dialect writing as well. Dialect itself became the linguistic force behind his vernacular aesthetic, and through the voice and point of view of the young, unsophisticated, and vulgar Huck Finn, Twain was able to reveal that the real tyrant in the world was the sensibility―be it adult, Northern, Southern, or highbrow—that enabled individuals to tolerate and approve acts of violence, brutality, and oppression. Significantly, Twain's vernacular aesthetic also freed American literature from the traditional artistic and formal criteria to which, in large part, it had been bound.
As critics have observed, Twain also resorted to racial stereotypes, perhaps most crudely with Injun Joe in The Adventures of Tom Sawyer. Elsewhere he appropriated and exploited blackface minstrelsy, what he himself revealingly referred to later in his autobiography as "the genuine nigger show, the extravagant nigger show." According to Eric Lott the forms and rhetorical strategies of blackface minstrelsy in large part underwrote The Adventures of Huckleberry Finn, Twain's most popular novel, which is considered by many to be one of the nineteenth century's most powerfully antiracist texts. But if the minstrelsy tradition enabled Twain to convey the brutality, envy, condescension, jealousy, and fascination that characterized popular white responses to black people during Twain's time, it also revealed what George Frederickson has termed the romantic racialism underlying Twain's racial sensibility. For within Twain's ostensible indictment of white on black oppression in Reconstruction America, one also finds traces of a sensibility that simultaneously, if unconsciously, privileges whiteness and in doing so projects a sense of the inferiority of African Americans. Racism continues to inform debates over the cultural and pedagogical merits of Twain in general and Huckleberry Finn particularly. Having been banned in Concord, Massachusetts, on its publication for being rough, course, and inelegant, and hence because it would undermine the morals of young and genteel readers, Huckleberry Finn continues to generate charged debate. A public school administrator campaigned at the end of the twentieth century against teaching the novel in primary and secondary schools, denouncing it as the most grotesque example of racist trash ever written.
But such virulent attacks have not left Twain without his defenders: in his own time he was championed by William Dean Howells, who challenged Huckleberry Finn's genteel detractors by esteeming Twain the Lincoln of American literature. Ironically, Bernard DeVoto would later have to defend Twain from the opposite edge of the same critical sword. For in The Ordeal of Mark Twain, Van Wyck Brooks disparaged Twain for what he considered his arrested development, a condition that he saw as resulting from the fact that Twain was captured by the genteel tradition represented by his wife. While later critics have been less interested in salvaging Twain's reputation itself, their scholarship has pointed to aspects of his writing that problematize his presumed racial politics and sensibility. Such critics as Eric Sundquist read Pudd'nhead Wilson as a critique of the segregationist Supreme Court decision, Plessy v. Ferguson (1896). Ralph Ellison has reassessed Twain's understanding of the moral dilemmas posed by race by focusing on the characterization of Jim, noting Jim's dignity and human capacity—and Twain's complexity. In Was Huck Black? Mark Twain and African-American Voices, Shelley Fisher Fishkin further explores the complexity that Ellison identified, arguing that Huck's voice was modeled on that of a black child whom Twain knew in his youth. Given the historical and cultural significance of Huckleberry Finn, Fishkin's thesis thus illuminates the seminal role that the African American vernacular has played in the development of American literature. It also points toward Twain's stylistic versatility and range, a universality that is perhaps best summed up by his own Whitmanesque self-assessment: "I am the entire human race compacted together. I have found that there is no ingredient of the race which I do not possess in either a small way or a large way."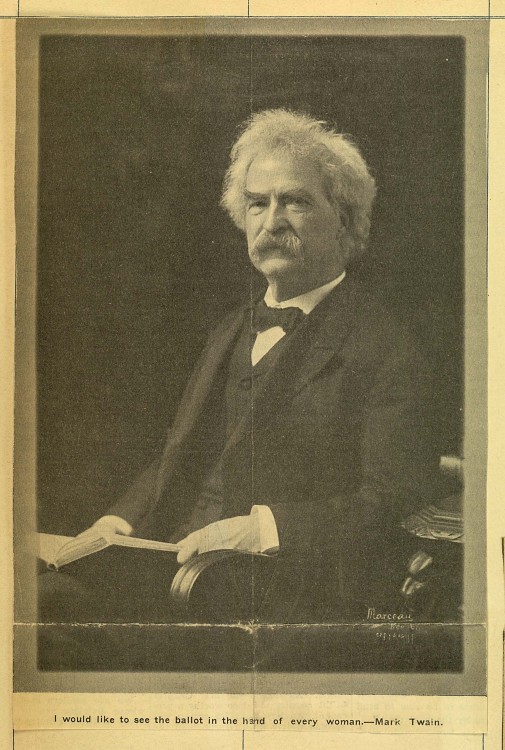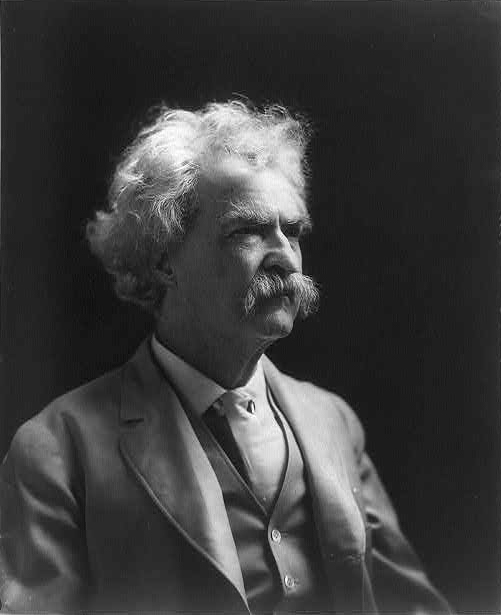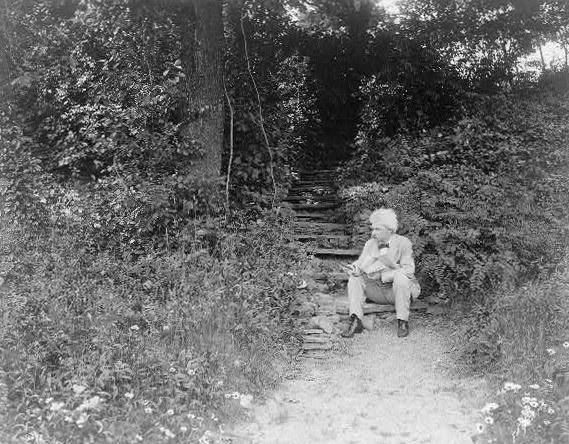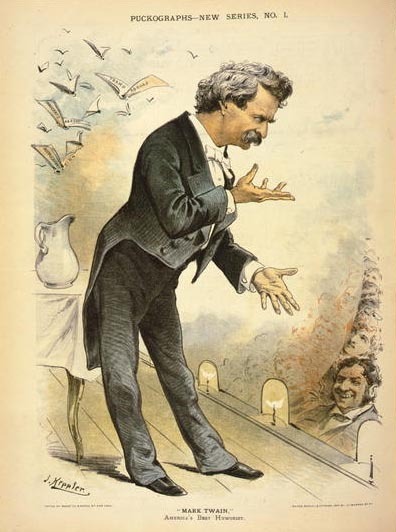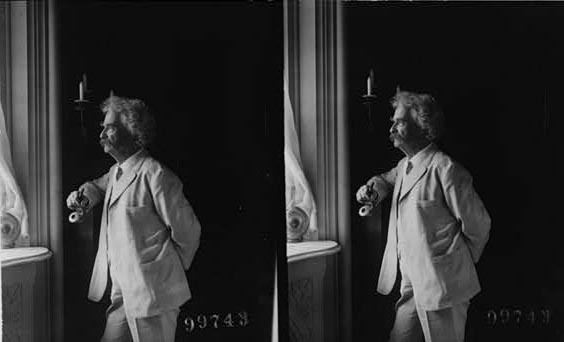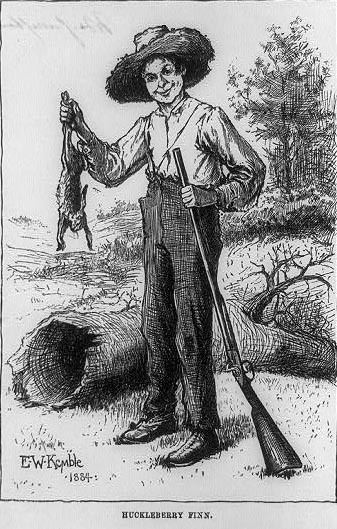 Bibliography
Mark Twain: The Fate of Humor

(

Princeton Univ. Press

1966).
,
Mark Twain's America

(1932;

Univ. of Nebr. Press

1997).
,
Shadow and Act

(

Vintage Books

1995).
,
Mark Twain, A Literary Life

(

Univ. of Penn. Press

1999).
,
Was Huck Black? Mark Twain and African-American Voices

(

Oxford

1993).
,
Mr. Clemens and Mark Twain: A Biography

(

Simon & Schuster

1966).
,
Love and Theft: Blackface Minstrelsy and the American Working Class

(

Oxford

1993).
,
Gender Play in Mark Twain: Cross-Dressing and Transgression

(

Univ. of Mo. Press

2007).
,
Lighting Out for the Territory: How Samuel Clemens Headed West and Became Mark Twain

(

Simon & Schuster

2010).
,
Mark Twain: A Life

(

Free Press

2006).
,
Mark Twain and Human Nature

(

Univ. of Mo. Press

2007).
,
Mark Twain: The Development of a Writer

(

Belknap Press

1962).
,
To Wake the Nations: Race in the Making of American Literature

(

Belknap Press

1993).
,
Refiguring Huckleberry Finn

(

Univ. of Ga. Press

2004).
,