Topic Page: Tutu, Desmond (1931 - )

Summary Article: TUTU, DESMOND (1931-)
from Africa and the Americas: Culture, Politics, and History
Desmond Mpilo Tutu is a South African priest who became the first African archbishop of Cape Town. He was a vocal opponent of apartheid as well as the chair of South Africa's Truth and Reconciliation Commission following the end of the apartheid regime. A charismatic speaker, he received the Nobel Peace Prize in 1984 for his leading role in the struggle against apartheid.
Tutu was born in Klerksdorp, in the province of Transvaal. Tutu's father was a teacher, and his mother was a domestic worker for white families. The family eventually moved to Krugersdorp, near Johannesburg, and Tutu attended Western Native Township High School, the only public high school for Africans in the area. During a lengthy convalescence from tuberculosis, Tutu was befriended by the Anglican priest Trevor Huddleston, who became a major figure in the struggle against apartheid, first in South Africa and then in his native Britain. Huddleston was one of Tutu's role models, and they maintained a lifelong friendship.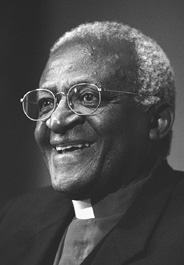 When Tutu graduated from high school, he became one of 0.5 percent of Africans to qualify for admission to university that year. He originally enrolled in medical school at the University of the Witwatersrand but was unable to afford the tuition. Instead, he pursued a teaching diploma from Bantu Normal College near Pretoria, enrolling there in 1951. This was around the time that the formal apartheid system was being implemented through such measures as the Prohibition of Mixed Marriages Act (1949), the Population Registration Act (1950), the Group Areas Act (1950), the Bantu Education Act (1951), and the Reservation of Separate Amenities Act (1953), all of which separated the races geographically and socially and insured the inferiority of public services provided to Africans.
Tutu was not politically active as a student at Bantu Normal College, though he and his colleagues were concerned about the deepening divide in South Africa. He taught English and Afrikaans at his old high school upon finishing his diploma, but he continued his education via correspondence courses, earning his BA from the University of South Africa in 1954. The following year, he married Leah Nomalizo Shenxane, also a teacher. Both, however, resigned their teaching posts in 1958 in response to the implementation of the Bantu Education Act, which guaranteed inferior education for Africans.
Following his resignation, Tutu decided to become a priest. He entered the Anglican St. Peter's Theological College in Johannesburg. Shortly after being ordained, he received scholarships to attend King's College at the University of London to pursue a degree in theology. He attended King's College from 1962 to 1966, and also served as a curate at St. Alban's Church, ministering to a predominantly white congregation for the first time. He credited his time in London with developing his confidence in interacting with whites on an equal basis. He also made an effort to educate his parishioners about the situation in South Africa. He left London with a master's degree that focused on Islam, having set himself the objective to become more familiar with this important African and global religion.
While Tutu was in London, the situation in South Africa had deteriorated. The African National Congress (ANC) and the Pan Africanist Congress (PAC) had both been banned, and many antiapartheid activists were either in jail or exile, or had been killed. Tutu's first position on his return was teaching at the Federal Theological Seminary in Alice, in the Eastern Cape. He also became the Anglican chaplain at Fort Hare, the only university in South Africa open to Africans. Fort Hare was becoming a major center for the black consciousness movement, which held that blacks needed to develop their own ideas and take their own initiative in the antiapartheid struggle. Steven Biko, whom Tutu came to greatly admire, was the movement's most famous leader. Tutu earned the respect of movement leaders by speaking against apartheid in his sermons and by supporting the students in a strike against the university administration. He also began thinking more deeply about the role of Christian churches in the struggle against apartheid, feeling that it was the responsibility of Christians to oppose the oppressive system of rule.
In 1970, Tutu was invited to become a lecturer at an institution that became known as the University of Botswana, Lesotho, and Swaziland, which was located in Roma, Lesotho, a former British protectorate entirely surrounded by South Africa. During this time, Tutu began making contributions to black theology, which was developing in southern Africa as a way of addressing the needs of oppressed black populations. Tutu saw black theology as a means to restore the dignity and hope that many black South Africans had lost under apartheid rule. He developed a theological model based on Ubuntu, a word from the Zulu and Xhosa languages that refers to humans in community with each other, rather than the individualistic approach to salvation of Western theology.
Tutu left Lesotho in 1972, when he was offered a position as associate director of the World Council of Churches' Theological Education Fund in London. This move began a long association with the World Council of Churches (WCC), an organization that openly opposed apartheid and supported the ANC and PAC after they had been banned.
Tutu remained in London until he was offered the position of Anglican dean of Johannesburg in 1975; he became the first African to serve in that position. He and his wife settled in Soweto, a black township near Johannesburg, rather than live in the dean's residence in the wealthy white suburb of Houghton. Tutu used his new public position to become more politically outspoken, openly expressing his idea that white freedom depended on black freedom. Sensing growing unrest among Africans in Soweto and other townships, he wrote a letter to Prime Minister B. J. Vorster urging him to take steps toward making South Africa a more just society, but his suggestions were ignored. Shortly after this, in June 1976, the Soweto riots broke out and more than 170 people were killed, mostly young students.
Just before the riots, Tutu had been elected bishop of Lesotho. He moved to Lesotho in July 1976, but returned to South Africa in 1978 when he was asked to become the secretary general of the South African Council of Churches (SACC), the country's chapter of the World Council of Churches, a position he held until 1984. As secretary general, he traveled widely, although his passport was confiscated several times by the South African government. He advocated an international response to apartheid in the form of economic pressure and sanctions, particularly during his trips to Europe and the United States. Within South Africa, the SACC openly criticized apartheid and the specific government policies that supported it. Tutu's profile rose dramatically during this time, both internationally and among black South Africans. His speeches emphasized racial reconciliation, rather than conflict or revenge, and the need for both blacks and whites to build a just society.
Tutu took several trips to the United States in the early 1980s, educating Americans about the situation in South Africa. This was during the era of P. W. Botha's "reform apartheid" and President Ronald Reagan's policy of "constructive engagement," under which the U.S. government supported the South African government economically and militarily. In his public speeches and meetings with American officials, Tutu emphasized that oppression of Africans in South Africa continued unchecked and that international pressure in the form of economic sanctions and private divestment was the best way to bring apartheid to an end.
During a sabbatical at General Theological Seminary in New York City in 1984, Tutu received the news that he had been awarded the Nobel Peace Prize in recognition of his work against apartheid. This award gave him much more international clout; he was even invited to meet with President Reagan, though the latter did not change his mind about the U.S. relationship with South Africa. Reagan continued to oppose sanctions against South Africa, though he was eventually overruled when Congress passed the Comprehensive Anti-Apartheid Act in October 1986. Tutu continued to speak out about apartheid, despite the South African government's efforts to discredit him, and he continued to press for stronger economic sanctions. In the meanwhile, he rose through the ranks of the Anglican Church, becoming bishop of Johannesburg in 1985 and archbishop of Cape Town in 1986.
In 1990, President de Klerk began the process of dismantling the apartheid system, paving the way for negotiations with the ANC, led by Nelson Mandela, for a new constitution and government. During the transition period, Tutu continued to speak in favor of racial reconciliation and against the government, whose sincerity he questioned. He retired as archbishop of Cape Town in 1996, and was appointed chair of the Truth and Reconciliation Commission (TRC) by President Mandela. The purpose of the TRC was to bring about a process of reconciliation and forgiveness by granting amnesty to perpetrators of racial crimes under apartheid if they made a full disclosure. The TRC also offered reparations to victims of these crimes. Tutu led the commission until it submitted its final report in October 1998. While polls indicated that South Africans believed the TRC had worsened race relations in South Africa, Tutu maintained that reconciliation is a slow process that cannot occur without exposing the truth.
Following his retirement, Tutu continued to travel the world and speak about South Africa as a model for conflict resolution. He was visiting professor of theology at Emory University in Atlanta, Georgia, from 1998 to 2000, and visiting professor in postconflict societies at King's College in 2004. He also opened the Desmond Tutu Peace Centre in Cape Town.
References
Reconciliation: The Ubuntu Theology of Desmond Tutu

. Cleveland, OH: The Pilgrim Press, 1997.
.
Tutu: Voice of the Voiceless

. London: Hodder & Stoughton, 1988.
.
Desmond Tutu: A Biography

. Westport, CT: Greenwood Press, 2004.
In the Footsteps of the Masters: Desmond M. Tutu and Abel Muzorewa

. Westport, CT: Praeger Publishers, 2000.
Hope and Suffering: Sermons and Speeches

. Compiled by Mothobi Mutloatse. Edited by John Webster. Grand Rapids, MI: William B. Eerdmans, 1984.
.
Related Articles
---
A Glossary of Political Theory
(1931–) Born in Klerksdorp, South Africa. Tutu trained first as a teacher at Pretoria Bantu Normal College and in 1954 he graduated from the...
Encyclopedia of South Africa
Winner of the 1984 Nobel Peace Prize, Reverend Desmond Mpilo Tutu became a leading figure in the struggle against apartheid during the 1970s and the
South Africa's Diverse Peoples: A Reference Sourcebook
1975 Tutu becomes first black general secretary of the South African Council of Churches. 1984 Tutu receives Nobel Peace...
See more from Credo