Topic Page: Tubman, Harriet, 1821 - 1913
Summary Article: TUBMAN, HARRIET
From Encyclopedia of U.S. Political History
1820?-1913 Abolitionist
As an abolitionist and suffragist, Harriet Tubman participated in the major reform movements of mid-nineteenth-century America. Despite having never held political office, Tubman became well known in the United States for her work with the Underground Railroad and often was described as the "Moses of her people."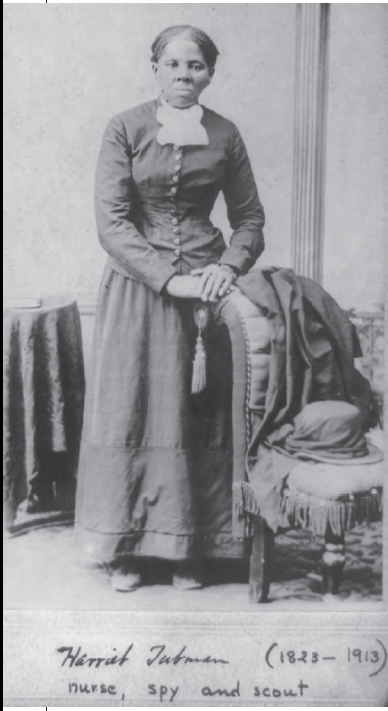 Harriet Tubman is most renowned for her work with the Underground Railroad, through which she made 19 dangerous trips to the South to shepherd over 300 slaves to freedom in the North. Less remembered is the fact that, as "a spy, a scout, and a nurse" (as the caption of this undated photo reads) during the Civil War, she attended to black soldiers suffering from smallpox and dysentery and fought to deliver more than seven hundred slaves from bondage during guerilla campaigns in South Carolina. (Library of Congress)
Harriet Tubman and the Underground Railroad
Harriet Tubman was born around 1820 in Dorchester, Maryland. Then known as Araminta Ross, Tubman grew up in slavery. At a relatively young age, Tubman witnessed the brutal nature of slavery when she was hit with an iron weight that damaged her skull and caused health problems throughout her life. Despite her marriage in 1844 to John Tubman, a free black man, she remained enslaved. In 1849, she learned she might be sold, prompting her to run away to Pennsylvania. She then changed her first name to Harriet, after her mother, and kept her husband's last name, to avoid detection.
Remarkably, Tubman returned to the South to guide others out of slavery. With the aid of the Underground Railroad, Tubman made 19 trips to the South, helping to free an estimated 300 slaves. She began in 1850, guiding her sister and brother north, and she then continued to lead others. Her first destinations were usually either Delaware or the Quaker settlements in Pennsylvania, which contained supportive abolitionists.
Tubman's trips became particularly dangerous because of the greatly strengthened Fugitive Slave Act of 1850, which made the recapture of escaped slaves residing in free states much easier. Moreover, the financial rewards offered to slave catchers encouraged attempts to enslave both former slaves and freedpeople. As a result, in 1851, Tubman started taking groups of escapees to Canada, where slavery had been abolished in 1833. For her role in guiding slaves north, Southerners offered a reward of $40,000 for Tubman's capture. Due to this danger, Tubman usually made one trip a year, conducting the "raids" during the fall. In winter, she stayed in St. Catharines, Canada, and during the spring and summer she raised funds to support her trips south. All of her raids were well planned, and details were communicated through the networks of the slave communities.
Tubman in Battle
In 1858, Harriet Tubman met John Brown. An intense abolitionist, Brown had committed his life to the destruction of slavery, often by violent means. Brown hoped to invade the South and begin a slave uprising. Brown and Tubman found a connection in their shared belief in taking direct action against slavery. Tubman used her abolitionist connections to help raise funds for Brown's endeavor. His plans, however, were underdeveloped and frequently delayed. Nonetheless, Tubman remained supportive. She had originally planned to be part of Brown's raid on Harpers Ferry in October 1859, but she was ill and unable to travel when the time came. The raid was unsuccessful, and Brown was executed for treason against the Commonwealth of Virginia.
After the Civil War began in 1861, Tubman served as a spy, a scout, and a nurse. As part of the Combahee River expedition in June 1863, Tubman accompanied Col. James Montgomery and 150 black troops as they engaged in guerilla warfare and carried away 756 slaves. She was given credit as an integral part of this military expedition. Tubman also served as a nurse at hospitals for black soldiers, first in Beaufort, South Carolina, and then in Monroe, Virginia. During her three years of service, she received $300 compensation, which she used to help support freedwomen in Florida.
After the War
In the postwar period, Tubman's public activism included support for women's rights. She was a member of the National Woman Suffrage Association, and she attended suffrage meetings from the late 1880s until the end of her life. While the women's rights platform appealed to Tubman, the racial tension in the movement did not. African American women were frequently marginalized in the national suffrage organization, and by the 1890s, black activists formed their own societies to address both racial and gender issues. Tubman participated in the National Federation of Afro-American Women, and she was the featured speaker at the inaugural meeting of the National Association of Colored Women in 1896. Tubman also continued her commitment to those she had helped find freedom, opening a small home for the aged in Auburn, New York.
Bibliography and Further Reading
Black Women in White America: A Documentary History

. New York:

Pantheon,

1972.
, ed.

Harriet Tubman: The Road to Freedom

Boston:

Little, Brown,

2004.
.

Passages to Freedom: The Underground Railroad in History and Memory

. :

Smithsonian Books

, 2004.
., ed.

Harriet Tubman: Myth, Memory, and History

Durham, NC:

Duke University Press,

2007.
.