Topic Page: The Rolling Stones
Summary Article: Rolling Stones, The
from Encyclopedia of the Sixties: A Decade of Culture and Counterculture
With the exception of the Beatles, no other rock-and-roll band of the 1960s was more influential than the Rolling Stones. The band helped lead the so-called British Invasion of the United States during which British groups came to dominate the American music scene. Named for an old Muddy Waters blues song, the Rolling Stones came together in London in 1962 with a lineup that included Mick Jagger (1943–) as lead vocalist, his childhood friend Keith Richards (1943–) and musical prodigy Brian Jones (1942–1969) on guitars, Bill Wyman (1936–) on bass, Charlie Watts (1941–) on drums, and Ian Stewart (1938–1985) on piano. The band's first official manager Andrew Loog Oldham, who was concerned as much with the group's image as their music, deemed that Stewart did not fit in and relegated him to road manager and part-time accompanist, a role he filled until his death in the 1980s. The Rolling Stones began as a blues band that revered blues artists such as Muddy Waters, Chester "Howlin' Wolf" Burnett, and Jimmy Reed but was also influenced by American rock-and-roll stars like Elvis Presley, Little Richard, Buddy Holly, Chuck Berry, and Bo Diddley. Among their first recordings were covers of Chuck Berry's "Come On" and Buddy Holly's "Not Fade Away."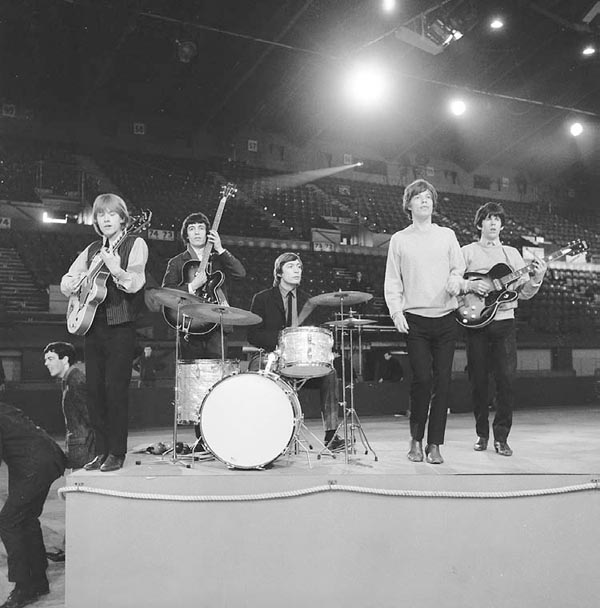 Pushed by Oldham, Jagger and Richards formed a songwriting partnership that eventually produced a huge string of rock classics. In 1964, "The Last Time" was the first Jagger/Richards song to reach the top 10 on the American charts, and the next year the Stones skyrocketed to international fame with the release of "Satisfaction." Oldham, an excellent promoter with an irreverent sense of humor, began to push an image of the Stones as a somewhat darker, more dangerous version of the Beatles, who at the time were viewed as more clean and polished. Major tours and television appearances followed, and as they became more popular, the group generated more controversy. In 1967, when they appeared on American television's Ed Sullivan Show, network executives and Sullivan himself forced the group to change the refrain of their current hit record "Let's Spend the Night Together" to "let's spend some time together." That same year Jagger, Richards, and Jones were arrested in Britain on drug charges, although none served significant jail time. Jones's drug use and erratic behavior escalated to the point that the Stones kicked him out of the band in 1969, and not long afterwards he drowned in his swimming pool. Blues guitarist Mick Taylor replaced Jones and remained with the band for the next five years.
As the 1960s drew to a close, the Stones continued to produce hit singles like "Jumpin' Jack Flash" and "Honky Tonk Women" along with well received albums such as Beggar's Banquet and Let It Bleed. They produced a film titled The Rolling Stones Rock and Roll Circus that included performances by the Stones as well as other acts such as the Who, John Lennon, Marianne Faithfull, and Jethro Tull. The Stones also sponsored a notorious, ill-conceived free concert at Altamont Speedway near San Francisco on December 6, 1969, during which one man was murdered and a number of others injured by members of the Hells Angels motorcycle gang, who had been hired as security for the show. To some, the violence at Altamont marked the ideological end of the "peace and love" experiment that had colored much of the 1960s. The Rolling Stones would survive the Altamont affair, of course, and they remain one of rock music's most powerful and popular acts.
See also Altamont (1969).