Topic Page: Thatcher, Margaret (1925 - 2013)
Summary Article: Thatcher, Margaret
from The Multimedia Encyclopedia of Women in Today's World
Political leader Margaret Hilda Thatcher (neé Roberts, born October 13, 1925) was the first woman to lead a major Western democracy. The British prime minister between 1979 and 1990, Thatcher won three successive general elections as leader of the Conservative Party. An intensely controversial figure in Britain, she is renowned for her right-leaning reforms of United Kingdom (UK) economic and foreign policy. During her time in office, she achieved a high international profile, being associated in particular with the Ronald Reagan administration.
Thatcher had a profound and lasting impact on British politics. Many critics claim that her economic policies were socially divisive and extremely destructive to core institutions and national infrastructure. Conversely, her proponents argue that Thatcher's trade union reforms, privatization and deregulation agenda, and her tough stance on tax and spending provided the foundation for a period of unparalleled economic prosperity in Britain toward the end of the 20th century.
Reform and Policy Agendas
Although she was the first female political leader of a Western democracy, Thatcher did not perceive herself as a feminist. She neither actively advanced the political careers of female colleagues nor did she pursue a markedly female-friendly policy agenda. By occupying the most powerful position in Britain for over a decade, Thatcher changed perceptions and expectations of the role women might play in the public sphere.
She was married to wealthy businessman Denis Thatcher from 1951 until his death in 2003. They had two children, twins Carol and Mark. Remarkably, for the era, as the mother of young children, she continued to train and then work as a tax lawyer, relying on a nanny for childcare. Despite her personal experiences, Thatcher did not seek reforms in family-friendly or work-life reconciliation policy when she was in government.
The daughter of a grocer and town councilor in Grantham, a small town in England, Thatcher attended a local state school and then Somerville College at the University of Oxford (1943-47). As a university student, she read chemistry and became politically active, later getting elected president of the Conservative Association. In her mid 20s, Thatcher twice ran for election unsuccessfully. In 1959 things changed and she was elected to Parliament. That election began a 30 year career of representing the constituency of Finchley, in north London.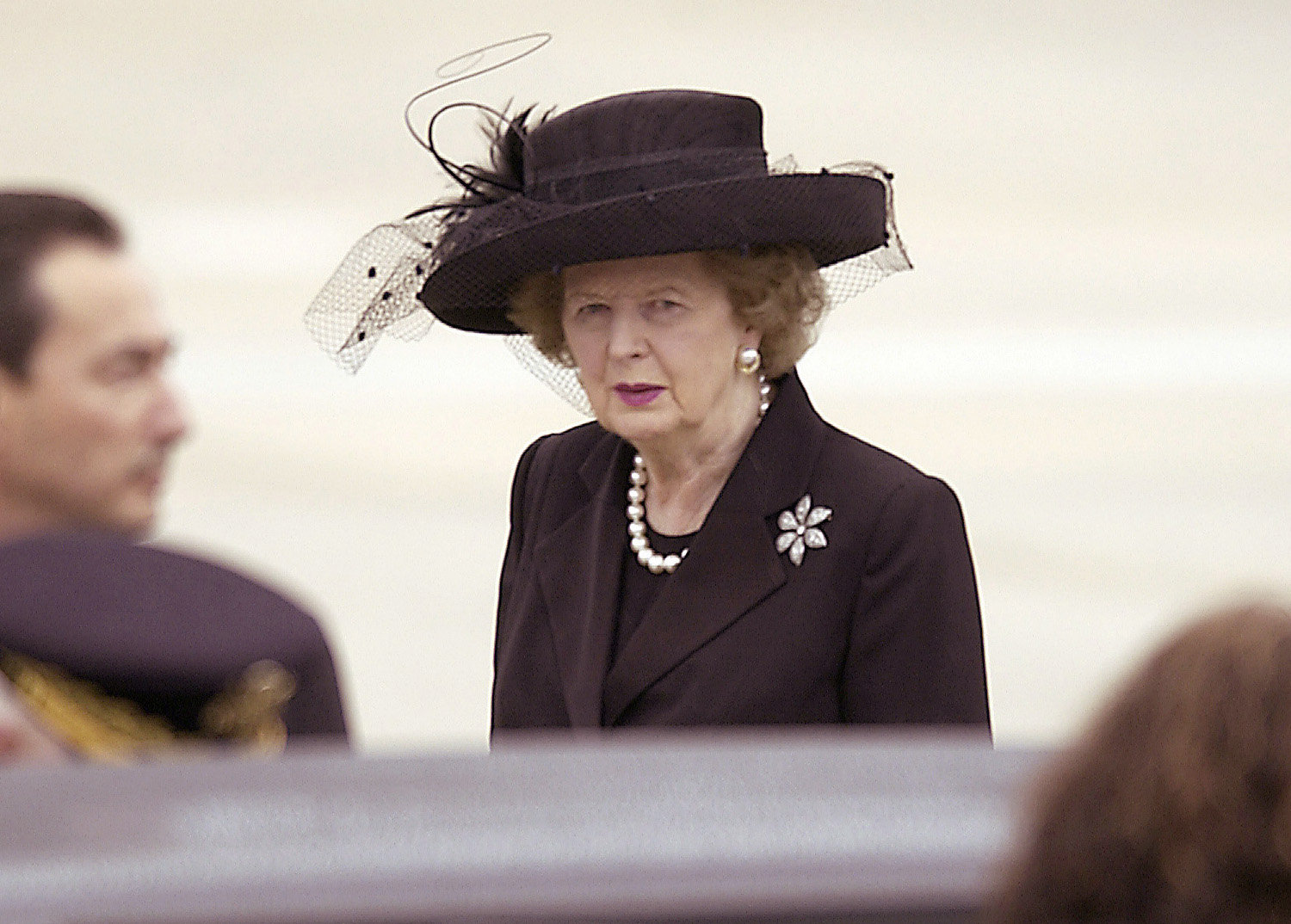 In 1975, Thatcher was elected leader of the Conservative Party and thus head of the opposition. This achievement gave Thatcher the unique distinction of being the first woman to lead a Western political party, and it launched a national and international career. Between 1959 and 1975, Thatcher held various government posts, the most notable of these was Education Secretary. It was during this time that she earned the moniker Thatcher the Milk Snatcher for her policy to stop free milk for school children.
Early on in her premiership, Thatcher faced the challenges of recession and high unemployment. Influenced by Keynesian economic thinking, she instigated reforms collectively referred to as "Thatcherism." She pursued a policy of economic liberalization, which extended to the selling and opening up to competition of state assets.
Political Career as "Iron Lady"
Nicknamed the "Iron Lady" by the Soviets, a moniker to which she took much pleasure, Thatcher worked with the Reagan administration during the last years of the Cold War. After the dissolution of the Soviet Union, her "Thatcherite" ideas proved influential in the reconstruction of post-communist central and eastern Europe. Other events of note during her terms in office included the Falklands War in 1982; the year-long miner's strike in 1984-85; the introduction of the Community Charge or "poll tax"; and the introduction of a national curriculum in schools. Thatcher narrowly survived an assassination attempt by the Irish Republican Army (IRA) in 1984.
Pushed from power by her own party in 1990, Thatcher was made a member of the Upper Chamber of Parliament, the House of Lords in 1992, and granted the title Baroness Thatcher. She retired from public life in 2002.
See Also:
Clinton, Hillary Rodham, Heads of State, Female, Political Ideologies, United Kingdom.
Further Readings
Margaret Thatcher: Grocer's Daughter to Iron Lady

, London:

Vintage

, 2009.
The Margaret Thatcher Foundation

,

http://www.margaretthatcher.org

(accessed December 2009).
The Downing Street Years: Memoirs of the Premiership

. London:

HarperCollins

, 1993.
Thatcher's Britain: The Politics and Social Upheaval of the 1980s

. London:

Simon & Schuster UK

, 2009.