Topic Page: Teresa, Mother (1910 - 1997)
---
Definition: Teresa from Merriam-Webster's Collegiate(R) Dictionary
---

Summary Article: MOTHER TERESA
from Encyclopedia of Nobel Laureates 1901-2017
Nationality: Indian
b. 26 August 1910, Uskup (now Skopje), Ottoman Empire (now Republic of Macedonia);
d. 5 September 1997, Calcutta, India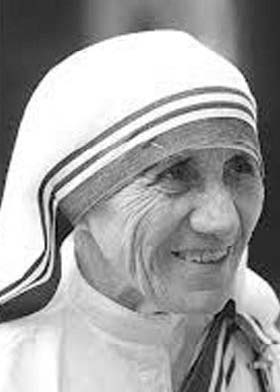 For aiding India's poor
Born Gonxha (Agnes) Bojaxhiu, a Yugoslavian of Albanian descent, she had never dreamed of becoming a nun until eighteen. As a child she was studious and hard working, spending every available hour at the church and showed early enthusiasm for foreign missions whenever her priest spoke of the Loreto order and its work in India. She eventually joined the Sisters of Loreto, an Irish community of nuns with mission in Calcutta. After a few months training in Dublin, she was sent to India where she took her initial vows as a nun in 1928.
She served as novice for two years and chose the name Teresa in memory of Theresa of Avila and Theresa of Lisieux. From 1929 to 1948 she taught at St. Mary's School for girls run by the Sisters of Loreto. Watching the suffering and poverty in the slums outside her convent wall, her life was changed forever. She made up her mind to leave the convent to work among the poor and obtained permission from the superiors.
Mother Teresa moved out of her Loreto convent in May 1948 to the slums of Kalighat in Calcutta. Clothed in a simple saree, she overcame the initial resistance of the local people and worked for the poor and downtrodden. She was soon joined by voluntary helpers and financial support came from various chruch organisations and municipal authorities thus making it possible to extend the scope of her work. The Missionaries of Charity, a new order was instituted in 1950 in Calcutta to love and care for those persons nobody was prepared to look after. Her Nirmal Shishu Bhavan housed abandoned children and Nirmal Hriday and Prem Dan gave shelter to the old and neglected.
Mother Teresa took up Indian citizenship in 1963 and continued to work for the poorest of the poor. Her work aroused considerable attention throughout the world and she herself received several awards and distinctions: the Pope John XXIII Peace Prize (1971), Nehru Prize for promotion of International Peace and Understanding (1972), Balzan Prize for promoting Peace and Brotherhood among the nations (1979).