Topic Page: Tan, Amy
---
Definition:
Tan, Amy
from
The Columbia Encyclopedia
1952–, American novelist, b. Oakland, Calif. The daughter of Chinese immigrants, she has taken for her theme the lives of Asian-Americans and the generational and cultural differences among them, concentrating on women's experiences. Tan's novels include The Joy Luck Club (1989), The Kitchen God's Wife (1991), The Hundred Secret Senses (1995), The Bonesetter's Daughter (2001), and The Valley of Amazement (2013). She has also written a children's book, The Moon Lady (1992), essays, e.g., the autobiographical pieces collected in The Opposite of Fate (2003), and a memoir, Where the Past Begins (2017).
---
Summary Article: Tan, Amy (1952–)
from Asian Americans: An Encyclopedia of Social, Cultural, Economic, and Political History
Amy Tan is one of the most successful, well-known American writers of Asian ancestry. She is the author of The Joy Luck Club (1989), The Kitchen God's Wife (1991), The Hundred Secret Senses (1995), The Bonesetter's Daughter (2001), The Opposite of Fate: A Book of Musings (2003), Saving Fish from Drowning (2005), and Rules for Virgins (2011). Tan is also a noteworthy children's literature writer, who, along with illustrator Gretchen Schields, published The Moon Lady (1992) and The Chinese Siamese Cat (1994), and produced a children's television series for PBS, Sagwa: The Chinese Siamese Cat (2001). She has also edited and contributed to several collaborative works, including Mid-Life Confidential (1994), Mother (1996), and The Best American Short Stories 1999.
Tan received her BA and MA in English and linguistics from San José State University and studied in doctoral programs in linguistics at UC Santa Cruz and UC Berkeley. She is the recipient of an honorary doctorate of letters from Simmons College.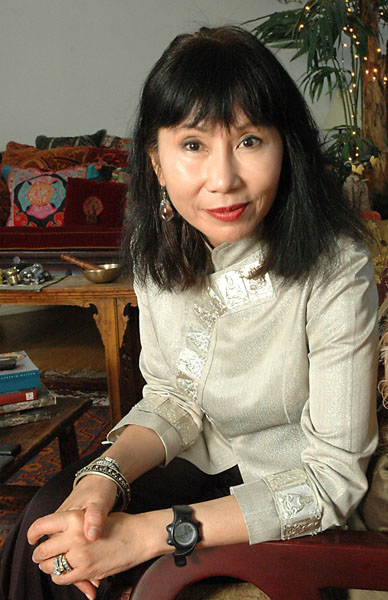 Born in Oakland, California, in 1952, Amy Tan was the middle child and only daughter of John and Daisy Tan, who had emigrated from China just a few years prior to her birth. Tan, whose Chinese name "An-mei" means "blessing from America," was raised with two brothers, Peter, born in 1950, and John, born in 1954. The Tan children were brought up in a sheltered home by parents who set high behavioral and intellectual standards of religious devotion and academic excellence. This strict upraising resulted in undue pressure against which Tan frequently rebelled and escaped by reading fairy tales, Bible stories, and Laura Ingalls Wilder's prairie stories.
Tan's love for reading and literature eventually led to a double concentration in English and linguistics during Tan's undergraduate career—a move that directly contradicted her mother's arbitrary decision for Tan to become a neurosurgeon. Instead, Tan chose to start a career in writing—first in journalism, and then in technical speech-writing. Though her career was financially lucrative and extremely successful, it brought Tan little happiness. As a result, Tan began to spend time playing jazz piano and reading fiction by writers such as Alice Walker, Toni Morrison, Louise Erdrich, Jamaica Kincaid, Maxine Hong Kingston, and Flannery O'Connor. Inspired by their work, Tan composed her first story, "Endgame," which was published in FM Magazine and later reprinted in Seventeen, and gave her entrance into the Squaw Valley Community of Writers. "Endgame" also began Tan's relationship with literary agent Sandra Dijkstra.
In 1987, with Dijkstra working as her agent, Tan proposed a collection of six short stories under the title Wind and Water, a project that eventually became The Joy Luck Club. Published by G.P. Putnam's Sons in 1989, The Joy Luck Club immediately became a critical and popular success and remained on the New York Times bestseller list for nearly a year after publication. It was nominated for and was the winner of a number of prestigious literary awards such as the National Book Award, for which it was a finalist, and was adapted into three plays and a feature-length film. The episodic structure of the novel traces the intergenerational and cross-cultural conflicts that occur in the lives of four pairs of mothers and daughters who represent the immigrant and second generations.
Central to The Joy Luck Club is a conflict that can only be resolved when cross-cultural connections are formed through the second generation actively listening to their mothers' talk-stories—a theme derived from Tan's own difficult relationship with her mother. It was only later on in Tan's life that she sought reconciliation with her mother and began to willfully listen to her mother's life stories with interest. The stories her mother recounted provided Tan with rich source material for her second book, The Kitchen God's Wife, which pays homage to Tan's parents, older brother Peter, and grandmother Jingmei.
Tan's second novel, The Kitchen God's Wife, was an immediate success and became the number one bestseller on the New York Times list within four weeks of its release, and remained there for the following 38 weeks. Its success was reflected internationally in Australia, Canada, and Europe, and it won the Booklist Editor's Choice award.
Shifting from mother-daughter relations to sisterly bonds, The Hundred Secret Senses, in a plot that transverses time, incorporates Tan's half-sister through a character who can communicate with the spirit world. Unlike Tan's previous works, her third novel was released to mixed reviews; although some found it noteworthy, others criticized Tan for weaknesses in the novel's conclusion and a tendency to employ Orientalist tropes in her writing.
The Bonesetter's Daughter was inspired by her mother, who had passed away from Alzheimer's-related symptoms in 1999, and functions as Tan's literary plea for her mother's forgiveness. Her fourth novel is based on the difficulty of intergenerational and cross-cultural conflict that occurs between immigrants and their American-born children. Saving Fish from Drowning was released as Tan's first novel set primarily outside the United States. The novel documents the trials and tribulations of American tourists in Burma. Her sixth novel, Rules for Virgins, tells the tale of a courtesan in 1912 Shanghai.
As a children's literature writer, Tan has produced two illustrated storybooks with Gretchen Schields, as well as an animated television show. The Moon Lady describes a six-year-old who encounters the Moon Lady, who grants secret wishes. The Chinese Siamese Cat details the story of a pearl cat, Sagwa, who alters the fate and appearance of Chinese cats forever.
Tan is the winner of the Academy of Achievement's Golden Plate Award as well as the Writer for Writers Award. Her work has won numerous awards including Bay Area Book Reviewers Award, Commonwealth Gold Award, American Library Association's Notable Books Award, Honorable Mention in Asian Pacific American Awards for Literature, New York Times Notable Book award, and many others. She was also selected for the National Endowment for the Arts' Big Read. Tan resides in Sausalito, California with her husband, Louis DeMattei. Her upcoming book, The Valley of Amazement, will be released by HarperCollins in 2013.
See also Kingston, Maxine Hong
References
Amy Tan

. Manchester University Press

Manchester

.
2005.
Amy Tan: A Critical Companion

. Greenwood Press

Westport CT

.
1998.
Amy Tan: A Literary Companion

. McFarland & Company, Inc

Jefferson NC

.
2004.
The Joy Luck Club

. G.P. Putnam's Sons

New York

.
1989.
Two Kinds

." The Atlantic (February):

11-12

.
1989. "
The Language of Discretion

." In

Christopher Ricks

;

Leonard Michaels

, eds., State of Language. University of California Press

Berkeley

, pp.

25-32

.
1990. "
Mother Tongue

." The Threepenny Review (Fall): 7.
1990. "
The Kitchen God's Wife

. G.P. Putnam's Sons

New York

.
1991.
Peanut's Fortune

." Grand Street

10

, no.

2

(Winter):

11-22

.
1991. "
The Moon Lady

. Macmillan

New York

.
1992.
The Chinese Siamese Cat

. Macmillan

New York

.
1994.
The Hundred Secret Senses

, G.P. Putnam's Sons

New York

.
1995.
Reading Asian American Literature: From Necessity to Extravagance

. Princeton University Press

Princeton NJ

.
1993.
Amy Tan (1952-)

." In

Nelson, Emmanuel S.

, ed., Asian American Novelists: A Bio-Bibliographical Critical Sourcebook. Greenwood Press

Westport CT

, pp.

365-373

.
2000. "