Topic Page: Sunday, Billy, 1862-1935

Summary Article: Sunday, William (Billy) Ashley
from Encyclopedia of Religious Controversies in the United States
Billy Sunday (1862–1835) was one of the best-known evangelists of early-20th-century America. Born in Ames, Iowa, he established something of a reputation as a professional baseball player for the Chicago White Stockings. He was converted at Chicago's Pacific Gospel Mission. His evangelistic work began through work with the Young Men's Christian Association (YMCA) and later as an associate of revivalist Wilbur Chapman. A revival campaign in Garner, Iowa, in 1896 represented the start of his career as a populist preacher. His revivals were organized by a well-ordered company of "advance men" and a multitalented team of associates. Every effort was made to involve area churches as well as civic and religious leaders. Publicity was extensive, and announcements of colorful "Sundayisms"—pithy and provocative comments—were aimed at attracting a crowd.
Sunday's revivalism sparked numerous controversies in the communities where he held forth. First, many religious leaders criticized his populist style and the circus-like atmosphere of his revival campaigns. Some were concerned about the coarseness of Sunday's language, his criticism of religious formalism, and his pulpit antics. For example, he sometimes railed against "those ossified, petrified, mildewed, dyed-in-the-wool, stamped-in-the-cork, blown-in-the-bottle, horizontal, perpendicular Presbyterians." He declared: "Ladies, do you want to look pretty? If some of you women would spend less on dope and cold cream and get down on your knees and pray, God would make you prettier."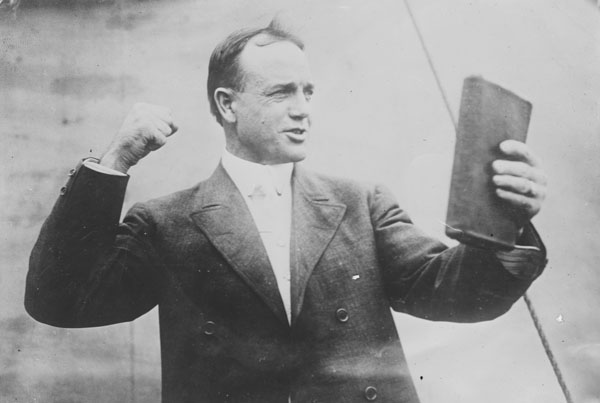 Sunday's use of slang and expletives (damnation and hellfire) scandalized many in more refined Protestant society. Likewise, his mannerisms, including racing up the aisles, sliding into home plate, and leaping on top of the pulpit itself, were equally offensive to those who preferred ministerial decorum. Others defended them as colorful and populist methods of attracting the unchurched.
In his revival campaigns, Sunday courted controversy, particularly when it brought him into public conflict with what he viewed as infidel philosophy and godless living. He did not hesitate to attack local liberals, particularly ministers and educators who accepted historical-critical theories in biblical studies or who questioned cardinal doctrines of the faith. During a campaign in Dixon, Illinois, in 1905, Sunday and Joseph Fort Newton, pastor of the Liberal Christian Church, carried on a running battle from their respective pulpits over the meaning of faith and the nature of Christianity. Sunday's greatest enemy, however, was liquor, or, as he called it, booze. His revivals included the call both to Christian conversion and to renounce the use of all alcohol. In every campaign he preached his famous "booze sermon," attacking the "liquor-crowd" and demanding that Christians fight against them.
Critics charged that Sunday was sometimes a naïve pawn of big business, used in some places to distract workers from unionizing or to offer them religion to keep them in their place. Writing for Harper's Weekly in 1915, George Creel charged that business leaders who invited Sunday to conduct revivals in Colorado had done so to break strikes against coal mines and to elect a governor who was a "coal company man." Creel believed that Sunday was duped by the businessmen. One of Carl Sandburg's "Chicago Poems" contains a denunciation of Sunday that includes the line "You, Billy Sunday, put a smut on every human blossom." A 1916 article by Joseph Berry entitled "Criticisms of Present Day Evangelism" criticized preachers like Sunday for their attacks on other ministers, the lack of recognition of local ministers, the "shake-my-hand" method of inviting people to conversion, the misuse of statistics on attendance and conversion, and the use of pressure tactics to secure offerings. Sunday himself seemed to thrive on the controversies and responded in kind to his critics. His brand of revivalism was an appeal to Christian conversion linked closely to American patriotism, antiliquor diatribes, and middle-class values.
Resources
Billy Sunday and the Redemption of Urban America

. William B. Eerdmans

Grand Rapids MI

, 1991.
"Billy" Sunday: The Man and His Message

. John C, Winston

New York

, 1914.
Hero of the Heartland: Billy Sunday and the Transformation of American society, 1862-1935

. Indiana University Press

Bloomington

, 2002.
Billy Sunday Was His Real Name

. University of Chicago Press

Chicago

, 1955.
Related Articles
---
Alcohol and Temperance in Modern History: An International Encyclopedia
(1862–1935) William Ashley "Billy" Sunday (1862–1935) was one of the most popular temperance evangelists of the twentieth century. A former...
Encyclopedia of Urban America: The Cities and Suburbs
(1862–1935) Billy Sunday became one of the foremost urban evangelists in American religious history. Born William Ashley Sunday on a farm near...
See more from Credo