Topic Page: Streisand, Barbra (1942 - )

Summary Article: Streisand, Barbra
from Movies in American History: An Encyclopedia
Barbra Streisand is an American actor, director, singer, composer, and political activist. Besides being one of Hollywood's most successful performers, she has earned the reputation for being among its most talented. Streisand is also known for breaking down barriers for women in the cinematic and recording industries, from changing traditional standards of beauty to becoming the first female film director to receive the Kennedy Center Honors.
Barbara Joan Streisand was born on April 24, 1942, in Brooklyn, New York (she dropped the "a" from her first name early in her career). After being turned down by every major record label for being "too Jewish"—for having a nose that was too prominent—Streisand started singing in a New York gay bar, the Lion Club, before moving to venues such as Bon Soir. She eventually earned a reputation that landed her guest spots on the nation's biggest television shows, such as The Jack Paar Show in 1961. In 1962, she made her Broadway debut in a supporting role as a homely secretary in I Can Get It for You Wholesale. Streisand was singled out for her performance, earning various awards and enough praise to convince Columbia Records to give her a contract in 1962—as well as unprecedented creative control for a female recording artist. Her self-titled first album appeared in 1964, earning Streisand two Grammy awards (one for Album of the Year). She is currently the top-selling female recording artist of all time (and second only to Elvis Presley for overall album sales). In the 1960s, she also created a series of critically acclaimed television specials.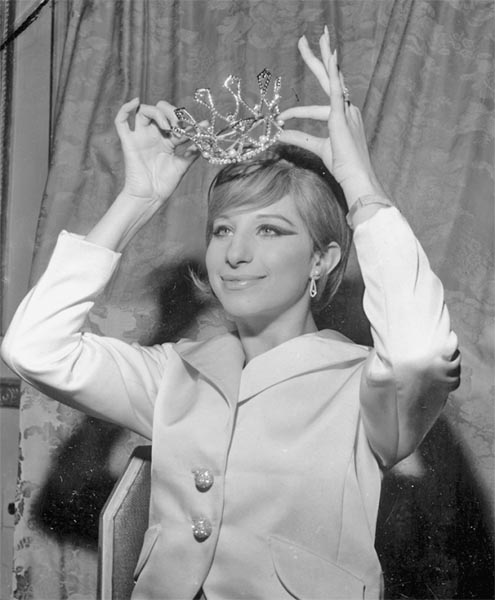 Always intent on becoming an actor, in 1964 Streisand accepted the role of legendary Jewish comic Fanny Brice in the Broadway musical Funny Girl. The film adaptation allowed Streisand to make her cinematic debut in 1968—one of the most auspicious in Hollywood's history. Her character's first lines addressed the fact that she did not look like Hollywood's typical leading lady: "Hello, Gorgeous." Gorgeous or not, the film made her a bona fide star. She followed with two more musicals: Hello Dolly! (1969) and Vincente Minnelli's On a Clear Day You Can See Forever (1970).
Streisand's first nonmusical vehicle, The Owl and the Pussycat (1970), altered her burgeoning persona (as a wholesome musical star) by casting her as a foul-mouthed call girl. Peter Bogdanovich then provided Streisand with another nonsinging role in his homage to Howard Hawks's Bringing Up Baby (1938), What's Up, Doc? (1972). The farce was a blockbuster success and cemented Streisand's status as a box-office titan. She went on to star as the bookish and outspoken Katie Morosky opposite Robert Redford's big-man-on-campus Hubbell Gardner in the romantic classic The Way We Were (1973). After a couple of forgettable, though profitable, films (For Pete's Sake [1974] and Funny Lady [1975]), Streisand decided to put her own spin on a Hollywood classic with her rendition of A Star Is Born (1976). In the film, Streisand plays Esther Hoffman, an up-and-coming singer who meets, and falls in love with, an established rocker (Kris Kristofferson) whose career is on the decline. The film was a box-office smash, as was its soundtrack. Streisand composed the music for the film's love theme, "Evergreen."
In 1983, Streisand became the first woman in Hollywood to direct, star in, write, and produce a film when she released Yentl, a project she had worked on for 15 years. She adapted the narrative about an orphaned Jewish girl who poses as a man in order to study Torah (rather than simply marry) from a short story by Isaac Bashevis Singer. Although the film is technically a musical, the songs are reflections of Yentl's inner thoughts, and thus are all sung by Streisand.
After her dramatic turn as the high-class prostitute verging on madness in Nuts (1987), Streisand returned to directing with The Prince of Tides (1991), the story of a troubled Southern family that unfolds as Tom (Nick Nolte) falls in love with his suicidal sister's therapist (Streisand). Adapted from Pat Conroy's novel of the same name, the film was a critical and commercial success, garnering multiple nominations and awards, including an Academy Award nomination for Best Picture—though Streisand herself was snubbed. Several critics called Streisand narcissistic for performing in her own films—even though male stars such as Kevin Costner and Clint Eastwood would do the same—and implied that she was miscast as an attractive therapist.
Nevertheless, Streisand cast herself in her third directorial feature, The Mirror Has Two Faces (1996), though here she plays a frumpy, unattractive Columbia professor, Rose, who meets an attractive man (Jeff Bridges), who has sworn off beautiful women and is looking for a companion. The film is notable for reinvigorating the career of Lauren Bacall (who played Rose's mother). After almost a decade away from the big screen, Streisand returned as Rozalin Focker, a sex therapist and mother in Meet the Fockers (2004).
Streisand has won two Academy Awards; the first in 1968 for Best Actress in Funny Girl (which she shared with Katharine Hepburn) and the second as the composer of "Evergreen" in 1976. She was nominated for her performance in The Way We Were and for the music of The Mirror Has Two Faces. She has earned 3 Emmy Awards, 10 Grammies, and 10 Golden Globes (more than any other artist). Streisand has also been presented France's Legion of Honour and been named a Commander of the Order of Arts and Letters by that nation. Through her Barwood production company, Streisand oversees film and television productions that foster awareness of social issues; and her Streisand Foundation is an active force for human and civil rights, environmental protection, AIDS research, and issues of women's health.
Selected Filmography
Little Fockers

(2010);.
Meet the Fockers

(2004);.
The Mirror Has Two Faces

(1996);.
The Prince of Tides

(1991);.
Nuts

(1987);.
Yentl

(1983);.
All Night Long

(1981);.
The Main Event

(1979);.
A Star Is Born

(1976);.
Funny Lady

(1975);.
For Pete's Sake

(1974);.
The Way We Were

(1973);.
Up the Sandbox

(1972);.
What's Up, Doc?

(1972);.
The Owl and the Pussycat

(1970);.
On a Clear Day You Can See Forever

(1970);.
Hello, Dolly!

(1969);.
Funny Girl

(1968).
Related Articles
---
The Penguin Biographical Dictionary of Women
Barbra Streisand's exuberant stage personality and original style have made her one of the most successful performers in the...
The Faber Companion to 20th Century Popular Music
A powerful and dramatic singer and actress, Streisand's career demonstrated how separate the popular- and rock-music...
See more from Credo