Topic Page: Streetcar Named Desire
Summary Article: Streetcar Named Desire, A
from Movies in American History: An Encyclopedia
Elia Kazan's A Streetcar Named Desire (1951) is a film adaptation of the Tennessee Williams play of the same name. The play, also directed by Kazan, won the Pulitzer Prize, the New York Drama Critics' Circle Award, and a Tony Award. Following on the success of the play, the film received 12 Oscar nominations and helped to make Marlon Brando a Hollywood superstar. Except for Vivien Leigh, all of the actors from the original Broadway production played their stage roles on-screen. Working closely on both the theatre and film productions of Streetcar, Williams and Kazan pioneered the concept of subjective realism and opened up discussions of the portrayal of male and female sexuality on stage and screen.
The film centers on Blanche DuBois's gradual descent into madness. After losing the family plantation, Belle Reve, as well as her position as a schoolteacher, Blanche moves to New Orleans to share a two-room apartment in the French Quarter with her sister, Stella Kowalski (Kim Hunter), and her brutish, cynical brother-in-law, Stanley Kowalski (Brando). Tennessee Williams described A Streetcar Named Desire as a "tragedy of misunderstandings," and the misunderstandings become apparent from the very beginning of the picture (Murphy, 1992). Blanche makes it seem as though she took a leave of absence from the school, when in fact, she was terminated after becoming sexually involved with a student. She then accuses Stella of only desiring Stanley sexually, instead of truly loving him; an accusation that rings true on one level, as Stella's relationship with Stanley appears at least partially based on her need for his protection to survive the harsh life of the French Quarter.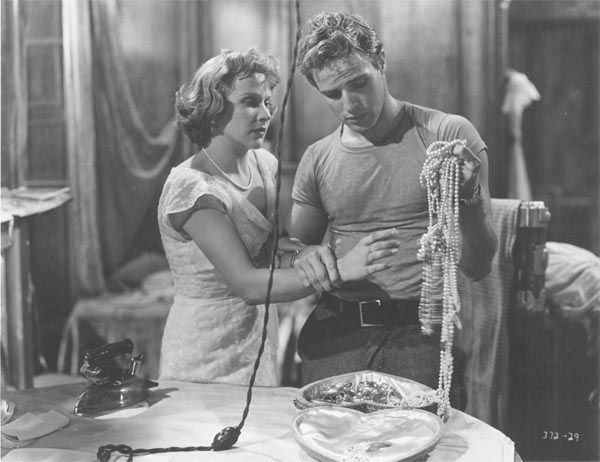 Significantly, Blanche gives vague answers to questions or avoids them completely, although she claims to tell the truth in regard to really important matters. While on a date with her ultrasensitive and emotionally unaware suitor Mitch (Karl Malden), she reveals that she feels responsible for the death of her husband, Allan Gray, who publically shot himself at a party after revealing his homosexuality to Blanche. When Mitch confronts her about her past indiscretions, Blanche confesses to "many meetings with strangers," but declares that she "never lied in [her] heart." Mitch chooses to believe Stanley's version of the truth, and so he leaves Blanche to endure life alone. What initially seems like conceit eventually reveals itself to be a defensive strategy employed by Blanche in an attempt to survive an unforgiving, post–World War II American society.
For the film adaptation, director Kazan strove to transfer the stage version to the screen, to include its themes, and insisted on using the Broadway cast in order to keep the integrity of the play intact. Warner Bros., though, wanted Kazan to cast someone with more box-office draw than Jessica Tandy in the role of Blanche, thus the choice of Leigh (Freeman, 1995). Although Kazan reluctantly agreed to the requests of the studio, the film still became a victim of the Hollywood Censorship Office. For fear of receiving a "C," or "condemned" rating from the League of Decency, whose morality code inspired the Hollywood production code, Warner Brothers demanded the deletion of lines and scenes, in addition to a changed ending (Freeman 1995). In the stage version, Stella commits Blanche to an insane asylum and remains with Stanley as a means of survival. In the film version, however, we see a more morally and socially acceptable ending where Stella whispers to her new baby that they are never going back to Stanley again (Thomson, 2003). She then takes the newborn baby in her arms and runs upstairs to the neighbor's apartment. Kazan and Williams both felt that the movie's changed ending ruined the story's effectiveness in that Stella's actions seem absurd in the context of the rest of the film (Freeman, 1995, 28–29). As a whole, A Streetcar Named Desire remained controversial, regardless of the producer's cuts. In 1993, Fox released the director's cut of the film that includes three minutes of excised footage that underscored the sexual tension between Stanley and Blanche, as well as Stella's passion for her husband. The film remains a landmark in American film for the social issues it raised during a time of moral consciousness in American culture.
See also: Brando, Marlon; Kazan, Elia; Melodrama, The
References
Derailment of A Streetcar Named Desire: Compromise of a Theatrical Document through Translation to the Screen

. California State University, Long Beach

Unpublished master's thesis

, 1995.
.
Tennessee Williams and Elia Kazan

. Cambridge, UK:

Cambridge University Press

, 1992.
.
Marlon Brando

. DK Publishing

New York

, 2003.
.
Related Articles
---
Chambers Film Factfinder
Elia Kazan, USA, 1951 Vivien Leigh, Marlon Brando, Kim Hunter, Karl Malden 122 minutes; b/w 1952 Academy Awards® : Best Actress: Vivien...
Brewer's Dictionary of Phrase and Fable
The most memorable character from Tennessee Williams' play A Streetcar Named Desire (1949), a study in mental decline and a modern archetype of self
Brewer's Dictionary of Modern Phrase and Fable
A play (1947) by Tennessee Williams (1911-83) that was subsequently turned into a successful film, directed by Elia Kazan, starring Marlon...
See more from Credo