Topic Page: Stone, Lucy (1818 - 1893)
Summary Article: Stone, Lucy
From Encyclopedia of Motherhood
Lucy Stone was a prominent American abolitionist and suffragist. She was the wife of American abolitionist Henry Brown Blackwell, and the mother of suffragette and human rights defender Alice Stone Blackwell. Lucy Stone is known for being the first recorded American woman to keep her own last name upon marriage. Many women who keep their maiden names after marriage are referred to as "Lucy Stoners." The Lucy Stone League in New York City was established in 1921, dedicated to aiding women in keeping and legally using their maiden names after marriage.
Lucy Stone was born the eighth of nine children on August 13, 1818, in West Brookfield, Massachusetts. As a young girl, Lucy watched her father manage his household by "divine right." She was intelligent and hungry for learning, but was not formally educated like her brothers, simply because she was a female. The abolitionist women's rights sisters Sarah and Angelina Grimké inspired young Lucy. As she began to speak about equality for women, people responded with biblical quotations about the roles of men and women. Lucy resolved to learn Greek and Hebrew so she could read scriptures without the aid of translation, and correct any mistranslations that she was sure existed among the male-dominated church leadership.
Her father would not support her education, so Lucy financed her own education, teaching to earn money. She enrolled in what is now Mount Holyoke College in 1839. At age 25, she registered for classes at Oberlin College, a small liberal arts college in northern Ohio, the first to admit both women and African Americans. Lucy continued to teach and took on housework jobs to pay for her tuition, graduating in 1847. College leaders asked Lucy to write a commencement speech, but explained that a man would have to read it for her because, even at Oberlin, female public speaking was not allowed. Lucy refused.
Abolitionist and Suffragist
After graduation Lucy returned to Massachusetts as the first woman on record in the state to earn a college degree. She began giving abolition and women's rights speeches at her brother's Congregational Church in Gardner, Massachusetts, and quickly became a leader of the local women's suffrage movement. William Lloyd Garrison's Massachusetts Anti-Slavery Society hired Lucy as a lecturer and organizer in 1848. Garrison was not fond of Lucy mixing her women's rights rhetoric with her abolitionist speeches, so she agreed to speak about abolition on weekends only, and women's rights during the week. People often disrupted Lucy's lectures, sometimes shouting, or throwing Bibles with claims that she was violating God's word.
During a trip to Cincinnati in 1853, Lucy met Henry Blackwell, a businessman seven years her junior who was an abolitionist and promoter of women's rights. They married in 1855. Lucy famously wrote to him, "A wife should no more take her husband's name than he should hers. My name is my identity and must not be lost." He agreed, and responded, "I wish to renounce all the privileges which the law confers upon me, which are not strictly mutual. Surely such a marriage will not degrade you, dearest." Their daughter, Alice, was born in 1857. A son, born later, died after birth.
The couple gained notoriety in 1858 when Lucy refused to pay her property taxes. She and Henry kept all property in her name so she would have independent assets during their marriage. In her statement to authorities, she protested "taxation without representation" since women could not vote. Authorities seized furniture to pay the debt, but the incident was publicized, and soon became symbolic of the fight for women's rights.
Lucy formed the Woman's National Loyal League with other abolitionists and women's rights supporters during the Civil War. Members advocated full emancipation and enfranchisement for all African Americans. Following the war, Lucy helped establish the American Equal Rights Association (AERA), with a mission to achieve equal voting rights for both genders and all races. The AERA later disbanded after conflict over the mission of the organization.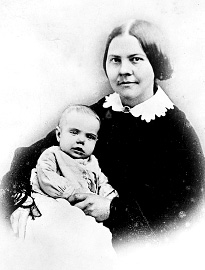 Following the AERA's implosion, Lucy, along with her husband and fellow abolitionist-suffragist Julia Ward Howe, founded the American Woman Suffrage Association (AWSA). In 1890, the AWSA merged with Susan B. Anthony and Elizabeth Cady Stanton's National Woman Suffrage Association (NWSA) to form the National American Woman Suffrage Association (NAWSA).
Unwavering Concern for the Cause
Lucy Stone spent the last decades of her life in Dorchester, Massachusetts, organizing the New England Woman Suffrage Association. She developed a stomach tumor, and "having prepared for death with serenity and an unwavering concern for the women's cause," Lucy Stone died on October 18, 1893, at the age of 75. Before she died, she worried that young women "[could] never know" the price of, and would take for granted, their right to free and public speech. She is buried in Forest Hills Cemetery in Jamaica Plain, Massachusetts.
See Also:
Adams, Abigail (Smith), National Organization for Women, History of Motherhood: American, Politics and Mothers, Slavery and Mothering, Stanton, Elizabeth Cady, Suffrage Movement and Mothers, Taxation and Motherhood
Bibliography
No Turning Back: The History of Feminism and the Future of Women.

New York:

Ballantine

, 2002.
Lucy Stone: Speaking Out for Equality.

New Brunswick, NJ:

Rutgers University Press

, 1992.
.
Seneca Falls and the Origins of the Women's Rights Movement.

Oxford, UK:

Oxford University Press

, 2008.
.
Suffragists in an Imperial Age.

Oxford, UK:

Oxford University Press

, 2008.
.
Wheeler, Marjorie

ed.

One Woman, One Vote: Rediscovering the Woman Suffrage Movement.

Troutdale, OR:

NewSage Press

, 1995.