Topic Page: Stoker, Bram, 1847-1912

Summary Article: Stoker, Abraham "Bram" (1847–1912)
from The Vampire Book: The Encyclopedia of the Undead
Bram Stoker was the author of Dracula, the key work in the development of the modern literary myth of the vampire. He was born in Dublin, Ireland and at the age of sixteen, he entered Trinity College at Dublin University. Stoker joined the Philosophical Society where he authored his first essay, "Sensationalism in Fiction and Society." He later became president of the Philosophical Society and auditor of the Historical Society. He graduated with a bachelor's degree and honors in science (1870) and, as his father before him, went to work as a civil servant at Dublin Castle. He continued as a part-time student at Dublin and eventually earned his master's degree (1875).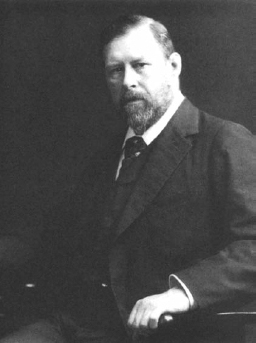 Stoker's favorable impression of British actor Henry Irving, who appeared locally with a traveling drama company, led him to offer his services to the Dublin Evening Mail as a drama critic, without pay. As his reviews began to appear in various papers, he was welcomed into Dublin social circles and soon met the Wildes, the parents of Oscar Wilde. In 1873, he was offered the editorship of a new newspaper, the Irish Echo (later renamed Halfpenny Press), part-time and without pay. The paper did not succeed, and, early in 1874, he resigned. From that point on, Stoker found his major entertainment in the theatre. He also began to write his first pieces of fiction, short stories, and serials, which were published in the local newspapers. His first bit of horror writing, "The Chain of Destiny," appeared as a serial in the Shamrock in 1875.
In 1878, Henry Irving took over the management of the Lyceum and invited Stoker to London as the theatre manager, and the Irving-Stoker partnership was to last until Irving's death in 1905. During these first years in London, Stoker found the time to author his first book of fiction, a collection of children's stories, Under the Sunset, published in 1882.
Toward the end of the 1880s, amid his duties at the Lyceum, he increased his writing efforts. The result was his first novel, appeared first as a serial in The People in 1889 and was published in book form the following year.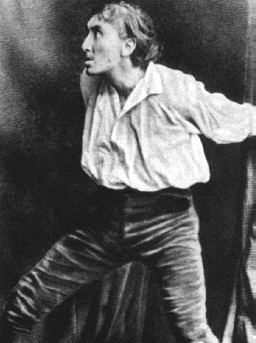 The story of The Snake's Pass centered on the legendary Shleenanaher, an opening to the sea in the mountain of Knockcalltecrore in western Ireland.
In 1890, Stoker began work on what was to become the watershed piece in the development of the literary vampire. Meanwhile, he wrote several short stories and two short novels. The novels, The Watter's Mou and The Shoulder of Shasta, are largely forgotten today. However, his short stories, especially "The Squaw," have survived and are still read by horror enthusiasts.
Stoker's decision to write Dracula seems to have been occasioned by a nightmare, in which he experienced a vampire rising from a tomb. He had read Sheridan Le Fanu's "Carmilla", first published in 1872, several years before and had rounded out his knowledge with numerous discussions on the supernatural. To these he added his own research and modeled his main character on a fifteenth-century Transylvanian nobleman. He also decided, probably suggested by Wilkie Collins's The Moonstone, to tell the story through the eyes of several different characters. In the end, the story was told through a variety of documents, from diaries to letters to newspaper clippings.
Published in 1897, there was little to suggest that Stoker considered Dracula more than a good horror story. He received mixed reviews. Some loved it as a powerful piece of gloomy fascination. Others denounced it for its excessive strangeness and complained of its crudity. Very few recognized its importance and compared it to Frankenstein. None realized that Stoker had risen to a literary height to which he would never return—but then very few authors even approached the peak Stoker had attained.
About the time of the publication of Dracula, Stoker led a four-hour reading of its text. This odd event was presented, complete with announcements of the drama version, Dracula, or The Un-dead, to be presented at the Lyceum, to protect the plot and dialogue from literary theft. He had members of the Lyceum company join him in the performance, which was the only dramatic presentation of Dracula during his lifetime.
The year after Dracula was published, Stoker's career took a downward turn. A fire swept through the Lyceum destroying most of its costumes, props, and equipment. Irving's health, already failing, began to worsen. The theatre was turned over to a syndicate and, in 1902, closed for good. Irving died in 1905. Stoker turned to writing and produced a series of novels: Miss Betty (1898), The Mystery of the Sea (1902), The Jewel of the Seven Stars (1903), The Man (1905), and The Lady of the Shroud (1909). Of these, The Lady of the Shroud was possibly the most successful. It reached a twentieth printing by 1934. The Jewel of the Seven Stars would later became the inspiration for two motion pictures: Blood of the Mummy's Tomb (1971) and The Awakening (1980). Of his later writings, Stoker put his most strenuous efforts into his two-volume tribute to his late boss, The Personal Reminiscences of Henry Irving (1906). His last books were the nonfiction Famous Impostors (1910), which included some interesting sketches of inherently interesting people, and The Lair of the White Worm (1911). The Lair of the White Worm has enjoyed some success over the years, and was reprinted in popular, inexpensive paperback editions in 1925, 1945, 1961, and most recently in 1989, in conjunction with the British motion picture adaptation directed by Ken Russell in 1992.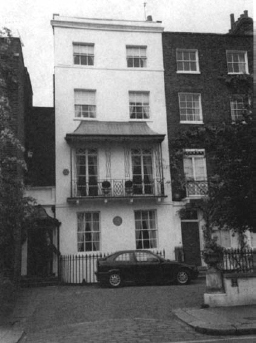 Only with great difficulty did Stoker write his last books. In 1905, his health took a decidedly downward turn. That year he had a stroke and soon developed Bright's disease, which affects the kidneys. His condition steadily deteriorated until his death at his home on April 12, 1912. Stoker's biographer Daniel Farson, a great nephew, first suggested that Stoker had died of tertiary syphilis. His conclusions were strongly refuted by Dracula scholar Leslie Shepard, but have recently been reaffirmed by writers Peter Haining and Peter Tremayne.
Possibly the most important of his post-Dracula literary products, a collection of short stories titled Dracula's Guest, and Other Weird Stories (1914), was published by his widow shortly after his death. She claimed that "Dracula's Guest" was actually a chapter deleted from Dracula by the publishers, who felt that the original manuscript was too long.
Stoker was not a wealthy man when he died, and his wife, Florence, was often hard pressed for money. She inherited Stoker's copyrights and had the periodic income from book sales. Then in 1921, Freidrich Wilhelm Murnau decided to make a film version of Dracula. He adapted it freely by, among other things, changing its setting to Germany and altering the names of several characters. For example, Dracula became Graf Orlock. Although he gave Stoker and the book due credit, Murnau neglected to obtain copyright permission. Florence Stoker sued and finally won. The German court ordered all copies of the film destroyed (although, fortunately, one copy survived). In the meantime, playwright Hamilton Deane obtained permission to adapt the novel to the stage. The play opened in June, 1924 in Derby and, after many performances around England and Scotland, finally opened in London in 1927.
Through Deane, Florence Stoker lived to see the success of Dracula first on stage then in the 1931 filming of a revised version of Deane's play starring Bela Lugosi. After her death in 1937, Dracula went on to become the single literary piece most frequently adapted for the motion picture screen (over 30 times), and its lead character the single literary figure most portrayed on the screen, other than Sherlock Holmes. The most recent film adaptation, Bram Stoker's Dracula, directed by Francis Ford Coppola, appeared in 1992. In 1987, the Horror Writers of America instituted a set of annual awards for writings in their field, which they named after Bram Stoker.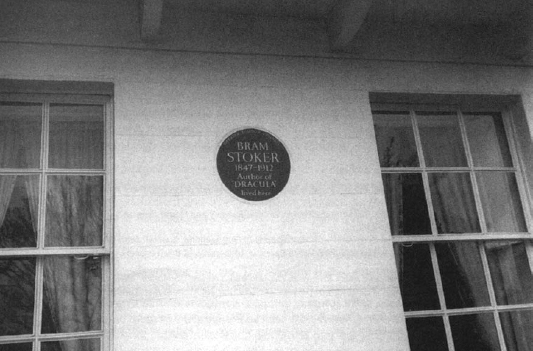 Sources:
Bram Stoker: A Biography of the Author of Dracula.

Alfred A. Knopf

New York

1996

.

381

pp.

Bleiler, E. F.

, ed.

Supernatural Fiction Writers: Fantasy and Horror.

Charles Scribner's Sons

New York

1985

. 1,169 pp.

Bram Stoker: A Bibliography of First Editions.

Dracula Press

London

1983

.

81

pp.

The Man Who Wrote Dracula: A Biography of Bram Stoker.

St. Martin

New York

1976

.

240

pp.

The Un-Dead.

Constable

London

1997

.

199

pp. . A Biography of Dracula: The Life Story of Bram Stoker. Fireside Press/W. Foulsham & Co.

London

1962

.

200

pp.
; .

Bram Stoker.

Twayne

Boston

1982

.

167

pp.

"A Note on the Death Certificate of Bram Stoker."

The Bram Stoker Society Journal

4

(1992):

35-36

.

"A Note on the Death Certificate of Bram Stoker."

Bram Stoker Society Journal.

4

(1992):

34-36

.

"The Library of Bram Stoker."

Bram Stoker Society Journal.

4

(1992):

28-34

.

"Bram Stoker's Dublin."

Bram Stoker Society Journal

5

(1993):

9-13

.

Bram Stoker: Irish Theatre Manager and Author.

Impact Publications

Dublin

1994

.

20

pp.

Under the Sunset.

Sampson Low, Marston, Searle, and Rivington

London

1882

.

190

pp.

Dracula.

Constable

London

1897

.

390

pp. Rept. Doubleday and McClure

New York

1899

.

378

pp.

The Jewel of the Seven Stars.

Heineman

London

1903

.

337

pp. Rept. Amereon House

New York

1990

.

307

pp.

The Lair of the White Worm.

William Rider and Sons

London

1911

.

328

pp.

Dracula's Guest and Other Weird Stories.

George Routledge & Sons

London

1914

.

200

pp. Rept. Dracula's Guest. Zebra Books

New York

1978

.

193

pp.

Shades of Dracula.

Haining, Peter

ed. Apocryphile Press

Berkeley CA

2006

.

208

pp.

Bram Stoker: Author of Dracula.

Morgan Reynolds

Greensboro NC

1998

.

112

pp.