Topic Page: Steinem, Gloria (1934 - )
Summary Article: Steinem, Gloria
From The Multimedia Encyclopedia of Women in Today's World
For many Americans in the 1970s and 1980s, Gloria Steinem was the public face of feminism. A journalist and political activist, she is best known as the founding editor of Ms. magazine—a position she held from 1972 until 1987. For over 40 years, she has lent her energies to innumerable initiatives on behalf of women's rights and social justice.
Born March 25, 1934, into a middle-class but downwardly mobile family in Toledo, Ohio, Steinem grew up under difficult circumstances. After her parents divorced when she was 11 years old, she found herself charged with caring for her mother, who suffered from bouts of mental illness. The experience of living alone with her mother in impoverished conditions—at times, their home was infested with rats—profoundly affected Steinem. As she later explained, "At home it felt dangerous. I felt safer outside."
Steinem attended Smith College, where she majored in political science and graduated magna cum laude. During her senior year, she became engaged, and her life seemed poised to follow the typical course of a 1950s coed. Instead, however, Steinem abruptly broke off the relationship and made plans to travel to India on a fellowship. Waiting for her visa to clear in London, she discovered she was pregnant; with the reluctant help of a doctor, she managed to obtain an abortion. Steinem then went on to India, where she studied and traveled for over a year, gaining exposure to the ideas of Mahatma Gandhi. She has described her time in India as a turning point in her life—a time when she acquired a heightened awareness of discrimination and inequality.
After returning to the United States in 1958, Steinem began working for the Independent Research Service, a nonprofit educational foundation that encouraged young Americans to participate in International Communist Youth Festivals to help counter Soviet-backed propaganda. Funded by the Central Intelligence Agency, the program was part of the government's attempt to fight communism through cultural means. At the time, Steinem did not perceive the link to the agency as problematic, but the connection would return to haunt her.
In 1960, Steinem moved to New York and began forging her way as a freelance writer. She acquired a reputation as a glamorous girl-about-town, but she initially struggled to land serious assignments. In 1968, her writing took a more political turn when she cofounded and became a columnist for New York magazine. By then, Steinem had become involved with a number of left-wing protest movements and political campaigns. Among many other activities, she marched with Women Strike for Peace, lent her support to Cesar Chavez's campaign on behalf of migrant farm workers, and championed George McGovern's presidential campaigns.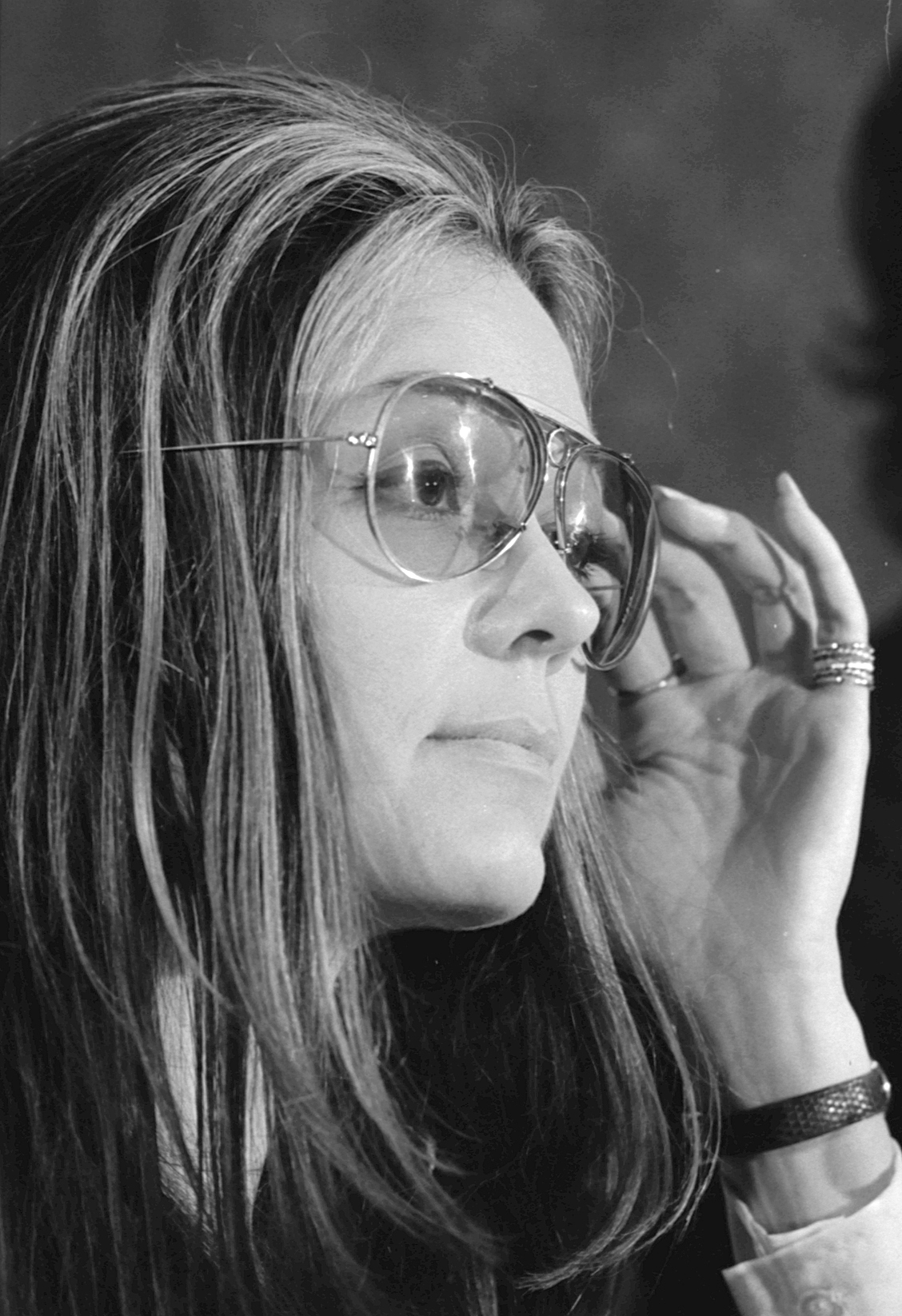 Steinem was actually somewhat slow to warm to the cause of feminism. As a self-supporting woman concerned with issues of poverty and racism, she found little to embrace in Betty Friedan's 1963 manifesto, The Feminine Mystique, which focused on the plight of suburban housewives. In 1969, however, Steinem experienced an emotional epiphany when she attended a speakout on abortion sponsored by a radical feminist group, the Redstockings. Soon thereafter, she wrote her first explicitly feminist column, "After Black Power, Women's Liberation."
Throughout the 1970s, Steinem engaged in a whirlwind of feminist activity. She frequently delivered talks on women's issues, always insisting that she be paired with an African American woman speaker. (Dorothy Pitman Hughes, Florynce Kennedy, and Margaret Sloan all shared the stage with her.) In 1971, she helped to convene the National Women's Political Caucus, an organization committed to increasing the number of women who hold political office. The following year, Steinem cofounded Ms. magazine, a publication that played a critical role in helping feminism reach a more mainstream audience. She also established the Ms. Foundation for Women, which has supported such initiatives as the Take Our Daughters to Work Program.
Surrounded by Controversy
Despite her tireless efforts and personal generosity, Steinem proved a controversial figure within feminist ranks. The more experienced Friedan resented how the media—dazzled by Steinem's photogenic image—anointed her the leader of the feminist movement (Newsweek, for instance, featured Steinem on its cover as early as 1971, before she had much of a track record as a feminist), and many younger, more radical feminists suspected her of diluting the movement's radical essence. In 1975, members of the Redstockings revived the issue of Steinem's connection to the Central Intelligence Agency and essentially accused her of being a government agent. In truth, what Steinem really infiltrated was mainstream culture. "Because of her beauty," the communications scholar Susan Douglas has argued, she could "smuggle radical critiques of the status of women into mainstream discourse and gradually get them accepted." In 1983, a collection of Steinem's articles, Outrageous Acts and Everyday Rebellions, became a best seller.
As feminism faltered in the 1980s, Steinem experienced personal and health difficulties that led her to become more introspective. In 1992, she published Revolution From Within: A Book of Self-Esteem, which many reviewers criticized as a retreat from social activism and a regrettable foray into pop psychology. In the 1990s, she also drew criticism for her credulous support of recovered memory therapy—a movement that many psychologists and psychiatrists have questioned.
In 2000, Steinem drew headlines when, at age 66 years, she married David Bale, a South African entrepreneur and political activist. (Bale died only three years later.) Though Steinem had in the past denounced the institution of marriage, she convincingly defended herself from charges of capitulation: "If I had married when I was supposed to get married, I would have lost my name, my legal residence, my credit rating, many of my civil rights. That's not true anymore. It's possible to make an equal marriage." Steinem herself deserves a sizable share of the credit for those changes. As of 2010 and in her 70s, she remains a powerful advocate for women and the dispossessed.
See Also:
Feminism, American, Feminist Publishing, Journalists, Print Media, Ms. Magazine.
Further Readings
The Education of a Woman: The Life of Gloria Steinem

. New York:

Ballantine Books

, 1996.
Gloria Steinem: Her Passions, Politics, and Mystique

. Secaucus, NJ:

Carol Publishing

, 1997.
Moving Beyond Words: Age, Rage, Sex, Power, Money, Muscles: Breaking the Boundries of Gender

. New York:

Touchstone

, 1995.
Outrageous Acts and Everyday Rebellions

, 2nd Ed. New York: Holt, (1995).
Revolution From Within: A Book of Self-Esteem

. Boston:

Little, Brown and Company

, 1993.