Topic Page: St. Lucia's Day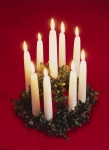 Summary Article: St. Lucy's Day (Luciadagen)
from Holiday Symbols and Customs
Type of Holiday: Religious (Christian)
Date of Observation: December 13
Where Celebrated: Denmark, Finland, Norway, Sweden, United States
Symbols and Customs: Candles, Eyes, Lucia Cats
Colors: St. Lucy's Day is associated with the colors white and red. In Scandinavia, it is traditional to observe this day by dressing the oldest daughter in the family in a white robe tied with a crimson sash.
Related Holidays: Winter Solstice
Related Articles
---
Holidays, Festivals, and Celebrations of the World Dictionary
According to tradition, St. Lucy, or Santa Lucia, was born in Syracuse, Sicily, in the third or fourth century. She was endowed with a fatal beauty
The Penguin Biographical Dictionary of Women
Considered the patron saint of the eyes, Lucy is frequently represented with a dish containing her eyes, which were supposedly...
The Christmas Encyclopedia
This nation has enjoyed Christmas since the ninth and tenth centuries, when Frankish missionaries brought Christianity to Swedish Vikings, and Olaf
See more from Credo