Topic Page: Spenser, Edmund, 1552?-1599

Summary Article: Spenser, Edmund (c. 1552–1599)
from Encyclopedia of Tudor England
Considered by contemporaries to be the foremost poet of his age, Edmund Spenser was born in London, attended the Merchant Taylors' School, and earned two degrees at Cambridge. In 1579, he published The Shepheardes Calendar, an enthusiastically received poem dedicated to Sir Philip Sidney. With its arrangement as a calendar of 12 eclogues (i.e., poems cast in the form of dialogues between shepherds) and its inclusion of extended fables in some of the eclogues, The Shepheardes Calendar was highly innovative.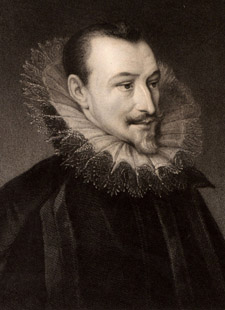 The poem's success brought Spenser to the notice of the court and led, in 1580, to his appointment as secretary to the new lord deputy of Ireland. In Ireland, Spenser became an undertaker of Munster (a region of southern Ireland), meaning he acquired property tax- and rent-free as part of a colonization scheme that took land from native Irish and gave it to English settlers. Spenser held an official post as clerk of Munster but spent much time working on his great epic, The Faerie Queen, and exchanging verses with his neighbor, Sir Walter Raleigh. The Faerie Queen was to comprise 12 books, each depicting an adventure of one of the knights of the great queen Gloriana (i.e., Elizabeth I). Spenser accompanied Raleigh to London in 1589 to present the first three books to the queen. Dedicated to Elizabeth and containing sonnets addressed to important courtiers, Books I–III earned Spenser a £50 annuity for life.
In the 1590s, Spenser published a series of other important works, including his three-volume collection of verse entitled Complaints (1591); his sonnet cycle Amoretti and the ode Epithalamion (both 1595), which together commemorate the wooing and wedding of his second wife; the allegorical poem Colin Clouts Come Home Again (1595), which uses his hero from The Shepheardes Calendar to describe his visit to London; and Astrophil (1595), a lament on the death of Sir Philip Sidney.
Books IV–VI of The Faerie Queen appeared in 1596, and A View of the Present State of Ireland, which denigrated the Irish and supported English conquest of the island, was published posthumously in 1633. In October 1598, Spenser fled Ireland when rebels burned his house. He spent his last months in London in financial distress. He died in January 1599 and was buried in Westminster Abbey at the expense of Robert Devereux, Earl of Essex.
See also Grammar School; Plantations, Irish; Poetry; Universities