Topic Page: Sotomayor, Sonia, 1954-
Summary Article: Sotomayor, Sonia
From American Government A to Z: The Supreme Court A to Z
As a young girl, Sonia Sotomayor (1954-) read Nancy Drew mystery stories and dreamed of a career as a detective or police officer. After she was diagnosed with diabetes, however, her doctor said her condition disqualified her from law enforcement. Taking a cue from the Perry Mason television series, Sotomayor changed her professional goal and decided on the law, specifically, the bench. At age thirty-eight, she began a judicial career that eventually took her to the Supreme Court as the first Latina and third woman to serve on the nation's highest tribunal.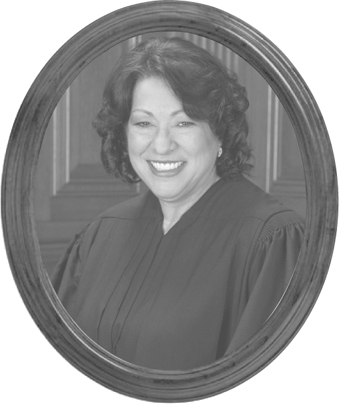 Sotomayor's parents moved to New York City from Puerto Rico during World War II, and Sonia and her brother grew up in a housing project in the Bronx. Her father, Juan, a factory worker, died when Sonia was eight years old; her mother, Celia, supported the children by working as a nurse. With her mother's strong encouragement, Sotomayor excelled at an academically rigorous Catholic high school and matriculated at Princeton University. She graduated summa cum laude and won the university's highest undergraduate award. She went on to Yale Law School, where she was an editor of the Yale Law Journal.
After graduating from Yale in 1979, Sotomayor worked for five years as an assistant district attorney in New York City before moving to a commercial law firm in New York. She also served on the board of what was then called the Puerto Rican Legal Defense and Education Fund (now Latino Justice/PRLDEF), including several years as head of its litigation committee.
Sotomayor was appointed to the federal district court in New York City in 1992 by President George H. W. Bush on the recommendation of the state's Democratic senator, Daniel Patrick Moynihan, under a bipartisan arrangement with his Republican colleague, Alfonse D'Amato. President Bill Clinton nominated her for the Second U.S. Circuit Court of Appeals in September 1997. Senate Republicans delayed action on the nomination because she was being mentioned as a possible future Supreme Court nominee; she was finally confirmed, 67-29, in October 1998.
When Justice David H. Souter announced his planned retirement in April 2009, Sotomayor quickly rose to the top of the list of possible replacements. President Barack Obama was under pressure to appoint a woman; his political advisers also saw the benefit of appointing the first justice of Hispanic ancestry. Obama personally interviewed four candidates, all women, and announced his selection of Sotomayor on May 26.
With a Democratic majority in the Senate, Sotomayor's confirmation seemed assured, but Republican senators on the Judiciary Committee questioned her closely about her judicial philosophy and some of her judicial decisions. Conservative advocacy groups depicted Sotomayor as a liberal activist judge. They pointed in particular to a 2001 speech in which she said, "I would hope that a wise Latina woman with the richness of her experiences would more often than not reach a better conclusion than a white male who hasn't lived that life." They also criticized Sotomayor for joining an appeals court decision that dismissed a reverse discrimination suit by white firefighters in New Haven, Connecticut. On the eve of the hearing, the Supreme Court reversed the decision by a 5-4 vote.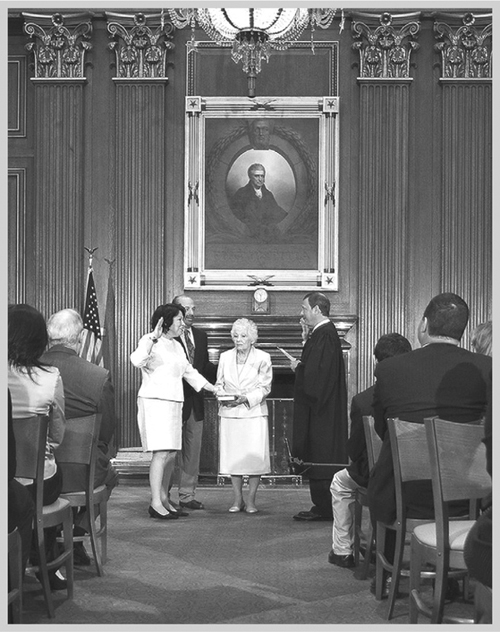 Sotomayor answered the criticisms in her opening statement by describing her philosophy as "fidelity to the law." Under questioning, she apologized for the "misunderstanding" created by the "wise Latina" remark. She also defended the ruling in the New Haven firefighters case as dictated by precedent. Conservative groups continued to oppose the nomination, but the American Bar Association gave her its highest rating of "well qualified." The committee voted 13-6 to recommend her confirmation, with all but one of the Republican senators opposed. The full Senate followed suit on August 6 by voting 68-31 in favor of confirmation; eight Republicans crossed party lines to vote in favor.
Through her first two terms, Sotomayor was a reliable vote for the Court's liberal bloc in most but not all divided cases. She angered conservatives by voting against extending the Second Amendment right to bear arms to state and local governments despite her assurance during her confirmation that she would respect the precedent establishing the right vis-à-vis the federal government. As a former prosecutor, she sided with law enforcement somewhat more often than the other liberal justices. But she also dissented strongly when the Court in 2011 tightened the rules for suspects to claim Miranda rights during interrogation.
Related Articles
---
The Supreme Court Justices: Illustrated Biographies 1789-2012
Keywords 17. John G. Roberts Jr. Court (2005-) Photograph by Steve Petteway, Collection of the Supreme Court of the United States...
The Multimedia Encyclopedia of Women in Today's World
Associate Justice of the Supreme Court of the United States of America Sonia Sotomayor is a woman of many "firsts." In 1992, at the age of 38...
Encyclopedia of the Fourth Amendment
Sonia Sotomayor (1954–), an associate justice of the U.S. Supreme Court, assumed office in August 2009, becoming the third female Supreme Court just
See more from Credo