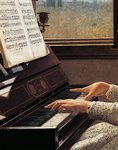 Summary Article: song
From The Columbia Encyclopedia
relatively brief, simple vocal composition, usually a setting of a poetic text, often strophic, for accompanied solo voice. The song literature of Western music embodies two broad classifications—folk song and art song.
Apart from the recently discovered cuneiform tablet containing a song from the Middle East of the 2d millennium B.C., now thought to be the oldest notated music known, and apart from ancient Greek song (see Greek music), the manuscripts of which are lost, the first outstanding examples of art song before the baroque period are those of the troubadours, trouvères, minnesingers, and meistersingers. The refined, lyrical air de cour of late 16th-century France, for one or more voices with lute accompaniment, provided the inspiration for the ayre composed by the early 17th-century English lutenists, among whom were John Dowland, Thomas Campion, and Thomas Morley.
The Italians centered their principal attention upon the development of the opera. The principle of accompanied monody, which originated in Italy and is inseparable from the early development of opera, also marked the beginning of modern accompanied song, although the speech rhythms of recitative and the elaborateness of most opera arias are usually thought of as being beyond the realm of song. A direct influence is shown in the German lied of the 17th cent., a monodic song with a basso continuo accompaniment. Outstanding among earlier examples are the Arien of Heinrich Albert (1604–51) and those of Adam Krieger (1634–66).
The German romantic lieder of the 19th cent., in which the vocal line and the piano accompaniment are of equal musical significance, are considered to be among the finest of all art songs. The lied style was articulated by Schubert and developed further by Schumann, Brahms, and Hugo Wolf. Among the poets whose lyrics they used were Goethe, Chamisso, Eichendorff, Rückert, Wilhelm Müller, Heine, and Mörike. Among modern German songs those of Hindemith and of Schoenberg are outstanding. Some of these require the technique of Sprechstimme, a pitched declamation that is a hybrid of song and speech.
In France a renewed interest in song composition began in the 19th cent. with Berlioz and was continued in the works of Franck, Fauré, Debussy, Ravel, and Poulenc. The foremost Russian composers of the genre include Glinka, Rachmaninoff, Tchaikovsky, Gretchaninov, and Glière. The dramatic songs of Moussorgsky are particularly significant. In the United States the songs of Stephen Foster had such national appeal as to become incorporated into the folk tradition. Charles Ives brought a striking originality to the modern American art song.
See ballad; carol; chantey; hymn; plainsong; rock music; and spiritual. See also birdsong.
Bibliography
See

The English Ayre

(1926);.
,

German Song

(1948);.
,

Music for the Voice

(1949);.
,

Song: Anatomy, Imagery, and Styles

(1970);.
,

Stevens, D.

, ed.,

A History of Song

(1960, rev. 1970);.

Songs and Song Writers

(1900, repr. 1973);.
,

Art Song

(1974);.
,

The Experience of Songs

(1981);.
,

The Penguin Book of Lieder

(1987);.
,

The Encyclopedia of Popular Music

(1991, rev. ed. 1996).
,