Topic Page: Smith, Margaret Chase, 1897-1995
---
Definition:
Margaret Chase, Smith
from
Chambers Classic Speeches
Margaret Chase Smith née Chase (1897-1995) was born in Skowhegan, Maine, the daughter of a barber. She worked as a teacher, then on a newspaper, marrying its publisher, Clyde Smith, in 1930. He became US Representative in Washington and when he died in 1940 she took over his position, becoming Maine's first Congresswoman. Eight years later, she became the first woman elected as a US senator in her own right and the first woman to be elected to both houses of the US Congress. She was also the first woman to read the address to the Senate. Re-elected three times, she served until 1973. In 1950 she became one of the first Republican senators to speak out against the anti-communist activities of Senator Joseph McCarthy, and in 1964 she campaigned for the office of US president, the first woman to do so since Victoria Woodhull in 1872. She wrote the books Gallant Women (1968) and Declaration of Conscience (1972). In 1989 she was awarded the Presidential Medal of Freedom.
'A forum of hate and character assassination'
---

Summary Article: Smith, Margaret Chase
from Encyclopedia of the Kennedys: The People and Events That Shaped America
After a varied career in business and local Republican politics, Margaret Chase Smith (who was born on December 14, 1897, in Skowhegan, Maine) won election to the U.S. House of Representatives in 1940, filling a vacancy created by her husband's death. She served four full terms in the House and advanced to the Senate in 1948. In Congress, Smith built a record as an independent in domestic affairs, often supporting liberal Democratic legislation. As a representative, she voted for extension of the Social Security Act and against establishment of a permanent House Un-American Activities Committee. In the Senate, she voted for such Democratic proposals as aid to depressed areas and federally subsidized housing. Although an advocate of a strong military defense and a staunch anticommunist, Smith was repelled by the tactics of Senator Joseph McCarthy (R-Wis.). In her first major address to the Senate on June 1, 1950, she assailed the Wisconsin senator with a "declaration of conscience" formulated by herself and six other Republican senators. In her widely publicized attack, Smith accused McCarthy of reducing the Senate to a "forum of hate and character assassination." In 1954, she voted for his censure by the Senate.
Elected to a third Senate term in 1960, Smith soon clashed with the John F. Kennedy administration over defense strategy. When the administration announced plans in 1961 to modernize and increase conventional military forces, Smith interpreted the new policy as an indication of an apparent lack of will to use nuclear weapons if circumstances required it. During a Senate speech on September 21, 1961, she charged Kennedy with virtually telling the Soviet Union that he would never resort to nuclear warfare, arguing that this approach would diminish America's "nuclear credibility" and weaken the nation's capacity to deal with the Russians. Administration spokesmen, including Defense Secretary Robert McNamara and Attorney General Robert Kennedy, promptly denied Smith's allegations and asserted that the president was prepared to use nuclear weapons if necessary. Soviet premier Nikita S. Khrushchev responded more vehemently to Smith's speech; he labeled the Maine Republican "the devil in a disguise of a woman" and accused her of "savage hatred" of the Soviet bloc.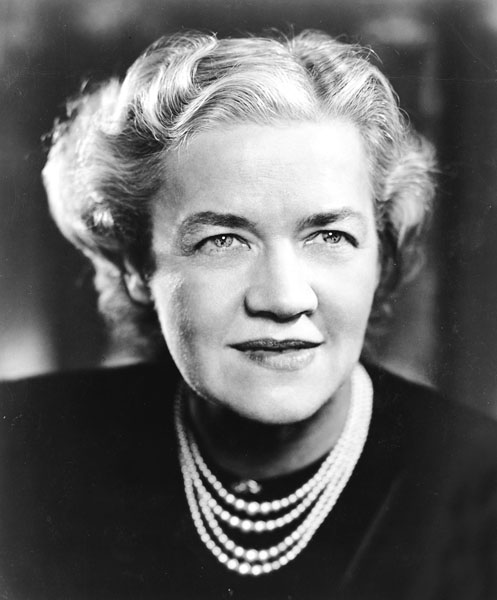 Smith also remained at odds with other sections of Kennedy's foreign policy program. She voted against the president's nominee for head of the Export-Import Bank in March 1961, and in January 1962 was one of the two Republicans to vote against confirmation of John A. McCone as director of the Central Intelligence Agency. Smith was one of a small minority of senators to oppose the Nuclear Test Ban Treaty in October 1963. She feared it would place the United States at a military and technical disadvantage in future arms development. Despite these differences with the administration, Smith favored measures to extend foreign aid and supported the Defense Department's efforts in 1962 to review the public statements of military officers before their public delivery or publication. As a member of the Preparedness Investigating Subcommittee, she defended the administration against charges that the review policy "muzzled" military leaders who spoke out against communism.
During the 87th Congress, Smith was one of the five Republican senators who voted most consistently for Kennedy administration programs. In 1963, Congressional Quarterly reported that her support of the president's domestic proposals was exceeded among Senate Republicans only by New York's Jacob Javits and Kenneth Keating. Smith opposed Kennedy's Medicare program but voted in favor of the administration's area redevelopment, school aid, minimum wage, and communication satellite proposals. She also favored efforts to change Senate Rule 22, which required a two-thirds vote of the members present to invoke cloture and end debate. Smith died on May 29, 1995.
See also: Javits, Jacob Koppel; Keating, Kenneth Barnard; Kennedy, Robert Francis; McCone, John Alex; McIntyre, Thomas James; McNamara, Robert Strange
Related Articles
---
Chambers Classic Speeches
American politician Margaret Chase Smith née Chase (1897-1995) was born in Skowhegan, Maine, the daughter of a barber. She worked as a...
Encyclopedia of the Sixties: A Decade of Culture and Counterculture
Margaret Chase Smith was born December 14, 1897, in Skowhegan, Maine. With only a high school education and a working-class background, she...
Encyclopedia of the Kennedys: The People and Events That Shaped America
The grandson of a Wisconsin bank president who had emigrated from Germany in 1848, Henry Schoellkopf Reuss was born on February 22, 1912, in Milwauk
See more from Credo