Topic Page: Smalls, Robert (1839 - 1915)
---
Definition:
Smalls, Robert
from
Chambers Biographical Dictionary
1839-1915
US soldier and politician
Born into slavery in Beaufort, South Carolina, he was forced to join the Confederate navy during the US Civil War, and he became a hero in the North when he commandeered a ship and delivered it into Union hands (May 1862). Serving then in the Union navy, he was promoted to the rank of captain (1863-66), becoming the highest-ranking African-American officer. He was elected to the South Carolina senate (1871) and the US House of Representatives (1875-79, 1881-87), where he fought for civil rights.
---

Summary Article: Robert Smalls (1839-1915) Former Slave Who Became a Union War Hero and U.S. Congressman
from Defining Moments: Reconstruction
Robert Smalls was born on April 5, 1839, in Beaufort, South Carolina. His mother was an enslaved woman named Lydia Polite who worked as a housekeeper for John K. McKee. Although the identity of Robert's father is uncertain, it was widely speculated that he was the offspring of McKee's son, Henry. This presumed link to his owner's family helped shield Robert from the harsh realities of slavery. As a child, he was allowed to do things that were forbidden to other enslaved children, and he often got away with making mischief.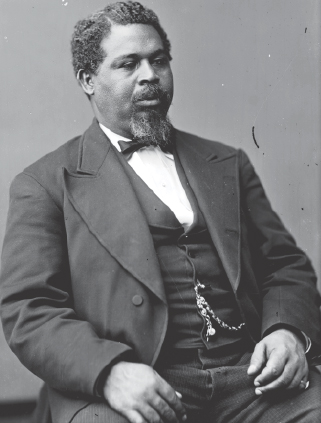 Grows Up in Slavery
Enslaved African Americans who did not conform to the harsh rules and expectations that guided race relations in the South risked being whipped, beaten, or killed. Smalls's mother feared that her son might be in danger if he did not understand this situation. When Smalls was ten years old, she asked McKee to send him to work in the fields in order to experience the reality of slavery. But seeing the conditions endured by enslaved people on plantations enraged young Smalls. Rather than learning his place and becoming more cautious and subservient, he became even more defiant and vowed to fight the cruel injustice of slavery.
After two years on the plantation, Smalls was sent back to the McKee household. He regularly acted out in violation of the laws guiding slave behavior, which resulted in his being arrested and taken to the Beaufort jail more than once. Each time, the McKee family would pay a fine and take Smalls back home. McKee finally decided to send the young man to Charleston, South Carolina, where he was allowed to work independently. Although he had to forfeit most of the money he earned to McKee, Smalls got to keep one dollar per week to cover his expenses. He soon discovered that he could stretch his income further by using his dollar to purchase tobacco and candy, and then reselling the products at an inflated price.
Smalls held many different jobs in Charleston, most of which were at the harbor. He worked as a ship rigger, sail maker, and sailor, for instance, which helped him gain familiarity with the operation of boats and shipping. When Smalls was eighteen years old, he met a woman named Hannah Jones who was enslaved by a different family in Charleston. The couple received permission from their owners to marry and reside together, although they still had to surrender most of their earnings. By this time, Smalls had renegotiated the terms of his service so that he paid McKee fifteen dollars per month, regardless of how much he earned. This deal enabled him to save money in hopes of purchasing freedom for his wife and daughter. Upon learning that their owner demanded the staggering sum of eight hundred dollars, however, Smalls began making alternative plans to gain his family's freedom.
Sets Sail for Freedom
In 1861 long-simmering tensions between North and South over slavery and other issues finally erupted into the Civil War. The first shots were fired in Charleston Harbor, when Confederate forces attacked a Union regiment at Fort Sumter. Smalls was conscripted to serve the Confederate Army. Black men were not allowed to be soldiers, but he was required to support the war effort by working as a deckhand on a steamboat called the Planter. The ship transported armaments and supplies among Confederate forts along the coast. While working on the boat, Smalls learned more about navigation and steering. He also paid close attention to the signals the captain used to communicate with the watchmen at the forts.
After absorbing all the information he could, Smalls waited for an opportunity to launch his daring plan. It came on May 13, 1862, when the crew of the Planter went ashore for the night, leaving Smalls behind to guard the boat and its cargo. Wasting no time, Smalls loaded his wife and children and twelve other slaves onto the boat. He donned the captain's hat to disguise his appearance, raised the Confederate flag, hoisted the anchor, and made his way toward the Union blockade at the mouth of the harbor. Along his chosen route, which he had carefully mapped to avoid triggering mines laid by the Confederates, he had to navigate past Confederate forts. At each one, Smalls had to signal by using a specific series of whistles to identify the ship as belonging to the Confederate Navy. He fooled the watchmen into believing that it was a Confederate ship making its way along the coast.
When Smalls finally neared the Union fleet that formed the blockade, he lowered the Confederate flag and raised a white sheet to signal his surrender. Smalls then met with the commanding officer of the fleet and explained the events that had preceded his arrival. He also turned over every chart and document that was aboard the steamboat, including the codebook for the Confederate Navy. The Union Navy happily took possession of the Planter and later repurposed the ship for transporting Union troops. Finally, Smalls gave the Union Navy vital information about the locations of mines in the harbor, some of which he had been forced to place while he was conscripted by the Confederate Army.
Becomes a Union War Hero
Smalls's daring escape from slavery and magnificent theft of a Confederate vessel received a great deal of attention in the North. The New York Times ran a story about Smalls and described his escape as "one of the most heroic acts of war."1 When the news reached President Abraham Lincoln, it helped convince him that African-American men should be allowed to serve in the Union Army. Lincoln was duly impressed that Smalls was able to hijack a Confederate ship and expertly navigate it through a harbor filled with mines. He decided that if black men were capable of such courageous actions, they should be allowed to participate in the fight for emancipation.
In 1863 Smalls enlisted in the Union Navy and was posted as a pilot on the Planter. By the end of that year he had been promoted to captain of the vessel, which made him the first African American ever to achieve that rank. Throughout the rest of the Civil War, Smalls fought in seventeen naval battles up and down the East Coast of the United States. He also served as a recruiter and helped the Union Army enlist approximately 5,000 African-American soldiers. Finally, Smalls also learned to read and write while he was in the military, which he had not been allowed to do while growing up in slavery.
Launches Political Career
When the Civil War finally ended in victory for the Union in 1865, Smalls received a $1,500 appropriation from the federal government for seizing the Planter from Confederate forces and turning it over to the Union Army. Smalls and his family went back to Beaufort, where he used the money to purchase the house he had grown up in as a slave. In 1867 Smalls opened a general store in Beaufort, as well as a school for black children. The following year, after Republicans in Congress passed several measures aimed at giving black men the right to vote and hold office, Smalls was elected as a delegate to South Carolina's constitutional convention. He and the other delegates adopted a progressive new constitution that established protections for civil rights and voting rights. A short time later, Smalls was elected to the South Carolina House of Representatives, and in 1871 he was elected to the state senate.
In 1874, after South Carolina was readmitted to the Union, Smalls ran a successful campaign for a seat in the U.S. House of Representatives. Unfortunately, he spent much of his time in office under the shadow of white supremacists who used violence, intimidation, and fraud to try to remove black officeholders. Smalls was accused of receiving bribes and spent three days in jail for the alleged crime. While Smalls always maintained his innocence, the allegation hurt his bid for reelection and he lost to a white Democrat. He returned to Congress in 1884, however, filling the seat of a congressman who died, and held the position until 1887.
After his last term in office expired, Smalls moved back to Beaufort. He was appointed as the U.S. Customs Collector at Charleston Harbor and served in this post until 1892. Although he regained the post six years later, he stepped down in 1913 in the face of rising racial tensions. Smalls died of natural causes on February 22, 1915, at his home in Beaufort, which has been preserved as Robert Smalls House. The story of his flight from slavery on a stolen Confederate ship remains one of the most memorable tales of the Civil War.
Sources