Topic Page: Smalls, Robert (1839 - 1915)

Summary Article: ROBERT SMALLS (1839-1915)
from Slavery in the United States: A Social, Political, and Historical Encyclopedia
Robert Smalls made a bold and heroic escape from slavery to freedom during the Civil War. In 1862 Smalls along with a slave crew of eight men commandeered the Confederate transport steamship Planter and navigated it out of the Port of Charleston, South Carolina, delivering it to the Union blockade fleet. His life afterwards was one of struggle, achievement, and fighting for the rights of blacks by serving in the South Carolina state legislature and the U.S. Congress.
Robert Smalls was born into slavery in Beaufort, South Carolina, on April 5, 1839. His mother Lydia was a house servant for the family of John McKee. His life was atypical of a slave, as he grew up in the household without the burden of working in the fields. After McKee's death in 1848, his son Henry owned Robert and Lydia. In 1851 he took Robert to Charleston, and hired him out for jobs such as waiter and lamplighter.
Smalls, however, was drawn to the waterfront environment, so he became a stevedore, foreman, and sail-maker. He also worked on a schooner, becoming a skilled navigator and sailor. It was at this time that he engineered a financial plan to pay Henry $15 per month and keep the remainder of his wages for himself. In 1856 Smalls married a slave named Hannah Jones, and he eventually purchased freedom for her and their baby daughter Elizabeth from Hannah's master.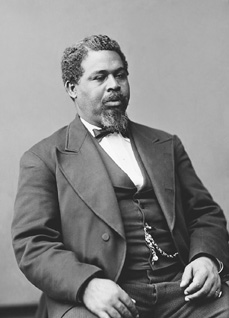 By July 1861 Smalls began working on the side-wheel steamer Planter. Once the Civil War began, the Confederate army turned Planter into an armed dispatch and transport vessel. Smalls never accepted his enslaved condition, teaching himself to read, write, and navigate the Charleston harbor. In his mind freedom was not impossible.
During the morning of May 13, 1862, while the captain and his crew were ashore in Charleston, Smalls, his wife, family, and a crew of twelve slaves sailed out of the harbor. They raised the South Carolina Confederate flag as they began their daring escape. Smalls, dressed as the captain, and knowledgeable of all the signals that would enable him to pass Fort Sumter, sailed Planter toward the Union army blockade. When out of range of the Confederate artillery, he raised a white flag and offered the ship to the Union fleet.
Smalls and his crew were welcomed as heroes. He was named captain of the Planter and was the only black captain in the U.S. Navy during the Civil War. His knowledge of the waterways of Charleston helped to defeat the Confederate forces through his leadership in over twelve sailing excursions. Smalls was honored by President Abraham Lincoln, and he used his influence to persuade the president to allow slaves to join the Union army.
After the war Smalls settled in Beaufort, South Carolina. He entered politics, serving in the state senate during Reconstruction from 1868-1870. In 1875 he began the first of five terms as a U.S. congressman. Smalls became an advocate of free slaves, fighting for education and equality for blacks. In 1897 he was awarded a congressional pension and in 1900 he was awarded $5,000 for his role in the capture of Planter.
When he left politics, Smalls served as duty and customs collector in Beaufort. He died on February 22, 1915.
See also: Gullah; South Carolina.
For Further Reading
"A Bold Break for Freedom."

American History

34

(

5

):

22-28

.
1999.
Estell, Kenneth

, ed. 1994.

The African-American Almanac

. Detroit: Gale Research.
Gullah Statesman: Robert Smalls from Slavery to Congress 1839-1915

. Columbia: University of South Carolina Press.
1995.
"South Carolina Slave Robert Smalls Put His Ship-Piloting Skills to Good Use in an Audacious Break for Freedom."

America's Civil War

13

(

4

):

8, 24, 62, 64.
2000.
Encyclopedia of African-American Culture and History

. New York: Macmillan Library Reference.
, David Lionel Smith, and Cornel West, eds. 1996.
"Stealing a Ship to Freedom."

American Legacy: Magazine of African-American History and Culture

8

(

1

):

70-73, 75-76

.
. 2002.