Topic Page: Sidney, Philip, Sir
---
Definition:
Sidney, Sir Philip
from
Philip's Encyclopedia
English poet, diplomat, and courtier. Sidney's intricate romance Arcadia (1590) is the earliest example of pastoral in English. His love for Penelope Devereux inspired Astrophel and Stella (1591), the first English sonnet sequence. An Apology for Poetry (1595) is the most important critical work of the Elizabethan era.
---

Summary Article: Sidney, Sir Philip (1554–1586)
from Encyclopedia of Tudor England
Handsome and talented, Sir Philip Sidney was accepted in his time as the archetypal Elizabethan courtier-poet. The son of Sir Henry Sidney, lord deputy of Ireland, and the nephew of Robert Dudley, Elizabeth I's favorite, with Philip II of Spain standing as his godfather, Philip Sidney was born into a wealthy and highly favored courtier family. Sidney was educated at Shrewsbury School, where he met his lifelong friend Fulke Greville and at Oxford, where he befriended such future figures of prominence as William Camden, Richard Hakluyt, Walter Raleigh, and Edmund Campion.
In 1572, Sidney witnessed the Saint Bartholomew Massacre in Paris while on a tour of Europe to further his education. In 1577, at age 22, he was sent on a diplomatic mission to Germany. A strong Protestant, he fell into disfavor in 1579 when he advised the queen to forego her proposed marriage to Francis Valois, the Catholic Duke of Alençon. Temporarily deprived of an official post, Sidney turned to literature. He had already defended his father's Irish policies in Discourse on Irish Affairs (1577) and had written a play, The Lady of May, which was presented to Elizabeth in 1578. In the early 1580s, he began writing a prose romance entitled Arcadia, which influenced many later writers, including William Shakespeare, and the first English sonnet cycle, Astrophel and Stella, which expressed his passion for Penelope Rich ("Stella"), Lady Rich, daughter of Walter Devereux, Earl of Essex. Wishing to make English literature as vigorous as continental writing, Sidney became the head of a circle of poets and writers that included Greville, Gabriel Harvey, and Edmund Spenser, who dedicated his Shepheardes Calendar (1579) to Sidney. In his Defense of Poesie (1595), Sidney set standards for the new English literature he envisioned.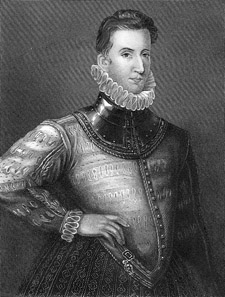 Sidney also became interested in American exploration through his friendship with John Dee. He invested in the voyages of Sir Martin Frobisher and was about to set sail with Sir Francis Drake in 1585 when Elizabeth named him governor of Flushing, one of the Dutch cautionary towns. In September 1586, he was mortally wounded leading a charge against the Spanish during Leicester's Netherlands expedition. Matching the tenor of his life, the heroic manner of his death caused great sorrow and elicited written tributes from nearly every poet in England.
See also Drama; Grammar School; Poetry; Universities
Further Reading
Sir Philip Sidney: Courtier Poet

. Yale University Press

New Haven, CT

, 1991.
.
Sir Fulke Greville's Life of Sir Philip Sidney

. Folcroft

Folcroft, PA

, 1971.
, Baron Brooke.
Philip Sidney: A Double Life

. St. Martin's

New York

, 2000.
.
"An Elizabethan Defense of Poets and Their Work: Sir Philip Sidney's Treatise 'An Apology for Poetry'."

In Voices of Shakespeare's England: Contemporary Accounts of Elizabethan Daily Life,

113-118

. ABC-CLIO

Santa Barbara, CA

, 2010.
, ed.
Related Articles
---
Continuum Encyclopedia of British Literature
In a short lifetime—he died just before his thirty-second birthday—Sidney excelled and gained renown as a...
Wiley-Blackwell Encyclopedia of Literature: The Encyclopedia of English Renaissance Literature
For many, Sir Philip Sidney (1554–86) encapsulates the English Renaissance. Poet, thinker, politician, soldier, lover, would-be explorer, almost a pr
The Bloomsbury Dictionary of English Literature
A member of a distinguished noble family, he was a fine example of the Renaissance ideal of aristocracy in his ability to...
See more from Credo