Topic Page: Shields, James (1806 - 1879)
---
Definition:
Shields, James
from
The Hutchinson Unabridged Encyclopedia with Atlas and Weather Guide
Irish-born judge, soldier, and US senator. After serving on the Illinois Supreme Court, 1843–46, Shields was briefly the commissioner of the US General Land Office, but resigned to serve in the Mexican War, 1846–48. He was then briefly governor of the Oregon Territory but resigned to take a seat in the US Senate. In 1879 he became the only person to have represented three US states – Oregon, Missouri, and Minnesota – as a senator.
---
Summary Article: Shields, James
from Encyclopedia of the Mexican-American War, The: A Political, Social, and Military History
Birth Date: May 6, 1806
Death Date: June 1, 1879
Attorney, judge, politician, and U.S. Army officer. Born in County Tyrone, Ireland, on May 6, 1806, James Shields immigrated to the United States and settled in Kaskaskia, Illinois, in 1828. He worked as a schoolteacher and studied law and was admitted to the bar in 1832. A Jacksonian Democrat, Shields briefly saw action in the Black Hawk War of 1832 and was elected to the Illinois legislature in 1836. He later served two terms as the state auditor of Illinois. After serving as a volunteer in the Second Seminole War (1835–1842), Shields was appointed a justice on the Illinois Supreme Court in 1843, and in 1845 President James Polk named him commissioner of the general land office.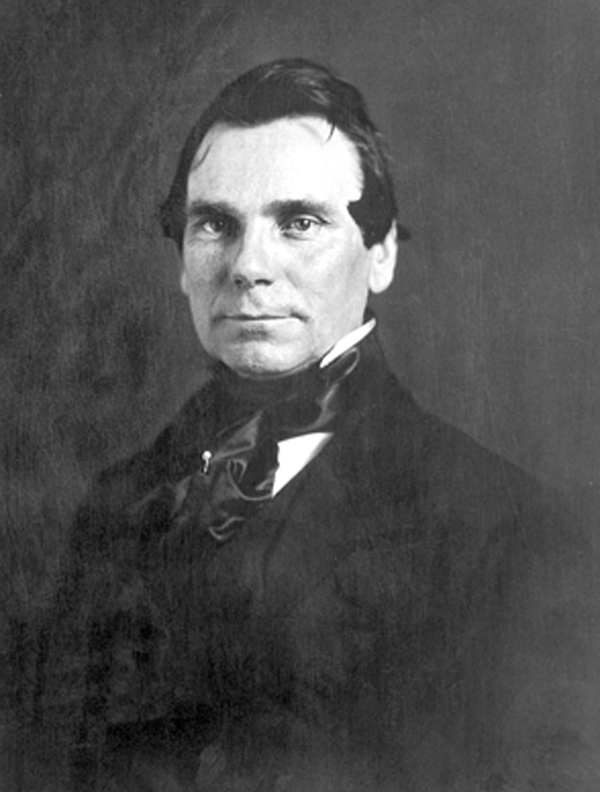 With the beginning of the Mexican-American War in 1846, Shields resigned his post and was commissioned a brigadier general of volunteers on July 1 of that year. He first served under Brigadier General Zachary Taylor on the Rio Grande, commanded an infantry brigade under Brigadier General John E. Wool, and took command at Tampico, which had been abandoned by the Mexicans. Shields then joined Major General Winfield Scott's army for the Mexico City Campaign, commanding a brigade during the siege of Veracruz in March 1847.
During the Battle of Cerro Gordo, on April 18, 1847, Shields led a flanking attack to cut the National Highway in the Mexican rear. He was severely wounded by grapeshot when he led 300 infantry volunteers against a five-gun Mexican artillery battery that was supported by 2,000 cavalry. Shields was initially thought to have been mortally wounded, but his life was saved by the efforts of a Mexican surgeon. Shields recovered, and, only nine weeks after his brush with death, he returned to command his brigade. He saw action at the August 20, 1847, Battle of Contreras, and later that same day, at the Battle of Churubusco, Shields's handling of the brigade under his command was criticized as clumsy. His force encountered determined Mexican resistance at Portales during the engagement and required reinforcements before the position could be taken. Nevertheless, his brigade took more than 800 Mexican soldiers prisoner.
In the Battle of Chapultepec (September 13, 1847) Shields was again wounded, this time in the arm, and he did not return to duty for several months, missing the last combat of the war. He was brevetted to major general later that year and returned home with his brigade in July 1848, at which time he was mustered out of service. General Scott liked and trusted Shields, publicly proclaiming him "a commander of activity, zeal and talent." Upon his return to the United States, Shields received ceremonial swords from the states of South Carolina and Illinois.
In 1848, President Polk appointed Shields governor of the Oregon Territory, and in 1849 he was elected to the U.S. Senate as a Democrat from Illinois. Failing to win reelection in 1855, Shields moved to Minnesota, where he was also elected to the U.S. Senate, serving from 1858 to 1859. Again unable to secure reelection, Shields settled in California. During the Civil War, he served as a brigadier general of volunteers but was defeated by Confederate forces under Major General Thomas J. "Stonewall" Jackson at the Battle of Port Republic in the Shenandoah Valley on June 9, 1862. He saw little action thereafter and resigned his commission in March 1863.
Shields settled first in California and then Missouri. He briefly returned to the U.S. Senate in 1879 for a third time representing a third state, when he was appointed to finish the term of a Missouri senator who had died. Shields served only three months and did not seek reelection. He died at Ottumwa, Iowa, on June 1, 1879.
See also
Cerro Gordo, Battle of; Chapultepec, Battle of; Churubusco, Battle of; Contreras, Battle of; Mexico City Campaign; Polk, James Knox; Scott, Winfield; Taylor, Zachary; Veracruz, Landing at and Siege of; Wool, John Ellis
References
Life of Major-General James Shields: Hero of Three Wars and Senator from Three States

. Press of the Blakely Printing Co.

Chicago

, 1900.
So Far from God: The U.S. War with Mexico, 1846-1848

. Random House

New York

, 1989.
A Gallant Little Army: The Mexico City Campaign

. University Press of Kansas

Lawrence

, 2007.
Related Articles
---
Bridgeman Images: Peter Newark American Pictures
Artist: American School, (19th century) Location: Private Collection Credit: General James Shields (1810-79) (engraving), American School, (19th cen
Encyclopedia of the Mexican-American War, The: A Political, Social, and Military History
Birth Date: Aprl 13, 1793 Death Date: March 28, 1853 Democratic Party politician and brigadier general of volunteers during the Mexican-American War
Encyclopedia of the Mexican-American War, The: A Political, Social, and Military History
Birth Date: ca. 1818 Death Date: August 20, 1847 U.S. Army officer whose squadron was involved in hostilities with a contingent of Mexican cavalry a
See more from Credo