Summary Article: Shallot
from The Illustrated Cook's Book of Ingredients
Like its cousin, the onion, the shallot originated in Western or Central Asia. Shallots are grown almost everywhere now, across Southeast Asia and Western Europe. Rather than being one bulb, like the onion, a shallot consists of a head of two or three individual bulbs or cloves. Their ski is generally coppery and the fine flesh flushed with fuchsia or bluish gray. In flavor, they are onion-like, although sweeter and more complex, but still pungent.
Buy
Fall and winter are the peak seasons for shallots. They should be firm and dry, with no soft spots, sprouting, or oniony smell.
Store
Keep shallots in a cool, dark, dry basket with air circulation, never in the fridge, for up to 2 months.
Eat
Fresh:
Grate into salads, or finely slice to top sandwiches. Serve diced with pickled or creamed fish.
Cooked:
Roast whole, peeled shallots; braise for sauces; bake in a gratin; or sauté to glaze.
Flavor pairings
Mushrooms, red wine, parsley, sorrel, thyme.
Classic recipes
Béarnaise sauce; bordelaise sauce; beurre blanc .
French gray shallot
Beloved of chefs, the bulbs have an exceptional flavor—full-bodied, sweet, and piquant. They impart a rich, pervasive flavor to many classic French dishes.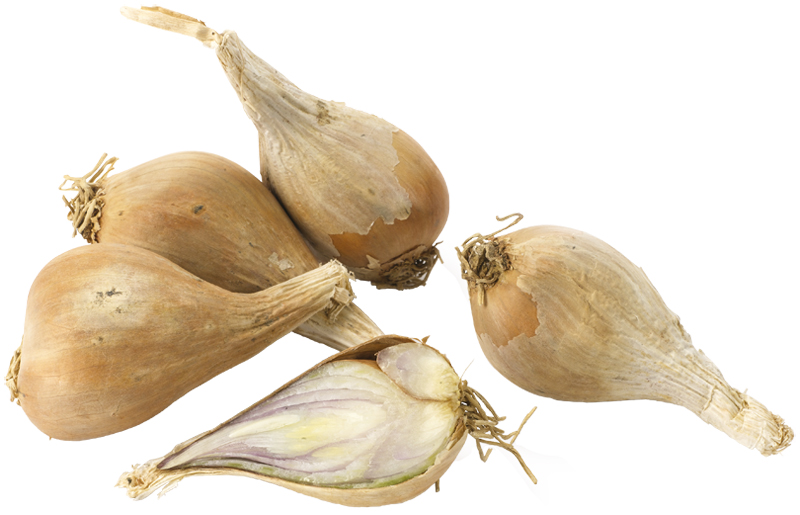 Banana shallot
These juicy, single-cloved shallots, also called echalion shallots, provide sweet, subtle flavor to stews, braises, and soups. They are good halved lengthwise, then roasted or sautéed until golden.