Topic Page: School Lunch Programs

Summary Article: School Lunch Programs
From Encyclopedia of Obesity
Established in 1946, the National School Lunch Program (NSLP) is a federal program that enables schools to provide low-cost or free nutritious lunches to children who attend participating nonprofit private and public residential childcare institutions and schools. Its provisions supply cash subsidies and agricultural commodities to assist in assuring that healthy lunches are made available to our nation's youth, and that farm food prices are stabilized. The program is administered federally by the U.S. Department of Agriculture's (USDA's) Food and Nutrition Service (FNS) and locally through state government agencies who manage agreements with local school district food program directors and authorities.
Participating schools, that is, feeding sites, are responsible for menu formulation, food preparation, food distribution, program activities, and on-site program management. Meals served must meet all applicable recommendations from the Dietary Guidelines for Americans. For example, lunches are designed to meet one-third to one-half of the minimum daily food group requirements. A minimum of one-third the recommended dietary intake of vitamin A, vitamin C, iron, calcium, and calories must be met. The total calories from fat must not exceed 30 percent of total calories provided, and saturated fats must not exceed 10 percent. In exchange for agreeing to follow age-appropriate guidelines, feeding sites are reimbursed either per meal served or for the actual cost of the program, whichever is less.
One program provision mandates that all participating schools must grant students the opportunity to participate in subsidized special lunch pricing. Special pricing provisions grant free lunches to children who come from families with incomes less than or equal to 130 percent of the poverty level, and reduced-priced lunches for children from families with incomes at 130 to 185% of the poverty level.
Due to increased awareness of the link between learning and child hunger and nutrition, the National School Lunch Act was amended in 1962 to increase program efficiency, reduce disparities, and increase program participation. Through continued critical review and other legislative actions and mandates, the NSLP services, quality, funding, educational, and technical support have improved. By 2002, 99 percent of all public and private nonprofit schools participated in the NSLP, and by 2005, more than 29.6 million children were receiving free and reduced-price lunches. Through the success of the NSLP and related school programs, food is made available to students in need while indirectly teaching families the necessities of a good diet.
Significant legislative actions and mandates have served to improve and expand the school lunch program. Amendments to enhance program performance have been adopted.
Other policies that have positively impacted the school lunch program include those that established School Lunch Week, the School Meals Initiative for Healthy Children, Team Nutrition, and federally legislated school wellness policies. National School Lunch Week was established in 1962. A Joint Resolution of Congress guided the president to annually issue a proclamation for Americans to participate in "appropriate ceremonies and activities" during the second week of October to call attention to the program.
In the mid-1990s, school lunch meal quality was greatly impacted by the adoption of the School Meals Initiative for Healthy Children. This legislative mandate was implemented to amend nutrition standards and regulations for the national school feeding programs, including school lunch. This legislature required that school meals meet certain minimum standards for calories and other nutrients, such that they contain less than 30 percent calories from fat and 10 percent calories from saturated fat over the course of a week; provide one-third recommended daily allowance (RDA) for protein, iron, calcium, and vitamins A and C; comply with the Dietary Guidelines for Americans; include decreased levels of sodium and cholesterol and increased amounts of dietary fiber. The legislature further mandated that menus, recipes, food product descriptions, and production records be maintained to show that adequate food items or menu items are offered each given day, and that nutrition standards are met for specific age/grade groupings when averaged over each school week (a school week is defined as a minimum of three consecutive days and a maximum of seven consecutive days), and that state nutrition officials conduct audits at least once every three to five years to ensure compliance.
In addition to the USDA launch of the School Meals Initiative for Healthy Children, in 1994 USDA's FNS established Team Nutrition. Team Nutrition's aim was, and continues to be, to support the Child Nutrition Programs through training and technical assistance for foodservice personnel, nutrition education for children and their caregivers, and school and community support for healthy eating and physical activity. Team Nutrition's goals are to improve children's lifelong eating and physical activity habits. Team Nutrition resources are available for food service personnel, teachers, and other interested parties via Web sites, materials available for purchase, and so forth. Team Nutrition Training Grants and affiliated local wellness grants have funded work that has demonstrated strong impacts.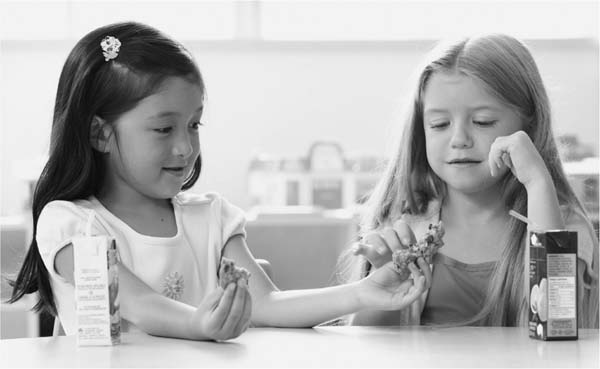 The most recent policies that have significantly impacted the NSLP were put into place by Congress during the reauthorization of the Child Nutrition Act in 2004. This legislation mandated that school districts create local school wellness policies to address health, nutrition education, physical activity, and every aspect of the foods and beverages made available during the school day. Local policies were established by the start of the 2006–07 school year; they continue to evolve to improve the health of our nation's youth.
Other programs of interest that are affiliated with and/or similar to the NSLP include the School Breakfast Program (established 1966), the After-School Snack Program (established 1998), the Summer Food Service Program for Children (established 1968), and the Homeless Children Nutrition Program (established 1994). These programs were established with the same student eligibility requirements as the NSLP, and they provide nutritious foods to children under the age of 18 and to the mentally and physically handicapped over the age of 18.
SEE ALSO:

Federal Initiatives to Prevent Obesity; Food Stamp Nutrition Education Program; Governmental Policy and Obesity; Healthy People 2010.
BIBLIOGRAPHY
3rd ed.

(

Thomson Wadsworth

,

2003

).
, Community Nutrition in Actions: An Entrepreneurial Approach,
U.S. Department of Agriculture, Food and Nutrition Service, "National School Lunch Program,"

www.fns.usda.gov/cnd/Lunch/default.htm

(cited

June 2007

).
Related Articles
---
The Gale Encyclopedia of Diets
Definition School lunches are a vital part of the school day for children around the world. For many children, school lunches constitute their ma
Gale Encyclopedia of Public Health
Definition The American School Health Association (ASHA) defines school health as "all the strategies, activities, and services offered by, in, o
Nutrition for Life: A No Fad, Non-Nonsense Approach to Eating Well and Reaching Your Healthy Weight
Schoolchildren need a variety of good foods to grow and develop. Good nutrition is essential for schoolchildren. They need enough fuel
See more from Credo