Topic Page: Sargent, John Singer, 1856-1925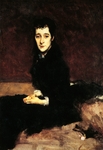 Summary Article: Sargent, John Singer
From The Hutchinson Unabridged Encyclopedia with Atlas and Weather Guide
US portrait painter. Born in Florence, Italy, of American parents, he studied there and in Paris, and settled in England in 1885. He quickly became a fashionable and prolific painter, though not in the sense that he flattered: he brilliantly depicted affluent late Victorian and Edwardian society, British and American. His portrait of Mme Gautreau, Madame X (1884; Metropolitan Museum of Art, New York), criticized for its impropriety when first shown in Paris, is one of his best-known works.
Dominant influences on his style were Frans Hals, Velázquez, and Monet, all artists whose free handling of paint gives a lively spontaneity to their works. His paintings of the Wertheimer family (Tate Gallery, London) constitute a remarkable family record, and for 25 years he portrayed a long series of celebrities, including Roosevelt, Rockefeller, Chamberlain, and Ellen Terry. The superficiality of which he is often accused could be said to reflect that of the society he depicted, and he remains an outstanding recorder of his age.
Sargent studied art in Florence and in Paris under Carolus-Duran. A visit to Spain in 1879 introduced him to Velázquez, though a native illustrative tendency appears in his El jaleo, a picture of Spanish dancers, one result of the visit. He lived in Paris until 1885 when his portrait Madame X incurred a storm of criticism, after which London became his base.
In various ways he reacted against the demands of portraiture: in the much criticized murals for the Boston Library (1890); in his war pictures, for example Gassed (1920; Imperial War Museum, London); and in the watercolours in which after 1910 he found his main pleasure, his views of Venice in this medium being notable works. He may most readily be compared in portraiture with British artists, especially Thomas Lawrence. He was elected to the Royal Academy in 1897.
quotations
Sargent, John Singer
didyouknows
Sargent, John Singer