Topic Page: Sanders, Bernard
Summary Article: Sanders, Bernie
From Encyclopedia of Social Media and Politics
Bernard Sanders (1941–), more commonly known as Bernie Sanders, is currently the junior U.S. senator from Vermont. He was elected to the U.S. Senate in 2006 as an Independent. Sanders previously served as the U.S. Representative from Vermont's at-large district from 1990 to 2006, and as Mayor of Burlington from 1981 to 1989.
The son of Polish immigrants, Sanders was raised in Brooklyn, New York. He first attended Brooklyn College, but later transferred to the University of Chicago, where he earned a B.A. in political science in 1964. At the University of Chicago, Sanders became a critic of economic liberalism and a proponent of social democracy. He subsequently spent time on a kibbutz in Israel, which solidified his worldview and lifelong identity as a democratic socialist. Although he has proudly called himself a socialist ever since, Sanders distinguishes his understanding of socialism from communism proper. At its heart, Sanders's political platform is devoted to working and middle-class families, children, the elderly, and the poor. As a result, he has been a proponent of universal health care, public education, environmental protection, immigration reform, and withdrawing American troops from Iraq.
Sanders was the third socialist to be elected to the House of Representatives, and the first ever to be elected to the Senate. He was the only Independent during his time in the House, and is today one of two Independent members of the Senate. As a longstanding critic of both Republicans and Democrats, Sanders has known few political allies in the course of his career. Even the more progressive members of the Democratic Party, who would otherwise make natural allies, have been critical of his abrasive speaking style and unwillingness to compromise on almost every political issue. However, Sanders has happily embraced his marginal status, which enables him to speak freely and directly both in Congress and to the media.
This status sets him apart from his colleagues in both parties, who are more often than not limited by their respective platforms in what they can publicly say. Sanders's blunt and charismatic style not only endears him to his constituents, but also makes him a natural social media phenomenon. He is known for clear, powerful, and memorable lines that can be easily disseminated and shared on Facebook and Twitter. Although he lacks political alliances in the American legislature, he nonetheless commands a vast social-media following that most Republican and Democratic politicians would envy.
The Sanders administration officially makes use of Facebook, Twitter, YouTube, and Google+. These tools enable to him to share news and updates, educate his followers about the strengths and drawbacks of proposed bills in the House and the Senate, and to bolster his political campaigns. They also enable him to share pictures and video clips, announcements for upcoming media appearances, as well as words of thanks to his supporters. Although Sanders maintains a staff to manage his social media presence, he often posts comments, adding a personal touch to an otherwise formal affair, further endearing him to his already loyal followers.
Facebook
Like most politicians, Sanders's primary social media platform is Facebook. To date, his official Facebook page has over 162,000 fans. Visitors are greeted by a photo of Sanders, along with a seasonal background image of Vermont, the latter routinely updated to reflect the time of year. The "About" page provides Sanders's biographical data, educational background, employment history, contact information, and select political achievements.
The main page features an extensive history of posts, which are made almost daily. Typically, these posts include a summary or excerpt of an official press statement by Sanders regarding a current political issue, followed by a link to the official Web site of the Sanders administration providing further information. Sanders's Facebook posts also commonly include images featuring a photo of Sanders alongside a catchy quote. Other posts feature videos of Sanders's media appearances on television, often from the progressive cable news channel MSNBC. Regardless of the type, all posts are designed to be shared and distributed by Facebook users. The conciseness, pithiness, and rhetorical power of these posts make them easy to consume on Facebook's unique user interface.
For example, in November 2012, during the negotiations between Democrats and Republicans in the U.S. Congress concerning deficit reduction in the federal budget, Sanders posted the following quote:
Just think of the arrogance of these CEOs who were bailed out by the American people when their greed and recklessness nearly destroyed the international financial system, and now they come to Congress to lecture the public about the need to cut programs for working families who are struggling from the recession that they caused.
This quote was juxtaposed alongside a photo of Sanders looking intensely at his audience and speaking passionately with an index finger pointing in the air. The remarkably forthright nature of the quote, which is highly unusual for a Washington politician, along with the charismatic image of Sanders delivering his signature fiery oratory, is a common feature of Sanders's Facebook activity. It is also the reason that his followers hold him in such high esteem.
The sharing tool allows those who are not official fans of Sanders's Facebook page to receive posts in their news feed, and should they choose, to share those posts in turn. This enables Sanders to widely disseminate his talking points and to gain new followers in the process. The provocative nature of his Facebook posts are also known to generate lengthy, if somewhat disordered, discussions. These discussions follow below each post, and below each sharing of each post. Facebook users are thereby able to express their opinions about a particular issue on both Sanders's page, as well as on their personal pages. These opinions often take the form of routine praise for Sanders's viewpoints and criticism for those he opposes. It also takes the form of reasoned exchange. It is not uncommon for a typical post on Sanders's Facebook page to receive thousands of "likes," to be shared thousands of times, and to generate thousands of comments. These comments can themselves receive "likes," and enable followers to network with each other, further strengthening Sanders's support base.
Twitter
Sanders's second-largest social media following can be found on Twitter, where he draws over 127,000 followers. His Twitter account, @Sen-Sanders, features the same background image as that found on his Facebook page, along with an official photo of Sanders against a second, smaller background image. To date, Sanders and his staff have made over 5,000 tweets. Although the overwhelming majority of tweets are made by his staff, many are made by Sanders, and end with a simple "-B". Sanders also follows over 900 other accounts, keeping him and his staff up-to-date with key players on Twitter.
Following standard Twitter syntax by politicians, Sanders offers his followers daily news updates and announcements in brief form. When appearing on television, Sanders uses the "@" symbol to acknowledge his host (e.g., @Wolf-Blitzer), which attracts the attention of those who happen to follow or search for that host's Twitter account. Typical tweets are followed by links in the form of shortened URLs that fit within Twitter's 140-character limit. They are also followed by hashtags (e.g., #Budget and #FiscalCliff) designed to promote or "trend" those tweets. Often, these hashtags will be included in a sentence, which economizes on space. Even within Twitter's extreme character limit, Sanders and his team manage to convey the same sense of passion, outrage, and wit characteristic of his Facebook posts. An example of such a tweet is the following from late November 2012:
Lloyd Blankfein, CEO of @GoldmanSachs, is paid more in two hours than the average #SocialSecurity recipient earns in a year.
Just as Facebook's user interface permits unique forms of communication and expansion of user support, Twitter has enabled Sanders to increase his following because of the rapid-fire nature of tweets. The most famous example of this phenomenon occurred in late 2010, when Sanders strongly objected to the Tax Relief, Unemployment Insurance Reauthorization, and Job Creation Act of 2010, which extended the so-called Bush tax cuts to preserve historic low rates for the wealthiest Americans. Sanders argued that extending these tax cuts would place even greater burdens on social programs and result in further harm to working- and middle-class families, the poor, the elderly, and children. He took to the Senate floor and spoke for no less than eight and a half hours, attacking the compromise in his characteristic style. As news of the speech spread, large numbers of "tweeters" began following, discussing, and supporting his effort. The discussion famously generated a unique hashtag, #FiliBernie, although the speech was not technically a filibuster. Virtually overnight, Sanders gained 4,000 Twitter followers. The story was listed by social media news Web site Mashable.com as one of the top Twitter trends of December, even outranking those by pop music giants Taylor Swift and Miley Cyrus.
YouTube
Compared to Facebook and Twitter, Sanders has few followers on YouTube. To date, he has managed to accumulate nearly 8,000 subscribers. However, this comparatively low number of subscribers is not a reflection of the efficacy of Sanders's YouTube content, but rather of the nature of YouTube. Unlike Facebook and Twitter, it is simply less common for users to become subscribers to an official YouTube channel. Despite the low number of subscribers, Sanders's YouTube videos have managed to receive well over 2 million views.
Because YouTube's user interface is not amenable to the kind of colorful background images characteristic of Facebook or Twitter, Sanders's YouTube channel is fairly modest in appearance. However, what it lacks in colorful appearance it more than compensates with lively visual content, for it is through YouTube that Sanders often provides video clips and links to such clips on Twitter.
Google+
Despite being one of the more recent social media platforms, Google+ has proven surprisingly popular with Sanders's followers. To date, over one million users have added Sanders to their "circles," demonstrating the unique power of Google+ to reach new public audiences.
Sanders uses the same official photo, along with the same background image, as those found on Facebook. The updates and announcements are also very similar in style and format, and in fact share much of the same content. User participation also mirrors Facebook, with followers making comments, endorsing each other's comments with a "+1," and sharing Sanders's posts on their accounts.
Sanders was one of the first American politicians to start a Google+ account. While Google+ is very similar to Facebook in its user interface, it offers different tools that the Sanders team has utilized to communicate with supporters. For example, in November 2011, just two months after Google+ was made available to the public without the need for an invitation, the Sanders team polled its followers on whether they supported or opposed a constitutional amendment to reverse the U.S. Supreme Court decision on Citizens United v. Federal Election Commission, which permitted unrestricted expenditures by independent entities (e.g., corporations and unions) in politics. Despite being an early and not altogether reliable use of the polling tool, Sanders nonetheless established himself as a pioneer on Google+, once again earning the recognition of Mashable.com.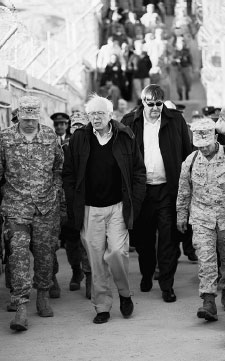 Recognition
Sanders has received widespread recognition for his social media efforts. In late 2011, Mashable.com nominated Sanders for the category of "Must-Follow Politician on Social Media," along with Barack Obama, Cory Booker, and Ron Paul. In March 2012, Sanders won a prestigious Shorty Award, the social media equivalent of an Academy Award, for the category of Best Member of Congress on Social Media for his use of Facebook, Twitter, and Google+. The award was presented by The Daily Show correspondents Samantha Bee and Jason Jones. Sanders took the occasion to acknowledge the power and importance of social media to directly connect with the public, and to have a debate about issues that are rarely discussed in mainstream media. He highlighted in particular the possibility of having meaningful conversations on social media about the disappearance of the middle class, increasing inequality in income and wealth, rising levels of poverty, and the need for better healthcare. Sanders's belief in the democratic power of social media is in part a reflection of his disenchantment with traditional corporate media.
In March 2012, Edelmen Digital, a division of the public relations giant Edelmen, issued a report concerning the most influential U.S. politicians on Twitter. Partnering with Simply Measured, a prominent social media analytics tool, Edelmen measured Twitter "success" through a newly devised set of metrics, which included engagement, Twitter mentions, amplification, growth in the number of followers, and "tweetlevel" influence, or the number of times a politician's tweets have been retweeted. Studying a time period ranging from September to December 2011, the study observed 456 Twitter accounts and nearly 60,000 tweets. Edelmen revealed that Sanders ranked first in influence, first in engagement, third in trust, and fourth in popularity. Sanders's success came as a surprise to commentators, as Republicans far outnumbered Democrats both in terms of Twitter accounts and efficacy of tweets.
See Also: Facebook; Google+; Pelosi, Nancy; Twitter; YouTube
Related Articles
---
Culture Wars in America: An Encyclopedia of Issues, Viewpoints, and Voices
For many years the only independent in the U.S. House of Representatives, Bernard "Bernie" Sanders has been the rare radical political activist who
The SAGE Handbook of Social Media Research Methods
In this chapter I present the main rationale, methods and analytical tools for extending small stories research, a narrative and identities analysis
Sports Leadership: A Concise Reference Guide
Social media is an ever-present part of society. With social media giant Facebook having well over 1 billion registered users, and other platforms s
See more from Credo