Topic Page: Salem (Mass.)
---
Definition: Salem from Philip's Encyclopedia
---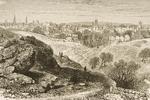 Summary Article: Salem
From The Hutchinson Unabridged Encyclopedia with Atlas and Weather Guide
City and administrative headquarters of Essex County, northeast Massachusetts, on Massachusetts Bay, 24 km/15 mi northeast of Boston; population (2000 est) 40,400. Leather goods, electrical equipment, and machinery are manufactured. Services including health care and education, and tourism are major industries. Many attractions relate to the infamous Salem witch trials of 1692 that ended in the execution of 19 people. The trials took place in nearby Danvers, then known as Salem Village. Salem was incorporated as a city in 1836.
Settled as Naumkeag in 1626, it was renamed Salem in 1629 after the Hebrew word for peace, shalom. It became a leading port and shipbuilding centre in the 18th century, and was one of the richest US towns in 1790. The city was badly damaged by fire in 1914.
Tourist attractions relating to the trials include the Witch Dungeon Museum, the Wax Museum, Salem Witch Museum, and the Witch House, which, as the home of Judge Jonathan Corwin, is the only remaining contemporary structure associated with the trials. There is also 'Dracula's Castle'. There are 44 entries on the national register of historic places, and other points of interest include Pioneer Village – a reconstruction of 1630s Salem, the Peabody and Essex Museum, the New England Pirate Museum, the birthplace of the 19th-century writer Nathaniel Hawthorne, and the House of the Seven Gables (1668), which inspired Hawthorne's novel of the same name in 1851. Salem Maritime Historic Site was the first National Historic Site in the US National Park system. Salem was the birthplace of US senator George Cabot.
weblinks
Salem Witch Museum
Related Articles
---
Merriam-Webster's Geographical Dictionary
\sā-ləm\ 1 County in SW New Jersey. See table at new jersey . 2 City, county seat of Fulton co., N Arkansas; pop....
The Hutchinson Unabridged Encyclopedia with Atlas and Weather Guide
Town in Essex County, northeast Massachusetts; population (1998 est) 25,200. It is located 27 km/17 mi northeast of Boston, on the Danvers River. His
See more from Credo