Topic Page: Ruminants
---
Definition:
ruminant
from
The Hutchinson Unabridged Encyclopedia with Atlas and Weather Guide
Any even-toed hoofed mammal with a rumen, the 'first stomach' of its complex digestive system. Plant food is stored and fermented before being brought back to the mouth for chewing (chewing the cud) and then is swallowed to the next stomach. Ruminants include cattle, antelopes, goats, deer, and giraffes, all with a four-chambered stomach. Camels are also ruminants, but they have a three-chambered stomach.
images
Rothchild's giraffe
---

Summary Article: ruminant
From Philip's Encyclopedia
Cud-chewing, even-toed, hoofed mammal. They include the okapi, chevrotain, deer, giraffe, antelope, cattle, sheep, and goat. All except the chevrotain have four-chambered stomachs, and they are known for re-chewing food previously swallowed and stored in one of the chambers.
ruminant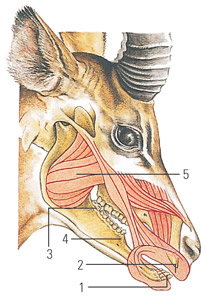 Artículos relacionados con el credo
---
Penguin Dictionary of Biology
Artiodactyl (Suborder Ruminantia) characterized by very complex herbivorous stomach and feeding method. Grazed food is swallowed into the ...
The Encyclopedia of Ecology and Environmental Management, Blackwell Science
A herbivorous animal that has a complex digestive system in which a mutualistic relationship is maintained with anaerobic cellulose ...
Encyclopedia of Environmental Change
Of the Ruminantia, a suborder comprising those artiodactyls (even-toed mammals) possessing a complex stomach of three or four parts, in which ruminat
Ver más de Credo