Topic Page: Roy, Arundhati
---
Definition:
Roy, (Suzanna) Arundhati
from
Chambers Biographical Dictionary
1961-
♦ Indian author
Born in Shillong, she trained at the Delhi School of Architecture. She wrote two screenplays, In Which Annie Gives It Those Ones (1988) and Electric Moon (1992), before producing her first novel, The God of Small Things (1997), which won the Booker Prize. She has written widely on environmental and nuclear issues and has spoken out in defence of the weak and disadvantaged in India.
---

Summary Article: ROY, ARUNDHATI
from India Today: An Encyclopedia of Life in the Republic
Indian writer, social activist, and in 1998 one of People magazine's "50 Most Beautiful People in the World," Arundhati Roy was born in Shillong in 1961 and is the first Indian writer to win the British literary award known as the Booker Prize, which was awarded to her in 1997 for her first novel, The God of Small Things. In 1989 she wrote the screenplay for In Which Annie Gives It Those Ones, which was based on her experience as an architecture student, but she came to the public's attention in 1994 with her critique, titled "The Great Indian Rape Trick" of Shekar Kapur's film Bandit Queen, based on the life of the outlaw Phoolan Devi (1963-2001). Roy, after winning the Booker Prize, has written and spoken on political issues and against globalization, India's nuclear activities, religious fundamentalism, and the U.S.-led wars in Afghanistan and Iraq. In 1998 she criticized India's nuclear weapons testing program at Pokran, Rajasthan, in "The End of Imagination," published in a collection of essays titled The Cost of Living in 1999. The same year she wrote "The Greater Common Good," arguing against the Narmada Dam project of some 30 large dams on the Narmada River. Her related protests with social activist Medha Patkar (b. 1954) led to Roy being briefly imprisoned. In 2002 the Lannan Foundation (founded in 1960) in Los Angeles awarded her the Prize for Cultural Freedom along with $350,000 in prize money, which she distributed among 50 people's movements, publications, educational institutions, and theater groups in India. In April 2003 South End Press released War Talk, which includes "Come September," a critique on the effects of the U.S.-led War on Terror, intervention in Chile, the Palestinian-Israeli conflict, and the war in Iraq. In 2005 she took an active role in the World Tribunal on Iraq. The Sydney Peace Prize, awarded by the Sydney Peace Foundation in Sydney, Australia, was awarded to Roy in 2004 for her social campaign and advocacy of nonviolence. In 2006, however, in protest of the massacre of protestors by Indian police and of the Indo-U.S. stand on economic policies, she declined to accept the Sahitya Akademi Award (national award from India's Academy of Letters) for her collection of essays titled The Algebra of Infinite Justice. In July 2009 Roy published a major work titled Field Notes on Democracy: Listening to Grasshoppers, a probing collection of essays on India's democracy and government.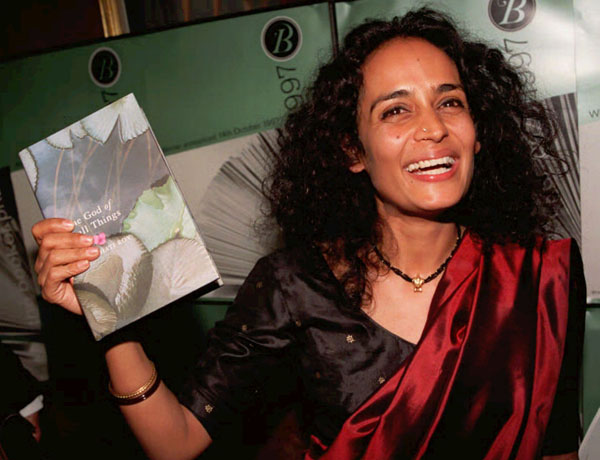 See also Environment; Human Rights; Globalization; Water Resources
Further Reading
The Chequebook and the Cruise Missile: Conversations with Arundhati Roy.

Harper Perennial

London

, 2004.
, and Naomi Klein.
The AlgebRa of Infinite Justice.

Flamingo

London

, 2002.
.
Field Notes on DemocRacy: Listening to GRasshoppeRs.

HaymaRket Books

Chicago

, 2009.
.
The God of Small Things.

Random House

New YoRk

, 1997.
.
"The GReat Indian Rape TRick."

http://www.sawnet.oRg/books/wRiting/Roy_bql.html

.
,
WaR Talk.

South End

CambRidge, MA

, 2001.
.
Related Articles
---
Encyclopedia of Activism and Social Justice
Arundhati Roy was born to a Bengali father and a Syrian-Christian mother and grew up in Aymanam, Kerala, in India. She studied architecture at...
The Cambridge Guide to Women's Writing in English
Maverick architect and film-maker, now a dazzlingly original writer whose début novel, The God of Small Things ( 1997 )...
Chambers Dictionary of Great Quotations
Indian author and environmental activist. Her first novel, The God of Small Things (1997), won the Booker Prize. 27 The whole of contemporary h
See more from Credo