Topic Page: Rostand, Edmond (1868 - 1918)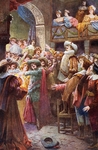 Summary Article: Rostand, Edmond (1868 - 1918)
From The Cambridge Guide to Theatre
At a time when naturalism was the dominant orthodoxy, Rostand's plays seem to look back to the romantic period in spirit. At the same time, a part of their appeal lay in their explicit or implicit patriotic sentiment, most noticeable in Cyrano de Bergerac (1897) and L'Aiglon (1900). A one-act play, Les DeUx Pierrots, was turned down in 1891 by the Comédie-Française, but the same theatre accepted his charming comedy The Fantasticks (Les Romanesques, 1894), which had many of the qualities of the comedies of Alfred de Musset, notably a light and witty dialogue. La Princesse lointaine (The Distant Princess, 1895) provided a role for Sarah Bernhardt, as Mélissinde, the princess of its poet hero's idealized dream. Sarah again played the lead role in La Samaritaine (The Woman of Samaria, 1897), a biblical piece based on the meeting of Christ and the Woman of Samaria. Cyrano de Bergerac, created by Coquelin at the Porte-Saint-Martin (see boulevard), was his most popular play, combining nostalgia for the grand siécle (scenes include a reconstruction of the 17th-century Hôtel de Bourgogne theatre in Paris) with swashbuckling heroism and panache and a strongly romantic theme of a love which can never express itself to its object. Audiences loved its swordsman-poet hero and were carried along by the strongly lyrical quality of Rostand's verse. L'Aiglon, a play about the Duke of Reichstadt, son of Napoleon, was less strong, but depended even more heavily upon stirring up patriotic fervour, and offered another major role to Bernhardt as the sickly prince.
Rostand's career was cut short by ill health, but he did write one other major play, Chantecler (1910), with Lucien Guitry in the role of the cock. It was based on the Roman de Renart and the actors wore cumbersome costumes as farmyard animals. Like Victor Hugo, Rostand was often more poet than dramatist, but his romanticism was always tinged with a streak of clear-sighted realism, whether in the character of Cyrano or in the satirical comment on contemporary politics and literature contained in Chantecler. JMCC
Related Articles
---
Who's Who in Gay and Lesbian History, Routledge
He was born in Paris, in spite of his Gascon-sounding name which accounts for the theatrical character created by Edmond...
The Hutchinson Chronology of World History
Subject: cinema and film The film Cyrano de Bergerac, directed by Italian film-maker Augusto Genina, is released in France. Based on the play by Ed
Bridgeman Images: Charmet Collection
Artist: French School, (20th century) Location: Bibliotheque des Arts Decoratifs, Paris, France Credit: Postcards depicting Cyrano de Bergerac with
See more from Credo