Topic Page: Ross, Diana (1944 - )
Summary Article: Ross, Diana
from Encyclopedia of African American Actresses in Film and Television
Born in Detroit, Michigan, March 26, 1944.
Those with even the slightest touch of "diva fever" must admit that Diana "The Boss" Ross is one of a kind. Diane Ernestine Earle Ross grew up in Detroit's tough-as-nails Brewster-Douglass Projects, the second of six children. She attended Cass Technical High School. At age 15 she formed a girl group with Mary Wilson, Florence Ballard and Betty McGlown called The Primettes, the female answer to a hot new guy group called The Primes (later better known as The Temptations). Motown renamed the group The Supremes in 1961 and eventually turned them into a trio consisting of Ross, Wilson and Ballard. They charted ten #1 hits from 1964 to 1967, although the name of the group was changed to Diana Ross and the Supremes, and Cindy Birdsong replaced Florence Ballard.
Ross is a Tony and Golden Globe winner and an Academy Award nominee (for her haunting take on Billie Holliday in Lady Sings the Blues in 1972). She charted 70 hit singles both as a solo act and as the lead singer of the Supremes, the most successful girl group of the 20th century, and was able to bridge both the Motown and disco eras with a plethora of hit albums. Ross is the proud recipient of two stars on the Hollywood Walk of Fame, for her achievement as a Supreme and for her storied but brief acting career.
The Supremes recorded hits by the composer team of Holland-Dozier-Holland for Motown Records on what seemed like a monthly basis, spearheaded by Ross's thin but seductive voice. Even the titles are delightful: feisty teen anthems combining angst with girl power in equal measure. The list is a long one: "Baby Love," "Come See About Me," "Nothing but Heartaches," "Back in My Arms Again," "Stop! In the Name of Love," "My World Is Empty Without You," "I Hear a Symphony," "The Happening," "You Keep Me Hangin' On," "Love Child," "You Can't Hurry Love," "Love Is Here and Now You're Gone," "Reflections," and the sad, final hit, "Someday We'll Be Together."
Literally without missing a beat, Ross began to churn out an almost equally impressive string of solo hits: "Reach Out and Touch (Somebody's Hand)," "Ain't No Mountain High Enough," "Endless Love," the astonishing "Love Hangover," "Theme from Mahogany (Do You Know Where You're Going To?)," "Upside Down," and the beautiful "Missing You."
Her tenure as a Hollywood superstar was indeed a brief one. Much of the blame can be placed on two very bad film choices (Mahogany, 1975, and The Wiz, 1978) and her soaring career as a solo artist and concert star during the disco era, which must have soaked up a lot of her professional time. In Mahogany, Ross looked gorgeous as a superstar model, but the film was soap opera of the most simple-minded sort, and costar Billy Dee Williams (here, as in Lady Sings the Blues), did know how to turn on his sex appeal and steal a scene. Ross put the damper on her acting career with this abysmally unsophisticated project. Following it with The Wiz was not a good move.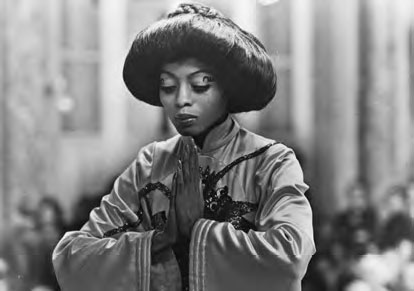 The film version of the Broadway smash The Wiz was one of the great critical and financial disasters of its time. Ross, as the world's oldest Dorothy, laid waste to the legacy of The Wizard of Oz. Shot on ugly stage sets, it was a chaotic, remarkably annoying film, and it was made even worse by the inept presence of Michael Jackson as The Scarecrow. Ross did appear years later in a couple of highly rated and critically well received TV movies: Out of Darkness (1994), for which she received a Golden Globe nomination, and Double Platinum (1999), a show biz mom and daughter story co-starring Brandy.
In 2000, Ross announced a Supremes reunion tour, but Wilson and Birdsong balked when they saw how little money they were being offered compared to Ross. The "Return to Love" Tour, as it was christened, went on anyway with two latter-day Supremes, Lynda Laurence and Scherrie Payne standing in for Wilson and Birdsong. The tour was a financial disaster and had to be cancelled after nine performances.
Ross was married to Robert Ellis Silberstein from 1971 to 1977, and Arne Naess, Jr., from 1985 to 2000. She gave birth to Rhonda Ross Kendrick with Motown mogul Berry Gordy; Tracee Ellis Ross and Chudney Ross with Robert Silberstein; and Ross Arne Naess and Evan Ross with Arne Naess.
Feature Films including TV Movies:
The T.A.M.I. Show (1964), Beach Ball (1965), Lady Sings the Blues (1972), Mahogany (1975), The Wiz (1978), Out of Darkness (TV; 1994), Double Platinum (TV; 1999).
TV:
Top of the Pops (11 segments; 1964-99), Ready, Steady, Go! ("The Sound of Motown," 1965), It's What's Happening, Baby! (1965), Hullabaloo (2 segments; 1965), The Mike Douglas Show (2 appearances; 1965), The Hollywood Palace (4 appearances; 1965-69), The Ed Sullivan Show (6 appearances; 1965-69), The Dean Martin Show (1966), T.C.B. (1968), Tarzan ("The Convert," 1968), The Dinah Shore Special: Like Hep (1969), Rowan & Martin's Laugh-In (2 segments; 1969), This Is Tom Jones (1970), Fight of the Century (1971), Make Room for Granddaddy ("The Star," 1971), Goin' Back to Indiana (1971), The Sonny and Cher Comedy Hour (1972), The Tonight Show Starring Johnny Carson (2 appearances; 1972 and 1973), The 45th Annual Academy Awards (1973), Soul Train (1973), The 16th Annual Grammy Awards (1974), The 46th Annual Academy Awards (1974), The 48th Annual Academy Awards (1976), The 2nd Annual Rock Music Awards (1976), NBC: The First 50 Years, A Closer Look (1976), An Evening with Diana Ross (1977), Diana Ross in Concert! (1979), The American Film Institute Salute to Alfred Hitchcock (1979), The 51st Annual Academy Awards (1979), The Muppet Show (1980), All-Star Birthday Party (1980), The 8th Annual American Music Awards (1981), Diana (1981), The 54th Annual Academy Awards (1982), Motown 25: Yesterday, Today, Forever (1983), The 11th Annual American Music Awards (1984), Motown Returns to the Apollo (1985), The Whimsical World of Oz (1985), We Are the World (1985), The 27th Annual Grammy Awards (1985), The 57th Annual Academy Awards (1985), The Muppets: A Celebration of 30 Years (archival; 1986), The 13th Annual American Music Awards (1986), Diana Ross: Red Hot Rhythm and Blues (1987), The 62nd Annual Academy Awards (1990), Primero izquierda (1992), Aspel & Company (1992), Muhammad Ali's 50th Birthday Celebration (1992), Diana Ross Live! The Lady Sings … Jazz & Blues: Stolen Moments (1992), Apollo Theatre Hall of Fame (1993), Operalia (1994), All-Star 25th Birthday: Stars and Street Forever! (1994), Champions of the World (1995), Television's Greatest Performances I (archival; 1995), The History of Rock 'N' Roll, Vol. 3 (1995), The 9th Annual Soul Train Music Awards (1995), Soul Train's 25th Anniversary (1995), The Greatest Music Party in the World (1995), Clive Anderson All Talk (1996), Super Bowl XXX (1996), Brit Awards 1997, The 39th Annual Grammy Awards (1997), Motown 40: The Music Is Forever (1998), MTV Video Music Awards 1999, TFI Friday (1999), An Audience with Diana Ross (1999), VH1 Divas 2000: A Tribute to Diana Ross, 100 Greatest Dance Songs of Rock & Roll (archival; 2000), 31st NAACP Image Awards (2000), The Oprah Winfrey Show (2000), The Howard Stern Radio Show (2000), We Are Family (2002), A Night at the Apollo (2002), It's Black Entertainment (archival; 2002), American Bandstand's 50th Anniversary Celebration (archival; 2002), Standing in the Shadows of Motown (archival; 2002), V Graham Norton (2003), E! True Hollywood Story (archival; 2003), 50 Greatest TV Animals (archival; 2003), Celebrities Uncensored (archival; 2003), Good Morning America (2004), Inside Edition (2004), The View (2004), 101 Biggest Celebrity Oops (archival; 2004), Sex 'n' Pop (archival; 2004), The 2004 Billboard Music Awards, Soul Deep: The Story of Black Popular Music (archival; 2005), Corazon de… (archival; 2005), 50 y mas (archival; 2005), Tsunami Aid: A Concert of Hope (2005), This Morning (2005), Ant & Dec's Saturday Night Takeaway (2005), Inside the Actors Studio (2006), Be My Baby: The Girl Group Story (archival; 2006), The Best of the Royal Variety (archival; 2006), La imagen de tu vida (archival; 2006), The 4th Annual TV Land Awards (2006), Legends Ball (2006), La tele de tu vida (archival; 2007), BET Awards 2007, Late Show with David Letterman (2007), Live with Regis & Kelly (2007), American Idol (2007), Entertainment Tonight (2008).
Video/DVD:
Visions of Diana Ross (1985), Michael Jackson: The Legend Continues (archival; 1988), Shindig! Presents Groovy Gals (archival; 1991), TV in Black: The First Fifty Years (archival; 2004), Soulful Sixties (2004), Behind the Blues: Lady Sings the Blues (2005).
Related Articles
---
The Penguin Biographical Dictionary of Women
Described as a total entertainer, Diana Ross brought together elements of traditional black rhythm-and-blues with popular white...
Philip's Encyclopedia
1944- US popular singer. Ross began a career with the vocal trio, The Supremes, whose Motown hits included 'Where Did Our Love Go?' (1964) and...
See more from Credo