Topic Page: Rockefeller, Nelson A. (Nelson Aldrich), 1908-1979
---
Definition:
Rockefeller, Nelson Aldrich
from
Chambers Biographical Dictionary
1908-79
US politician
He was born in Bar Harbor, Maine, the grandson of industrialist John D Rockefeller. After graduating from Dartmouth College in 1930, he worked in the family businesses and philanthropic foundations. Entering politics as a liberal Republican, he served four terms as governor of New York (1958-73), and during the 1960s he made three unsuccessful attempts to gain his party's presidential nomination. In 1974 he was named vice-president by Gerald R Ford, and he remained in office until 1977.
---

Summary Article: Rockefeller, Nelson
from The Social History of Crime and Punishment in America
Nelson Aldrich Rockefeller was the 41st vice president of the United States under Gerald Ford and the 49th governor of New York. As governor of New York, Rockefeller championed stringent laws against drug use, sale, and possession. He dealt with the siege at the Attica Correctional Facility during his term, which ended with an assault by State Police officers and National Guardsmen where 39 were killed, including 10 hostages held by rebellious inmates.
Early Life and Career
Rockefeller was born on July 8, 1908, in Bar Harbor, Maine. He was the son of John Davison Rockefeller, Jr., and Abby Aldrich Rockefeller. He was the grandson of Standard Oil founder and chairman John Davison Rockefeller, Sr., and U.S. Senator Nelson Wilmarth Aldrich, a Republican from Rhode Island. He attended the Lincoln School, an experimental elementary and secondary school run by Teachers College of Columbia University. In 1930, he graduated cum laude with an A.B. in economics from Dartmouth College. After graduation, he worked in a number of family-related businesses, including Chase National Bank (1931); Rockefeller Center Inc. (joining the board of directors in 1931, serving as president from 1938 to 1945 and 1948 to 1951, and as chairman from 1945 to 1953 and 1956 to 1958); and Creole Petroleum, the Venezuelan subsidiary of Standard Oil of New Jersey (1935–40). From 1932 to 1979 he was a trustee of the Museum of Modern Art (serving as tteasurer, 1935–39, and president 1939–41 and 1946–53). He and his four brothers established the Rockefeller Brothers Fund, a philanthropy, in 1940 (he was a trustee from 1940–75 and 1977–79, and president in 1956).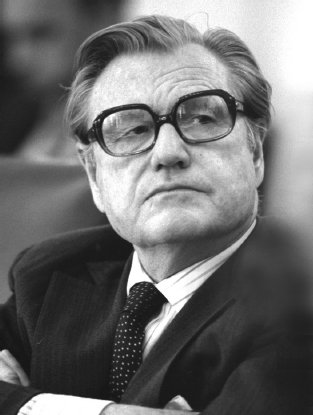 Government Service
Rockefeller's first government service was as a member of the Westchester County Board of Health, (1933–53). In 1940, President Franklin D. Roosevelt appointed him coordinator of inter-American affairs. In 1944, Roosevelt appointed Rockefeller assistant secretary of state for American republic affairs, a position he held until August 1945. Rockefeller was a member of the U.S. delegation at the United Nations (UN) Conference on International Organization at San Francisco in 1945. He was instrumental in persuading the UN to establish its headquarters in New York City. His father donated the $8.5 million required to purchase the land for the UN.
In 1950, President Harry S. Truman appointed Rockefeller chairman of the International Development Advisory Board. In 1952, President-Elect Dwight D. Eisenhower asked Rockefeller to chair the President's Advisory Committee on Government Organization to recommend ways of improving efficiency and effectiveness of the executive branch of the federal government. Rockefeller joined the administration as undersecretary of the new Department of Health, Education and Welfare (HEW) in 1953. The following year, Eisenhower appointed him special assistant to the president for foreign affairs, a position he held until December 1955.
Rockefeller entered New York politics, chairing the Temporary State Commission on the Constitutional Convention (1956–58) and the Special Legislative Committee on the Revision and Simplification of the Constitution (1958). In 1958, he was elected governor by over 600,000 votes, defeating the incumbent, multimillionaire W. Averell Harriman (he was reelected in 1962, 1966, and 1970).
Governor
As governor, Rockefeller doubled the size of the State Police, established the New York State Police Academy, and signed legislation authorizing 228 additional state judgeships to reduce court backlogs. In 1963, Rockefeller signed legislation abolishing mandatory capital punishment, establishing a two-stage trial for murder cases with punishment determined in the second stage. Rockefeller oversaw 14 executions by electrocution as governor, including that of Eddie Mays (1963), the last execution in New York. While a supporter of capital punishment, Rockefeller signed the bill abolishing the death penalty in 1965, except in cases involving the murder of police officers.
What became known as the Rockefeller Drug Laws were his response to the rapid increase in narcotics addiction and related crime. In 1962, the state legislature enacted his proposal that offered rehabilitation to convicted drug addicts in lieu of prison time.
When this program proved unsuccessful, Rockefeller called for compulsory treatment, rehabilitation, and aftercare for three years in 1966. This did little to reduce the narcotics trade and associated crime. Rockefeller then offered a hardline approach. In 1973, new drug laws included mandatory life sentences for anyone convicted of selling two ounces or possessing four ounces of a "narcotic drug;" rewards for information leading to the conviction of drug pushers; and more severe penalties on youthful offenders. Once again, the laws failed because they did not lead more addicts to seek rehabilitation as hoped and ultimately did not solve the problem of drug trafficking. The drug laws were among the toughest in the United States when they were enacted. Mayor John Lindsay of New York City denounced the laws as "merely a deceptive gesture offering nothing beyond momentary satisfaction and inevitable disillusionment." To carry out the rehabilitation program, Rockefeller created the State Narcotics Addiction Control Commission, which administered the largest methadone maintenance program in the country.
The laws proved ineffective, as drug use did not decline, even as drug convictions increased. At the time the laws were enacted, 11 percent of inmates in the state's prisons were drug offenders; the proportion of drug offenders reached 35 percent in 1994. In 2004, Governor George E. Pataki signed legislation reducing the maximum mandatory sentence to 20 years. In 2009, mandatory sentences were eliminated for all offenders, except those convicted of being "major traffickers," who could be sentenced to 15 years to life.
On September 9, 1971, inmates at the state prison in Attica, New York, took control of a cell block and seized 39 guards as hostages. After four days of negotiations, Department of Correctional Services Commissioner Russell Oswald agreed to most of the inmates' demands for reform, but refused to grant complete amnesty to the rioters, with passage out of the country and removal of the prison's superintendent. When negotiations stalled and the hostages appeared to be in imminent danger, Rockefeller ordered New York State Police and National Guard troops to storm the prison on September 13. When the assault on the prison was over, 39 were dead, including 10 of the hostages. All but three of the deaths were attributed to the gunfire of the National Guard or State Police. The other three dead were inmates killed by other inmates at the start of the riot. Opponents blamed Rockefeller for these deaths, in part because of his refusal to go to the prison and talk with the inmates, while his supporters, including many conservatives who had often differed with him in the past, defended his actions as necessary to maintain law and order. "I was trying to do the best I could to save the hostages, save the prisoners, restore order, and preserve our system without undertaking actions which could set a precedent which would go across this country like wildfire," Rockefeller said.
In December 1973, Rockefeller resigned as governor to devote his attention to the Commission on Critical Choices for America, a privately funded group established to study the problems facing America. He served as chair until becoming vice president in December 1974. Rockefeller unsuccessfully sought the Republican presidential nomination in 1960, 1964, and 1968. After Gerald Ford became president following Richard Nixon's resignation (1974), Rockefeller was named vice president, taking office in December 1974. Opposed by conservatives within the Republican Party, Rockefeller announced that he would not be a candidate for vice president in 1976, allowing Ford to pick Robert Dole of Kansas as his running mate. Rockefeller died on January 26, 1979, at age 70 from a heart attack.
See Also: Attica; Ford, Gerald (Administration of); New York; New York City; Roosevelt, Franklin D. (Administration of); Truman, Harry S. (Administration of).
Further Readings
"Attica and Prison Reform."

In Governing New York State, , , eds. New York:

Academy of Political Science

, 1974.
, et al.

Rockefeller of New York: Executive Power in the Statehouse

. Ithaca, NY:

Cornell University Press

, 1979.
, et al.

"Addicted: The Myth of the Rockefeller Drug Laws Repeal."

New York Magazine (April 6, 2009).
.

"A Brief History of New York's Rockefeller Drug Laws."

Time Magazine (April 2, 2009).

http://www.time.com/time/nation/article/0,8599,1888864-2,00.html

(Accessed March 2012).

"I Never Wanted to Be Vice-President of Anything!" An Investigative Biography of Nelson Rockefeller

. New York:

Basic Books

, 1976.

The Imperial Rockefeller: A Biography of Nelson A. Rockefeller

. New York:

Simon & Schuster

, 1982.

The Life of Nelson A. Rockefeller

. New York:

Doubleday

, 1996.
.

A Quick Guide to Rockefeller Drug Law Reform 2009

. Syracuse, NY:

Center for Community Alternatives

, 2009.
, et al.

Rockefeller Drug Laws Information Sheet

. New York:

Partnership for Responsible Drug Information

, 2000.
Related Articles
---
The Social History of Crime and Punishment in America
Nelson Aldrich Rockefeller was the 41st vice president of the United States under Gerald Ford and the 49th governor of New York. As governor of New
Encyclopedia of the Vietnam War: A Political, Social, and Military History
Birth Date: July 8, 1908 Death Date: January 27, 1979 Governor of New York (1959-1973) and vice president of the United States...
Encyclopedia of United States - Latin American Relations
Keywords Government Officials U.S. Businessmen Assistant Secretaries of State for Inter-American Affairs Nelson Aldrich...
See more from Credo