Topic Page: Roberts, John G., 1955-

Summary Article: Roberts, John G. Jr.
From American Government A to Z: The Supreme Court A to Z
John Glover Roberts Jr. (1955-) became the nation's seventeenth chief justice—and the youngest in more than two hundred years—after stellar accomplishments as a student, government lawyer, and private attorney.
Roberts was born in Buffalo, New York. His family moved to Long Beach, Indiana, when he was in the fourth grade. His father was an executive at Bethlehem Steel, and Roberts worked summers at the plant when he was a teenager. He graduated first in his class from a Catholic boys' boarding school, where he was also captain of the football team. Roberts entered Harvard College as a sophomore and graduated summa cum laude in 1976. Three years later, he graduated magna cum laude from Harvard Law School after having served as managing editor of the Harvard Law Review.
Two judicial clerkships followed: the first with Judge Henry Friendly, one of the county's most respected federal appellate jurists, and the second with William H. Rehnquist, then an associate justice, in the 1980-1981 term.
Roberts served in the Reagan administration from 1981 to 1986, first as a special assistant to Attorney General William French Smith and then as associate White House counsel. In various memos, he took conservative positions on issues such as affirmative action,abortion, and school busing. After three years in private practice, he returned to the Justice Department as the principal deputy solicitor general during the George H. W. Bush administration from 1989 to 1993. One brief that Roberts signed in a 1991 case became an issue in his confirmation hearing. The brief included a footnote repeating the administration's view that the landmark abortion rights decision roe v. wade "was wrongly decided and should be overruled."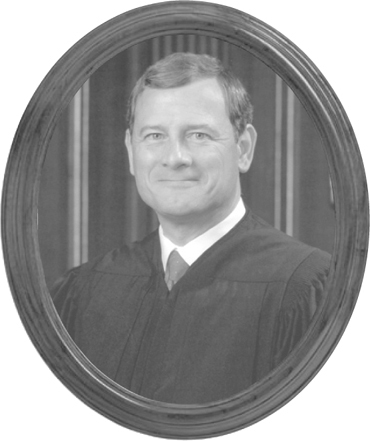 Bush nominated Roberts for a seat on the U.S. Court of Appeals for the District of Columbia in 1992, but the Senate took no action on the nomination because of election year partisan politics. Roberts returned to his law firm in 1993 and became the head of its appellate practice. Over the next ten years, he achieved a reputation as one of the country's premier Supreme Court advocates on the strength of thorough preparation and a cautious, straightforward style in arguments. In all, he argued thirty-nine cases before the Court in private practice and for the solicitor general's office.
President George W. Bush included Roberts in an initial batch of nominees for federal appeals courts in May 2001, but partisan warfare over judicial nominations stalled his confirmation until May 2003. Questioned about abortion during his confirmation hearing, Roberts said he had no personal views that would prevent him from following Roe v. Wade as precedent. Roberts's opinions in his two years on the D.C. Circuit were viewed as well written and largely noncontroversial with a slight conservative tilt.
Roberts was near the top of Bush's short list of potential Supreme Court nominees, but the president surprised Court watchers when he nominated Roberts instead of a woman to succeed Justice Sandra Day O'Connor in July 2005. The Senate Judiciary Committee was set to begin Roberts's confirmation hearings in September 2005 when Chief Justice William H. Rehnquist died of thyroid cancer. Bush quickly withdrew Roberts's original nomination and instead nominated him for chief justice.
During his confirmation hearings, Roberts displayed thorough knowledge of Supreme Court decisions and procedures. He described himself as nonideological and answered questions about controversial positions during the Reagan era by emphasizing his role as an advocate for the administration. On abortion, he repeatedly called Roe v. Wade a "precedent entitled to respect," but stopped short of promising not to overrule it. Abortion rights groups and some other liberal organizations opposed his confirmation. The Senate approved the nomination, 78-22, with Democrats casting the only no votes.
Roberts was sworn in on September 29, 2005, just in time to preside over the opening of the 2005-2006 term on October 3. At age fifty, he was the youngest chief justice since John Marshall took office at age forty-five. Nevertheless, Roberts appeared poised and assured from the first day, presiding over arguments with a firm but light touch.
As the term neared its end, Roberts gave a widely noticed law school commencement speech pointing to benefits from unanimous or near unanimous decisions by the Court. His first term ended with unanimous decisions in nearly half of the Court's signed opinions—a slightly higher percentage than usual. A wide range of observers and experts credited Roberts with helping promote agreement among the justices and, more generally, with managing the transition to a new chief justice fairly and efficiently. Liberal groups pointed to Roberts's conservative votes in the term's most divisive cases, however, as evidence that he was moving the Court somewhat to the right on civil liberties and civil rights issues.
The Court's shift to the right became more pronounced as Roberts' tenure continued. In 2007 the Court departed from prior rulings by upholding a federal ban on so-called partial birth abortions and—in a decision written by Roberts—limiting racial diversity policies by local school districts. In another break from precedent, the Court in 2008 and 2010 ruled that the Second Amendment established a personal right to possession of firearms. In 2010 the Court expressly overruled two of its prior campaign-finance decisions in recognizing a First Amendment right for corporations and unions to make independent expenditures in political campaigns. All of those rulings were by 5-4 votes that pitted Roberts and his fellow conservatives against liberal dissenters.
Roberts spoke for a more nearly unified Court in some other decisions favoring First Amendment rights. He wrote the 8-1 decision in 2010 that struck down a federal law that prohibited depictions of cruelty to animals and the 8-1 ruling in 2011 that guaranteed a right of peaceful protests at military funerals.
Related Articles
---
Encyclopedia of U.S. Political History
born 1955 Seventeenth Chief Justice of the United States In 2005, John Roberts was appointed by Pres. George W. Bush, and confirmed by the...
The Supreme Court Justices: Illustrated Biographies 1789-2012
Keywords 17. John G. Roberts Jr. Court (2005-) Photograph by Steve Petteway, Collection of the Supreme Court of the United States...
Encyclopedia of the Fourth Amendment
John G. Roberts Jr. (1955–) is the 17th chief justice of the U.S. Supreme Court. Nominated by President George W. Bush and confirmed in 2005, Robert
See more from Credo