Topic Page: Rivera, Diego, 1886-1957
---
Definition:
Rivera, Diego
from
Philip's Encyclopedia
Mexican painter, married to fellow artist Frida Kahlo. Rivera is one of Mexico's three great 20th-century muralists (with Orozco and Siqueiros). He often used symbolism and allegory to depict events in Mexico's history, and to express his hope for a Marxist future. His murals adorn public buildings in Mexico City.
---
Summary Article: Rivera, Diego (1886–1957)
From Encyclopedia of Activism and Social Justice
Recognized for murals that link aesthetic form with politics, Diego Rivera is widely considered Mexico's greatest muralist. He is prominent among the artists involved in the Mexican muralist movement, which defined muralism as the confluence of art and politics in postrevolution Mexico. Rivera's most famous Mexican murals visually parallel the radical changes taking place in Mexico following the Revolution, and his mature aesthetic combines the visual elements of Classical Realism (perspective) and allegory (symbolism) with the principles of Cubism and Futurism. Binaries of chaos/order, good/evil, and unity/disunity depict the struggle between the privileged and dispossessed and define a new standard for Mexico's public art. Rivera's art produced a powerful nationalist statement that bound aesthetic formalism and ethnography in a time when the stakes for expression were high.
Rivera lived with his parents in Guanajuanto, Mexico, but in 1892, Rivera Sr. moved the family to Mexico City. In 1897, young Rivera enrolled at San Carlos Academy of Fine Arts. Later, under José María Velasco's tutelage, Rivera gained a solid understanding of structure and composition. Also proving decisive in Rivera's life and work was printmaker José Guadalupe Posada, and the graphic nature of Rivera's art—its volumetric appeal—owes much to the print-maker's art. Rivera's first paintings were landscapes and figure studies in the manner of Velasco, but following an extended period of travel and study in Europe, a sea change in his style is evident. An art scholarship enabled Rivera to leave Mexico for Spain (1907–1908) and France, where he spent nearly 10 years. There, he formed a friendship with leading Spanish avant-garde artist Pablo Picasso. During his time there, he also interacted with Georges Braque and Juan Gris and painted under the influence of Matisse and Cézanne.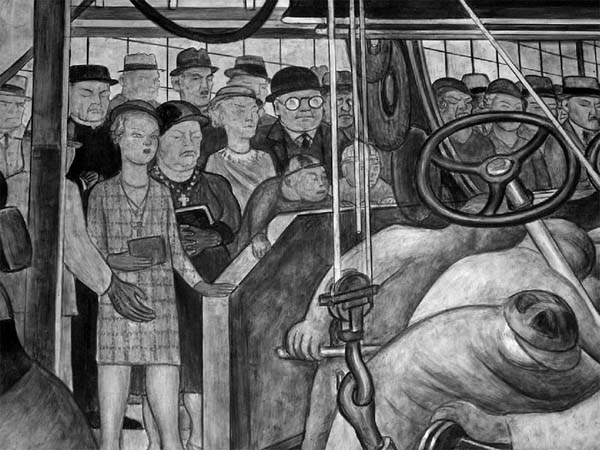 The paintings produced during Rivera's Paris sojourn not only are visual documents of his embrace of Cubist principles, they also testify to his ability to recreate volume, a technique that he used in later explorations of the pre-Hispanic aesthetic. From Paris's vortex of early-20th-century modern art, Rivera traveled to Italy, where he viewed classical historical paintings and works by Renaissance masters; and later, when he toured Russia (1927–1928), he viewed the power of the political in Social Realist art (the art movement that exalted the struggle of the worker). In 1921, Rivera returned to Mexico, where Minister of Education José Vasconcelos appointed him to an art-related government position. At Vasconcelos's invitation, Rivera traveled to Yucatan to view the pre-conquest sites of Chichén Itza and Uxmal, in order to seek inspiration for a mural commission that was designed to visually consolidate postrevolution nationalism.
In early 1922, Rivera began work on the mural Creation in the Anfiteatro Bolívar of the Escuela Nacional Preparatoria (National Preparatory School), for which he drew heavily on his Italian studies. The press attacked the Preparatoria murals, and at the instigation of a conservative political group, students of the school rioted. In addition, they presented a petition to Vasconcelos demanding that Rivera's work be discontinued. As a consequence, the mural program at the Escuela ceased. While Rivera claimed that he was more interested in content than in form, his first murals are considered unsuccessful because they do not register the artist's signature style (a blend of modernist and historical aesthetics). The paintings nevertheless display a sensual exploration of color and technique of almost perfect symmetry.
Though Rivera politicized his art, he was also heavily involved in pure politics. He headed the Anti-Imperialist League and held memberships in the National Peasant League and the Workers' and Peasants' Bloc. In addition, he rededicated himself to the Mexican Communist Party in 1926 and served as a delegate to the Moscow Peasant Congress in 1936. In 1922, Rivera, along with fellow muralists David Alfaro Siqueiros and José Clemente Orozco, founded the Sindicato de Obreros Téchnicos, Pintores, y Escultores Revolucionaros de México (Union of Revolutionary Technical Workers, Painters, and Sculptors of Mexico). At his insistence, the sindicato formally aligned with the Communist International and published a manifesto proclaiming Mexican art a monumental art of public utility providing beauty for all. When the sindicato dissolved in the mid-1920s, Rivera remained staunchly committed to the politicization of art. He played a role in forming Mexico's cultural identity as art editor of Mexican Folkways, a journal that blended the popular, folk, and local in an expression of the Indian/Mexican essence. Rivera's literary contribution made use of words and images to advance the politics of indigenista (the essence of native Mexico) within the framework of the avant-garde.
In 1929, Rivera married painter Frida Kahlo, with whom he shared political and ideological beliefs, as well as a turbulent love affair. The marriage did not last, and Rivera's philandering proved a source of grief to Kahlo. The two divorced in 1940, but remarried later that year. By 1929, when the new presidential administration outlawed the Communist Party, Rivera had completed four major Mexican murals. It was during this time of political flux that Rivera accepted several important mural commissions in the United States. From 1930 to 1934, he traveled with Kahlo to San Francisco, Detroit, and New York in order to work on six commissions. The Detroit Industry murals, painted between 1932 and 1933, give expression to Rivera's mature style, which blended the principles of Cubism, Futurism, and Classical Realism with the didactic impulse of the Mexican Muralist movement.
Twenty-seven panels divided into three parts depict a hierarchy. At the bottom are scenes of the workers' day; the main part of the composition illustrates machines in motion; the top section shows the physical geography of the region—its lakes, soil, and fossils—with the races of humanity crowning the top. The murals portray the relationship between contemporary science and its development through history. Moreover, the paintings' images speak to the impact of mechanization and industrialization on the idea of work. Painted at the height of the Great Depression, the Detroit Industry murals highlight the interchangeability of parts; that is, man is represented as a cog in the machine of technical progress. Stylistically, these murals bear a close resemblance to the Secretaria de Educación Pública (1923–1924) mural and the mural in the Chapel at Universidad de Chapingo (1926–1927). Most importantly, the Detroit Industry murals represent a departure from Rivera's methodology of creating harmony between architecture and image. Because the Detroit Art Institute's baroque refinements were too visibly at odds with the iconography of industry that Rivera chose to depict, he sought a stylistic and compositional solution in overpowering the baroque decoration with the volumetric appeal of machinery.
The murals are widely regarded as Rivera's most successful U.S. commission, yet contemporary detractors found fault with the autochthonous (native) female nudes that feature prominently at the top of the composition. Another panel that proved upsetting to critics was "Vaccination," which depicts two scientists flanking a child ready to be vaccinated. Behind the triumvirate are three scientists and, in the foreground are the subjects of scientific research, sheep and cattle. Detractors considered the painting sacrilegious in its depiction of a modern-day rendition of the Holy Family. Rivera indeed drew on elements of classical composition to render his vision of the cult of science. Considered by critics to be one of Rivera's finest works, this panel is integral to the whole and contributes to synthesizing through allegory an icon of American technological prowess. Controversy followed Rivera, and after completion of the Detroit Industry murals, a debacle erupted over his Radio City commission in New York, when Rivera refused to paint over the portrait of Lenin included in the mural's composition.
Rivera's patron, Rockefeller, subsequently ordered the wall destroyed. Furthermore, Rivera's General Motors commission was cancelled, and the artist was subsequently denied U.S. commissions for several years.
See also

Anti-Imperialism; Communism; Kahlo, Frida; Mexican Muralists; Mexican Revolution; Mural Art
Further Readings
1997

). Diego Rivera: As epic modernist. New York:

G. K. Hall

.
(
1998

). Mural painting and social revolution in Mexico, 1920–1940: Art of the new order. Cambridge, UK:

Cambridge University Press

.
(
1999

). Diego Rivera. New York:

Abrams

.
(
1989

). The Mexican muralists in the United States. Albuquerque:

University of New Mexico Press

.
(
1999

). Painting on the left: Diego Rivera, radical politics, and San Francisco's public murals. Berkeley:

University of California Press

.
(
Related Articles
---
Encyclopedia of Nationalism: Leaders, Movements, and Concepts
1886–1957 Artist, born in Guanajuato, Mexico. Rivera was both the most well-known and the most controversial artist to come out of Mexico. His...
Encyclopedia of Mexico: History, Society & Culture
1886-1957 • Painter The real name of the artist known simply as Diego Rivera is said to have been Diego María de la Concepción Juan Nepomuceno...
Chambers Biographical Dictionary
1886-1957 Mexican painter Born in Guanajuato, he won a travel scholarship to study in Madrid and Paris after a successful one-man show. He began a se
See more from Credo