Topic Page: Ringgold, Faith

Summary Article: Faith Ringgold (b. 1930), Painter, Sculptor, Quilter, Performance Artist.
from Artists of the American Mosaic: Encyclopedia of African American Artists
Faith Ringgold was born in New York on October 8, 1930, to Andrew Lois Jones Sr. and Willi Posey Jones, the most influential person in her life. At age 12, her family moved to Sugar Hill in Harlem, where Ringgold grew up. Her paternal and maternal families had moved to New York from Florida during the Great Migration in the second decade of the twentieth century, when thousands of African Americans thronged to New York in search of greener pastures. It was a migration that Jacob Lawrence has eloquently memorialized in his paintings. Ringgold is the youngest of three children in the homestead: Barbara, her sister, and Andrew, the eldest, who died in 1961, forcing Ringgold to terminate her first trip to Europe. Because Ringgold was ravaged with chronic asthma as a child, she missed out on her kindergarten years and was jealously and prudently sheltered by a doting mother during the first years of her elementary education. Ringgold's asthma drew her closer to her mother, who exposed her to colors and design by furnishing her with crayons and other materials. Willi Posey Jones, a seamstress and fashion designer and artist in her own right, taught Ringgold the art of sewing and of making quilts, an art form that her own grandmother had practiced as a slave. In Ringgold's hands, and with the active collaboration of her mother, quilt making was transformed from what used to be regarded as craft to high art. Her mother introduced Ringgold to the use of fabric, and thus paved the way for the artist's painted quilts that have become a hallmark of her creative achievement.
Ringgold attended Morris High School in the Bronx and graduated in 1948. That year, she enrolled at City College in New York. Her initial desire to enroll as a fine arts student was thwarted by a City College bylaw that precluded women from certain fields of study, apparently in pursuit of the patriarchal notion that assigned students to disciplines on the basis of gender. That was how she ended up in the School of Education, where she declared a major in art and a minor in art education. Her interest in art, regardless of the prescriptive approach that City College adopted, was apparently not negotiable. Ringgold's enthusiasm for art and the facility that she has acquired in fabric working and quilt making at that point surpassed that of an average freshman art major. Still, it did not shield her from acerbic critiques and insensitive admonitions.
While in college, an incident occurred that would have a major impact on her determination to pursue art as a career. Ringgold had turned in a two-dimensional assignment, the subject matter of which was mountains. Apparently, the professor was not convinced that Ringgold knew what mountains were, or how to draw them. He asked her to write the subject matter down. "Does this mean you don't think I can draw? I plan to be an artist." That was Ringgold assuring her skeptical professor, who responded, "I don't see any indication that you can" (Farrington 2004, 4). Ringgold has not only proved that she could draw, but she has contributed significantly to the expansion of the language of art, and to the demolition of hegemonic boundaries that have held imagination in check and highlighted the distinctions between high art and craft. Ringgold draws strength from a deep, personal conviction that a person can transcend his or her limitations and achieve lofty goals once there is the willpower and resolve. The mantra, "If One Can Anyone Can; All You Gotta Do is Try," is emblazoned on her Web site, featuring a girl in flight.
In 1950, while still in college, Ringgold married her high school friend, Robert Earl Wallace, a jazz musician. Although four years later the marriage had been annulled, it produced two children—Michele Faith Wallace and Barbara Faith Wallace—both of whom were born in 1952. With two young children, a B.S. degree in 1955, followed by an M.A. in art from City College in 1959, the 1950s was a productive decade for Ringgold. But it was in the 1960s that her career as an artist took off. This was when Ringgold, in response to the various sociopolitical stimuli around her, embraced a path that would shape her into the phenomenal activist and creative force that she would eventually become. For African American artists, the sixties was a period of struggle. The Spiral, which comprised a number of African American artists, including Romare Bearden, Hale Woodruff, Charles Alston, Norman Lewis, and Emma Amos, struggled to revisit the issue of black identity in the visual arts in a racialzed America. It was the decade of the Civil Rights Movement, undoubtedly the greatest catalyst for the constellation of cultural, political, literary and artistic movements that sprang up during this period. The Black Art Movement, Black Power, the Black Panthers, and Africobra were all involved, in varying degrees, in asserting the unassailable rights of blacks in a society that had become comfortable with placing them in a subaltern position.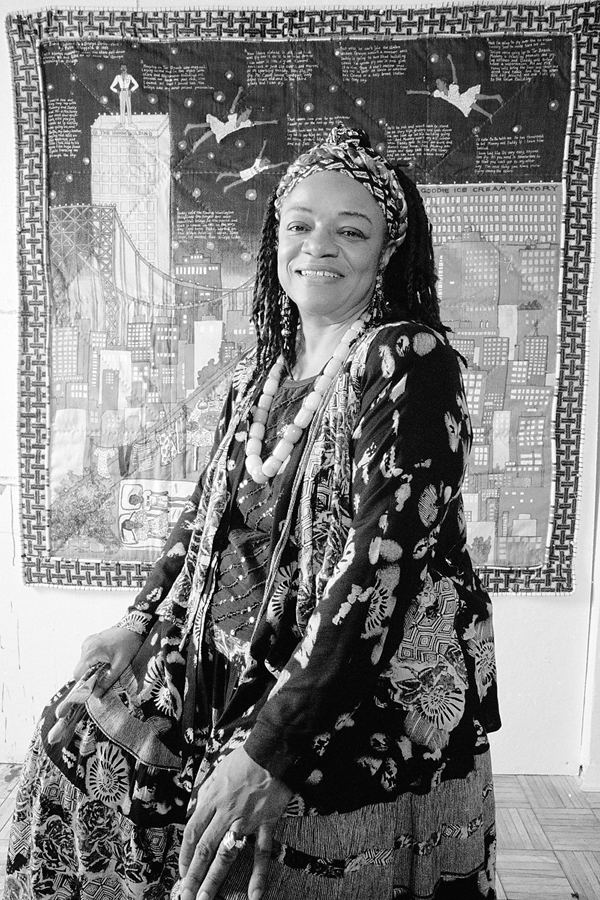 The combination of these factors exerted a palpable influence of Ringgold. In 1962, she married Burdette Ringgold and put in placed a plan to carve a career for herself as a professional artist. Her first political paintings as well as her first mature painting style whose contents were influenced by the writings of James Baldwin and Amiri Baraka, have been dated to this period (Hill 1998, 28). Some of her seminal works during this period, which she categorizes under "American People Series," include U.S. Postage Stamp Commemorating the Advent of Black Power, The Flag is Bleeding, and Die, all of which were painted in 1967. Their sheer size (the first two are 72" × 96", while the last is 72" × 144") attests to the bravura of the artist: she appeared to be driven by an insatiable urge to make a statement, and was not willing to make it quietly. The subject matter is as powerful as the dimensions that they command. U.S. Postage Stamp features two bands on the picture plane, each of which is populated by 50 faces, about 10 percent of which are black. Written diagonally across in black is the inscription, "Black Power." But the subtext, one which the viewer would have to work hard to decipher, is the phrase, "White Power," which is written in white, but in such a way that the viewer would have to squint to pick out. This is the power of Ringgold's art: the ability to challenge through a recourse to layering that elevates the intellectual and protestant nature of her work. The Flag is Bleeding and Die both highlight the unspeakable psychological assault that people, regardless of race, suffer when the die is cast and people are forced to take recourse to all strategies in order to preserve their dignity. As Lucy Lippard has written, Die "appalled many of its viewers. For some the harshness of its style was unacceptable; for others its political subject matter made it taboo. For the artist, it was a turning point that led her back to 'the shores of darkness'" (Studio Museum in Harlem 1984, 22).
Beginning in the 1970s, Ringgold adopted a method of hanging her paintings that would have a significant impact on her ability to work on a large scale and ship them effortlessly. On a visit to Amsterdam in 1972, she had seen at the Rijksmuseum, some Tibetan Buddhist thangkas, which were pieces of designs hung loosely on wooden pegs (Farrington 2004, 40). The adoption of this format also inspired the artist's further exploration of quilted forms. Just like the thangkas that she had seen in Amsterdam, in 1972, Ringgold began producing works with decorative fabric borders sewn on them. Posey, Ringgold's mother, became an active collaborator in this new venture; it was a collaboration that led to a series of pieces that focused on portraits of the residents of Harlem, the neighborhood in which she grew up, and continued until Posey's death in 1981. During this period, Ringgold worked on the "Feminist Series" and produced lush, richly nuanced landscapes that combined acrylic or oil on unframed canvas with embroidered fabric edges. After her mother's death, the artist continued with this new form, which blossomed into story quilts that combined visual narratives with text, often with stories that are loaded with social commentaries, personal vignettes, or political implications. Her piece Who's Afraid of Aunt Jemima? exemplifies the stylistic thrust of her quilts of this period. These story quilts provide the right platform for Ringgold to give her art the critical edge and potency as she tackles sundry issues ranging from stereotypes to archetypes. Perhaps the most popular of story quilts is Tar Beach, which adopts an aerial view that is in tandem with the story of the young, third-grader Harlemite's dream to transcend the barriers imposed by her location and status.
From her penetrating critique of the objectification and subjugation of the African American female in her "Slave Rape" series, which she began early in the 1970s, Ringgold moved the into performance realm and employed fabrics and other accouterments to produce freestanding soft sculptures and masked assemblages. The series lent themselves to a multiplicity of engagements, something that recalls the amorphousness of boundaries in African cultures, for which Ringgold has shown respect and appreciation. Her 1976 installation performance The Wake and Resurrection of The Bicentennial Negro which was commemorative of the 200th anniversary of the United States, employed masked dancers to narrate the vicissitudes and triumphs of Buba, the central character, who symbolized the connections between African communities and their ancestors (Gouma-Peterson 1998, 40). The opportunity for Ringgold to experience the fervor and spectacle of art in an African setting came in the following year, when she attended the Second World Black and African Festival of Arts and Culture, FESTAC 77, in Lagos, Nigeria. In 1985, Ringgold was appointed full professor in the visual art department at the University of California, San Diego.
In the last decade of the twentieth century, Ringgold embarked on a quest to internationalize her quilt stories. She traveled to France and constructed narratives that bring together African American characters and key French modernists, including Picasso and Matisse, whose works she generously references. For over four decades, Ringgold has been a constant and powerful feature of the American and international art scene. In the process, she has made a strong impact in ways that underline the agency of art in shaping political and social agendas. Appropriately, she has been rewarded with major exhibitions and in venues that would have been unimaginable four decades ago. She has won major national and international awards—more than 75 at the last count—that include 15 honorary Doctor of Fine Arts degrees, the National Endowment for the Arts, the La Napoule Foundation Award for Painting in France, and the John Simon Guggenheim Memorial Foundation Fellowship for Painting. Ringgold, who is author of several children's books and a firm believer in the power of one's imagination and dream, has risen to become a remarkable cultural icon and political activist. Through innovative approach to art making and a refusal to be influenced by uncomplimentary criticism, she has become one of the dominant artists on the American scene. Through her books, which focus on children and her work that explore her sociocultural interests, global confluences, and historical connections, Ringgold's art has become an extension of her quest for respect, empowerment, gender and racial equality. She has championed the exposure of an endemic discriminatory practice in the culture sector and worked on boosting access to major exhibition spaces for African American artists.
Places to See Ringgold's Work
Baltimore Museum, Baltimore, MD
Chase Manhattan Collection, New York, NY
High Museum of Art, Atlanta, GA
Metropolitan Museum of Art, New York, NY
Museum of Fine Arts, Boston, MA
Museum of Modern Art, New York, NY
National Museum of American Art, Washington, DC
Newark Museum, Newark, NJ
Philadelphia Museum of Art, Philadelphia, PA
Phoenix Art Museum, Phoenix, AZ
Solomon R. Guggenheim Museum, New York, NY
Spencer Museum of Art, Lawrence, KS
St. Louis Art Museum, St. Louis, MO
Studio Museum in Harlem, New York, NY
Williams College Museum of Art, Williamstown, MA
Bibliography
"Faith."

Black American Literature Forum

19

, no.

1

(Spring 1985):

12-13

.
.
Faith Ringgold.

San Francisco, CA: Pomegranate, 2004.
Talking to Faith Ringgold.

New York: Crown Publishers, 1996.
.
"Faith Ringgold's Journey."

In Dancing at the Louvre: Faith Ringgold's French Collection and Other Story Quilts, edited by Dan Cameron. New York: New Museum of Contemporary Art; Berkeley: University of California Press, 1998.
.
"The Castration of Memphis Cody: Race, Gender and Nationalist Iconography in the Flag Art of Faith Ringgold."

In Dancing at the Louvre: Faith Ringgold's French Collection and Other Story Quilts, edited by Dan Cameron. New York: New Museum of Contemporary Art; Berkeley: University of California Press, 1998.
.
Faith Ringgold: The Last Story Quilt.

Video recording. Chicago: Home Vision, 1991.
.
"Beyond the Pale: Ringgold's Black Light Series."

In Faith Ringgold: Twenty Years of Painting, Sculpture and Performance (1963-1983). New York: Studio Museum in Harlem, 1984.
"Quilted Dreams Inspired by Faith Ringgold."

Arts & Activities

143

, no.

3

(April 2008):

30-67

.
.
"Faith Ringgold's Quilts and Picturebooks: Comparisons and Contributions."

Children's Literature in Education

36

, no.

4

(December 2005):

381-93

.
.
We Flew over the Bridge: Memoirs of Faith Ringgold.

Boston: Little, Brown, 1995.
.
Talking to Faith Ringgold.

New York: Crown Publishers, 1996.
, , and .
"Faith Ringgold: Art."

Feminist Studies

6

, no.

1

(Spring 1980):

207-11

.
, and .
Studio Museum in Harlem.

Faith Ringgold: Twenty Years of Painting, Sculpture, and Performance.

New York: Studio Museum in Harlem, 1984.
"Visual Narrative and the Harlem Renaissance."

Word & Image

23

, no.

4

(October-December 2007):

391-413

.
Faith Ringgold.

Boston: Little, Brown, 1993.