Topic Page: Riefenstahl, Leni
Summary Article: Leni Riefenstahl (1902–2003)
from Women Criminals: An Encyclopedia of People and Issues
Leni Riefenstahl is infamous for her film work on behalf of Nazi Germany. Between 1933 and 1936, Riefenstahl was commissioned by the National Socialist Party to create and direct four films highlighting Hitler, Germany, and the Nazi Party. Her most notable work, Triumph of the Will, has been held as the greatest propaganda film ever produced. Although she was never a member of the Nazi Party, history has deemed her as "Hitler's filmmaker" and an ardent supporter of Hitler and the Third Reich.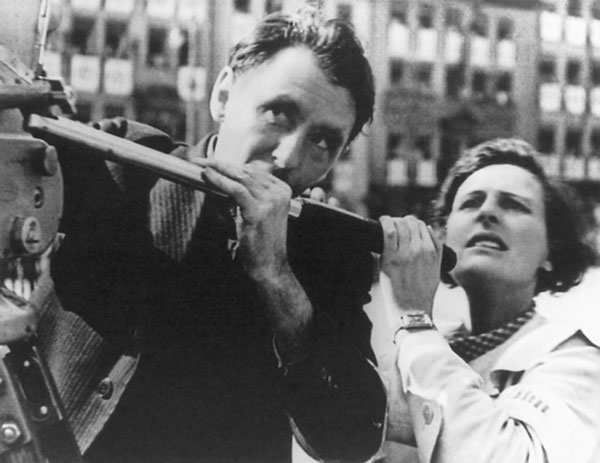 Leni Riefenstahl was born in 1902 as Helene Bertha Amalie in a time when women were not considered to have ambitions beyond their assigned roles as wife and mother. Although her father had intended her to obtain an education, Leni chose the life of an artist. Beginning her career as a dancer, she became immersed in the artistic world, but her life took a new direction when she obtained a role in Arnold Fanck's film, The Sacred Mountain, which was a box office success and the Riefenstahl-Fanck team went on to make several films together: The Great Leap, The White Hell of Piz Palu, Storm over Mont Blanc, White Frenzy, and SOS Iceberg. It was just prior to the filming of SOS Iceberg that Riefenstahl first met Adolph Hitler. There was an instantaneous admiration between the two, and Riefenstahl remained enamored with Hitler for the rest of her life. Hitler had seen Riefenstahl's directorial debut, The Blue Light, and became interested in her filming the 1933 Nationalist Socialist Party Congress in Nuremberg. Riefenstahl agreed, and she proceeded to film the first of four documentaries, Victory of Faith. Although the film was said to be outstanding, Leni was unimpressed with the final product; however, Hitler was able to persuade her to film the conference the following year. Learning from her mistakes from the first attempt, Riefenstahl was able to create what would be considered her masterpiece, Triumph of the Will. The film was able to portray a unified Germany under the rule of a godlike Hitler. The documentary helped to guarantee Nazi control over Germany and shape the face of the Third Reich.
With the success of the film's release in 1935, the party leaders commissioned Riefenstahl to direct the third installment of her documentary work on the National Socialist Party, Day of Freedom. This third installment illustrated the might of the German military and Hitler's control over it. In contrast to the previous documentaries on Germany and the Third Reich, her fourth and final film funded by the National Socialist party, Olympia, chronicled the 1936 Olympics. This final documentary was the encore to her previous masterpiece, Triumph of the Will. Using filming techniques that were unheard of in the filming community, Riefenstahl was able to capture the sporting event and its participants in a realistic manner. Olympia (1938) was an instantaneous success upon release; the film won numerous awards including the German Film Prize, the state's greatest honor.
In 1939, she began to film Penthesilea; however, with the German invasion of Poland that same year, she was forced to shelve the project. Hence, Riefenstahl began filming on the Polish front. It was here that the most damaging material to classify her as more than a mere "sympathizer" occurred. While filming, she was witness to the killing of 31 Polish prisoners in the town of Konskie. Although there has been some disagreement about her role in the incident, evidence suggests that she was not a direct participant in the massacre. Many sources report that she did protest the occurrence; however, her objections fell on deaf ears, even those of her friend and confidant Adolph Hitler. Tired of war, Leni Riefenstahl returned to making movies rather than documentaries/propaganda films. Riefenstahl began filming a shelved project, Tiefland. The film took years to finish with Leni Riefenstahl acting as producer, director, writer, and leading lady. When the allied forces entered Germany, filming halted. Upon release after the war, it was a terrible flop.
With the news of Hitler's death, Riefenstahl fled Berlin. She had not foreseen what was to come. Her once-beloved status was gone, and she became viewed as a pariah. Riefenstahl was taken into custody by American troops and held in a detention camp. With her arrival in Salzburg Prison, she was questioned about her relationship with Nazi leaders. She maintained that she was an artist who had occasionally attended official celebrations at the request of the Nazi hierarchy. She failed to admit she had been a longtime friend and patron of Hitler and the Nazi party. She was cleared by the American occupiers and released. With the French occupation of the territory, Riefenstahl had to go through denazification hearings to ascertain her level of complicity with Hitler's regime. The first denazification hearing occurred in 1948 and found her free of "political incrimination." Upon appeal by the French military government in 1949, she was again cleared of the charges against her. The third trial conducted by the Baden Commission found her innocent of specific crimes, but classified her as a "fellow traveler" who had willingly served the Third Reich. The ruling was extremely controversial since witnesses had testified that she had used gypsy prisoners to work on her film Tiefland. Moreover, two days prior to the ruling, Revue released the photos at Koskie, which placed Riefenstahl at the murders, which conflicted with her admission of ignorance. Nevertheless, her status was upheld, and Riefenstahl was free to work again since the classification of "fellow traveler" carried no prohibitions or penalties.
Although Riefenstahl was able to avoid any reprisals for her relationship with the Reich, her career suffered and her reputation was ruined. No film company would associate with her; she was, in essence, ostracized from the movie picture industry. It was not until 1962 that Riefenstahl made a comeback with her "discovery" of the Nubas in the Sudan. Rather than film the tribe, Riefenstahl turned to photographs. Her work with "her" Nubas led to the publishing of two books. In 2002, she again reinvented herself with her work on underwater photography releasing her documentary on life in the oceans, Underwater Impressions. A year later, Leni Riefenstahl died of cancer and ended a brilliant yet controversial career.
Until her death, Leni Riefenstahl maintained that she was guilty of nothing but being an artist. Many argued that her love of art led her to an obsession to create perfection at any cost. Her unwillingness to see "the real Hitler" and her own ambition allowed her to become a successful director at a time when women were relegated to domesticity, but eventually at a cost. Like many others in Nazi Germany, Riefenstahl chose to ignore the atrocities surrounding her.
Resources
Leni: The life and work of Leni Riefenstahl

. Alfred A. Knopf

New York

.
. 2007.
Leni Riefenstahl

. Twayne Publishers

Boston

.
. 1980.
Hitler's women

. Routledge

New York

.
. 2001.
The wonderful horrible life of Leni Riefenstahl

. 188 min. Kino Video, Videocassette.
. 1993.
Leni Riefenstahl: A life

. Faber and Faber

New York

.
. 2007.