Topic Page: Ride, Sally (1951 - 2012)
---
Definition: Ride from Merriam-Webster's Collegiate(R) Dictionary
---

Summary Article: Ride, Sally
from The Multimedia Encyclopedia of Women in Today's World
Sally Ride (1951– ), the first U.S. woman in space, is the founder, president, and CEO of Sally Ride Science (SRS). Part of the mission of SRS is to make a difference in girls' lives and in society's perceptions of their roles in technical fields. Ride is concerned about the underrepresentation of women in the sciences. Her efforts focus on middle-level students, since girls often lose interest in the sciences at this time in their lives. Ride wants to bring the excitement and fun of science to young people. A key goal is to encourage women to pursue their interests in science.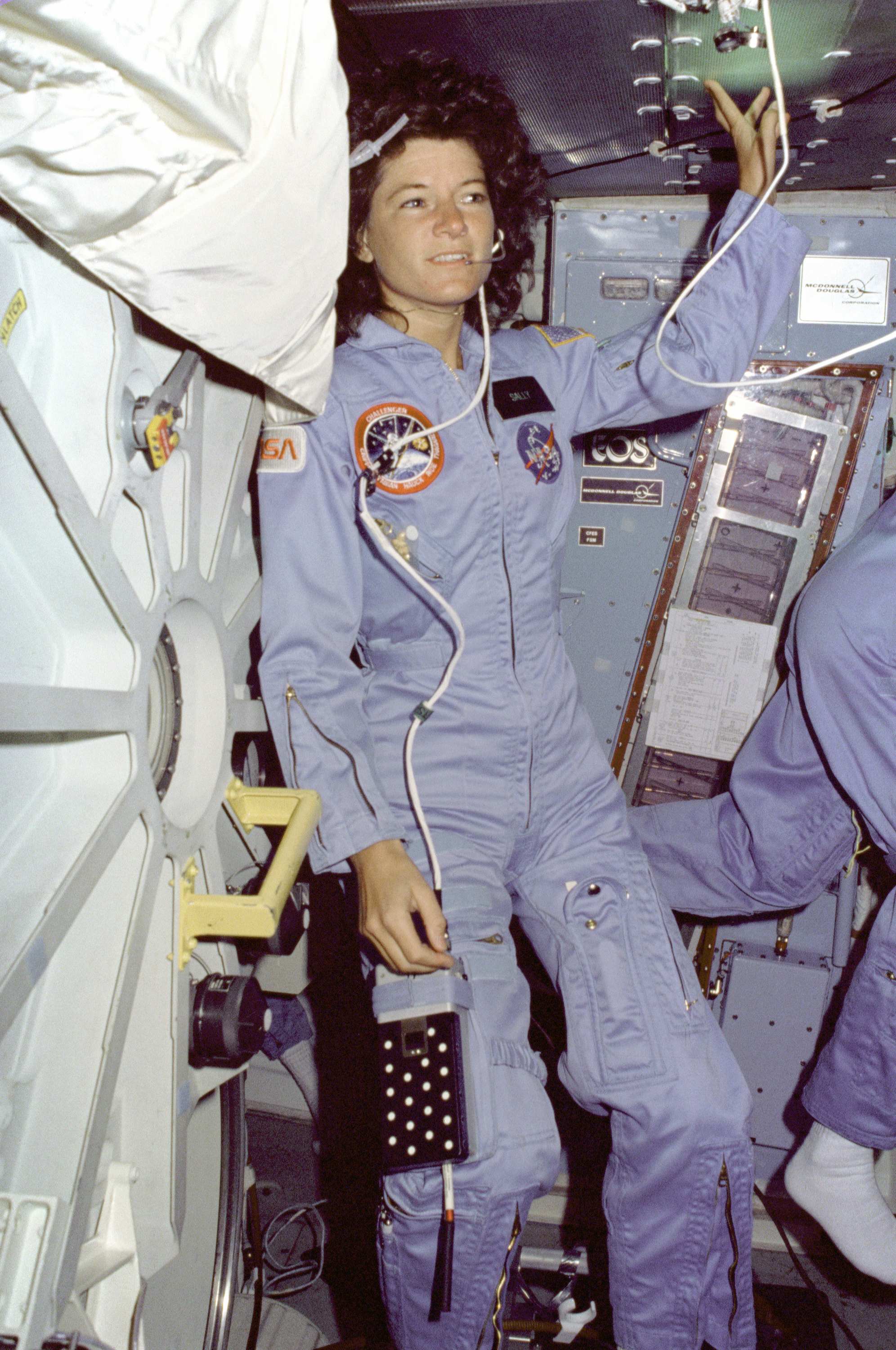 The Website for Sally Ride Science details the company's extensive array of activities. Accordingly, SRS hosts programs, events, and workshops, as well as providing curriculum, resources, trainings, and publications, to further the interest in science. Sally Ride Science Festivals include opportunities for girls, their parents, and teachers to attend workshops, hear a featured speaker, meet scientists and engineers, and have fun at a street fair. Hands-on activities, music, and food are part of the festival. Festivals are held throughout the United States on university campuses.
Sally Ride Science sponsors TOYchallenge. This event is designed for fifth-to eighth-grade girls and boys. The challenge is to create a new toy or game. Through the hands-on process of creating the toy, participants learn about science, design, and engineering. Science camps are another aspect of Sally Ride Science. Camps for girls in the middle grades provide opportunities to discover, explore, and experience hands-on science and to make new friends.
Sally Ride Science publications are designed for upper elementary and middle school students, parents, and teachers. Classroom kits of supplemental science materials that include activities and nonfiction science career books are available as well.
Awards and Achievements
Sally Ride received a bachelor of science in physics and a bachelor of arts in English in 1973, a master of science in physics in 1975, and a doctorate in physics in 1978 from Stanford University. She was mission specialist on STS-7, aboard space shuttle Challenger that launched on June 18, 1983, and on STS 41-G, aboard space shuttle Challenger in 1984. Dr. Ride was training for a third mission, but it was suspended due to the space shuttle Challenger accident. Her time in space included 147 hours for the first mission and 197 hours for the second mission.
Dr. Ride created the U.S. National Aeronautics and Space Administration's (NASA's) Office of Exploration for long-range planning and prepared the Leadership and America's Future in Space report during her time at NASA. She joined the faculty of the University of California in San Diego in 1989 as a professor of physics and director of the University of California's California Space Institute.
She served as the president of Space.com, a Website focused on all aspects of space. She created NASA's EarthKam project. This project allows middle school through college students to take pictures of natural phenomena on Earth from cameras aboard the NASA space shuttles. The photos are then downloaded to the Internet, and the images of Earth from space are then available to students.
She is the author or coauthor of the following books: Mission Planet Earth: Our World and Its Climate—and How Humans Are Changing Them (2009); Mission: Save the Planet: Things YOU Can Do to Help Fight Global Warming! (2009); Exploring Our Solar System (2003); The Mystery of Mars (1999); The Third Planet: Exploring the Earth from Space (1994); Voyager: An Adventure to the Edge of the Solar System (1992); and To Space and Back (1986).
Her awards include induction into the National Women's Hall of Fame, Astronaut Hall of Fame, California Hall of Fame, and National Aviation Hall of Fame. She received the NCAA's Theodore Roosevelt Award, the highest honor presented to a former student-athlete, the Jefferson Award for Public Service, and the Women's Research and Education Institute's American Woman Award.
See Also:
Astronauts, Female, Physics, Women in, Science Education for Girls.
Further Readings
Mission Planet Earth: Our World and Its Climate

. New York:

Flash Point

, 2009.
and
Sally Ride: The First Woman in Space

. New York:

Crabtree Publishing

, 2010.
Sally Ride Science

.

http://www.sallyridescience.com

(accessed January 2010).
Related Articles
---
Britannica Concise Encyclopedia
(born May 26, 1951, Encino, Calif., U.S.—died July 23, 2012, La Jolla, Calif.) U.S. astronaut. She received a Ph.D. in physics from Stanford Univer
Chambers Biographical Dictionary
1951- ♦ US astronaut, the first US woman in space Born in Los Angeles, she was educated at Westlake High School, Los Angeles, then enrolled at Stanfo
The Penguin Biographical Dictionary of Women
She is flying with us because she is the very best person for the job. There is no man I would rather have in her place. ...
See more from Credo