Topic Page: Reid, Harry, 1939-

Summary Article: Reid, Harry
from Congress A to Z
The 2006 midterm elections that brought Democrats back in control of Congress made Harry Reid, a Nevada Democrat, the most powerful member of the Senate. Previously the party's minority leader, he became in 2007 the new majority leader. Reid became known for his well-honed understanding of Senate procedures as well as a penchant for making intemperate remarks that occasionally landed him in trouble.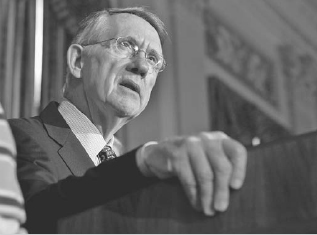 In the first year of the new Congress, Reid and the Senate in fact accomplished little other than passing a handful of proposals that had GOP support or no chance of getting President George W. Bush's approval. To a significant extent, this unimpressive record reflected the focus in both chambers on Democratic efforts—supported by some Republicans—to wrest full control of the intractable Iraq war away from Bush, or at least to set the United States on a clear path to end its combat involvement. By the end of the year, that effort remained unfulfilled.
With the election of Democrat Barack Obama as president, Reid was able to move large chunks of the new president's agenda into law. In 2010 alone, he notched several significant accomplishments. He helped get the patient protection and affordable care act through the Senate, along with an overhaul of financial services regulations, a massive tax-cut compromise package, and a repeal of the military's "Don't Ask, Don't Tell" policy prohibiting openly gay soldiers from serving. He also won ratification of a nuclear arms treaty with Russia. But he drew blame for being unable to make progress on other major initiatives, such as immigration reform and a climate-change measure that passed the House.
Reid often quarreled with Bush, at one point calling him a "loser," and said in 2007 that the war in Iraq was lost. He continued to make what were characterized as damaging gaffes, such as declaring in 2010: "I don't know how anyone of Hispanic heritage could be a Republican." He also criticized Minority Leader Mitch McConnell over the GOP's frequent reliance on filibusters but refused to accede to major rules changes on the filibuster. (See filibuster.)
Though he promoted basic Democratic issues, Reid often consulted conservatives with whom he shared some beliefs on social issues. A practicing Mormon, Reid often voted with Republicans in favor of restrictions on abortion. A defender of his state's economically important mining industry, he could be skeptical of new environmental controls.
Before being elected leader, Reid was the party's second-in-command as the whip for six years under Tom Daschle, the former Senate minority leader. When Daschle was defeated for reelection in 2004, Reid quickly got commitments to become the party's leader.
Reid grew up in a cabin without plumbing in the tiny mining town of Searchlight, Nevada, on the edge of the Mojave Desert. His mother was a high school dropout who took in laundry to support the family; his father was an alcoholic miner who killed himself at fifty-eight. As a young man, Reid was an amateur middleweight who sometimes sparred with pros in exhibition fights.
Reid boarded with families forty miles away in Henderson to attend high school, where he became student body president. He later attended Utah State University and earned a law degree at George Washington University in Washington, D.C., while moonlighting as a U.S. Capitol police officer.
Reid returned to the West and served in the Nevada Assembly and later as lieutenant governor. In 1982, Reid won the first of two terms in the U.S. House. He lost a 1974 bid for the Senate, but in 1986 he tried again and won with 50 percent of the vote.
The 1986 vote was not his only close call. In his 1998 campaign, Reid won by only 428 votes over Republican John Ensign, a House member from Las Vegas, in a bitter contest. Reid called Ensign "an embarrassment to the state," and Ensign described Reid as an "old card shark." After Ensign was elected in 2000 to the state's other Senate seat, the two reconciled. In 2004, Reid easily defeated Republican Richard Ziser, an activist against same-sex marriage, for a fourth term. Six years later, however, Reid faced another tough opponent in Sharron Angle, a favorite of the limited-government tea party movement. Angle took advantage of widespread antigovernment sentiment in 2010 and criticized Reid for representing the entrenched Washington establishment. Reid fought back by highlighting Angle's numerous controversial statements and mobilized parts of the state's Democratic base to win reelection by five percentage points.
Related Articles
---
Encyclopedia of Social Media and Politics
Mitch McConnell was elected to the U.S. Senate in 1984 as a Republican from the Commonwealth of Kentucky. In 2006, he became the minority leader of
Encyclopedia of Politics of the American West
Sen. Harry Reid (1939–), D-Nev., has been a U.S. senator since 1987 and became Senate Majority Leader in 2007, making him that body's most powerful
See more from Credo