Topic Page: Pułaski, Kazimierz (1747–1779)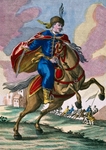 Summary Article: Pułaski, Kazimierz (1747–1779)
from 500 Great Military Leaders
Polish patriot and Continental Army officer. Kazimierz (Casimir) Pułaski was born in Masovia, Poland, on March 4, 1747, a son of Count Jozef Pułaski, a noted jurist and Polish patriot who sought to limit encroachments by Prussia, Austria, and Russia. Kazimierz Pułaski was well educated. He and his two brothers were raised in a military environment and decided to follow in their father's footsteps. Angered by the cruelty of Russian occupation and the duplicity of Polish king Stanislaw II, Pułaski led a heroic, if ill-fated, uprising. He staged a successful defense of Berdichev in the spring of 1768 and subsequently undertook guerrilla operations against Russian units near the border with the Ottoman Empire.
Pułaski's defense of the fortified monastery at Czestochowa (1770) won him renown throughout Western Europe. However, in May 1772 armies from Prussia, Russia, and Austria invaded simultaneously and began partitioning Poland. Pułaski fled first to Saxony and then to the Ottoman Empire, where he tried without success to instigate a war between it and Russia. Learning that his Polish estates had been confiscated, Pułaski immigrated to France in 1776, penniless and broken.
In Paris, Pułaski was introduced to Silas Deane and Benjamin Franklin, representing the Continental Congress during the American Revolutionary War (1775–1783). The United States was in dire need of experienced, professional soldiers, and Franklin prevailed on Pułaski to join the cause. Pułaski sailed to Boston in the spring of 1777, and Continental Army commander General George Washington took Pułaski on as a volunteer aide.
Pułaski fought well in the Battle of Brandywine (September 11, 1777), and on Washington's advice Congress elevated him to brigadier general and chief of the Continental cavalry. He was only marginally engaged at the Battle of Germantown (October 4, 1777) but thereafter caused considerable dissent by agitating for higher rank.
Pułaski remained with the army during the winter at Valley Forge (1777–1778), although he bickered constantly with Brigadier General Anthony Wayne and subsequently refused to serve under him. At length, Pułaski resigned as chief of cavalry and in March 1778 petitioned Congress to raise an independent body of cavalry and infantry known as Pułaski's Legion. This force, consisting of 66 lancers and 200 soldiers, was recruited primarily from German deserters at Baltimore and was almost completely staffed by foreigners. Pułaski tried hard but failed to make it an elite strike force. In its first battle, outside of Little Egg Harbor, New Jersey (October 4, 1778), the unit was roughly handled by a British regiment and lost 50 men. Afterward, the legion was deployed in a quiet sector along the upper Delaware River. Pułaski grew disillusioned by garrison duty, argued with superiors, and was ready to resign his commission and return to Poland when he was ordered south in February 1779.
Pułaski arrived at Charleston just as British forces under Major General Augustin Prévost were about to attack. Pułaski's unit was defeated in its second battle (May 11, 1779), but Pułaski bought the Americans sufficient time to reinforce the city and hold it. Soon afterward, Major General Benjamin Lincoln arrived to take charge of Continental forces and prepare for joint operations with the French against British-held Savannah. Pułaski took command of both French and American cavalry units throughout that siege (September–October 1779). Running low on supplies, Lincoln gambled everything on an all-out assault against British lines (October 9), in which Pułaski was mortally wounded by grapeshot. Carried aboard the brig Wasp, he died at sea en route to Charleston on October 11, 1779.
Pułaski was a brave soldier whose record in Poland was far more distinguished than that in America. However, despite his often quarrelsome and arrogant disposition, Pułaski fought fearlessly for the American cause. Fort Pulaski in Georgia was named in his honor.
Further Reading
Casimir Pulaski: Cavalry Commander of the American Revolution

. Polonia

El Paso TX

, 2001.
.
A Nest of Rebel Pirates: The Account of an Attack by the British Forces on the Privateer Stronghold at Little Egg Harbor

. Batsto Citizens Committee

Batsto NJ

, 1993.
.
Casimir Pulaski: A Hero of the American Revolution

. Hippocrene Books

New York

, 1994.
.