Topic Page: Ponce de León, Juan, 1460?-1521
---
Definition:
Ponce de León, Juan
from
Philip's Encyclopedia
Spanish explorer. A veteran of Columbus' second voyage, he conquered Puerto Rico for Spain (1508-09), and in 1513 led an expedition to explore rumoured islands north of Cuba. He reached land near what is now St Augustine, Florida, USA. In 1521, he returned with a colonizing expedition and received an arrow wound from which he later died.
---

Summary Article: Ponce de León, Juan
from Conflict in the Early Americas: An Encyclopedia of the Spanish Empire's Aztec, Incan, and Mayan Conquests
A Spanish soldier and explorer, Juan Ponce de León was born sometime in 1460 in San Sérvas de Campos, Spain, the illegitimate son of a noble family of modest means. As a young man, he became a soldier, and in the early 1490s he fought against the Muslims (Moors) in the southern part of Spain. In 1493, Ponce de León set sail for the New World on Christopher Columbus's second voyage to the Americas. He did not return to Spain with Columbus but stayed in the Caribbean and in 1502 settled on what is now Hispaniola. In 1504, he became the governor of Salvación de Higuey province on Hispaniola. There he made a comfortable profit by selling cassava bread to passing ships headed for Spain seeking fresh food.
In 1508, Ponce de León, while purportedly searching for gold, began the conquest of the island now called Puerto Rico. He went on to serve as its governor beginning in 1509, in the process amassing a fortune via gold and land speculation. Initially well received by the native population, Ponce de León gained a notorious reputation there for him and his dog, which was credited with discerning between friendly and unfriendly Indians. His ensuing brutal treatment of the natives in Puerto Rico resulted in his ouster in 1511. That same year, the natives of the island rose up against Ponce de León's lieutenant, Cristóbal de Sotomayor. While the uprising failed, the indigenous people managed to kill Sotomayor and his son. Meanwhile, the Spanish Crown granted Ponce de León the right to find, explore, and conquer the island of Bimini (in the Bahamas) in 1512.
Ponce de León's interest was captured by reports of the island of Bimini to the north. What he sought in this new opportunity is debated. Tales of a fountain of youth have little to sustain them. It is more likely that, with his plantation declining in profits and his previous sources of indigenous slave labor depleted, he was looking for new sources of cheap laborers. Certainly, his later actions of capturing Florida Indians for use as slaves helps support this rationale.
With the support of the king, Ponce de León set sail to the northwest from Puerto Rico with three ships. He first sighted the Florida Peninsula on March 27, 1513, naming it Pascua de Florida (Feast of Flowers) because of its discovery on Easter Sunday. Seeking further profits in gold and native slaves on what he presumed to be an island, Ponce de León made landfall on the Atlantic coast of Florida. There, he took possession of the peninsula for the Crown. He continued south along the Florida coast, making landfall and meeting the Ais Indians who attacked his men. He charted the Florida Keys (which he named the Martyrs), and then sailed up the Gulf Coast of Florida. Again he met with hostile natives, this time the Calusas. Both tribes resided in the southern portion of the peninsula and had fallen prey to earlier slave expeditions by previous conquistadors. On his return trip from his exploration of the Florida coast, Ponce de Leon's expedition landed along the Yucatán coast.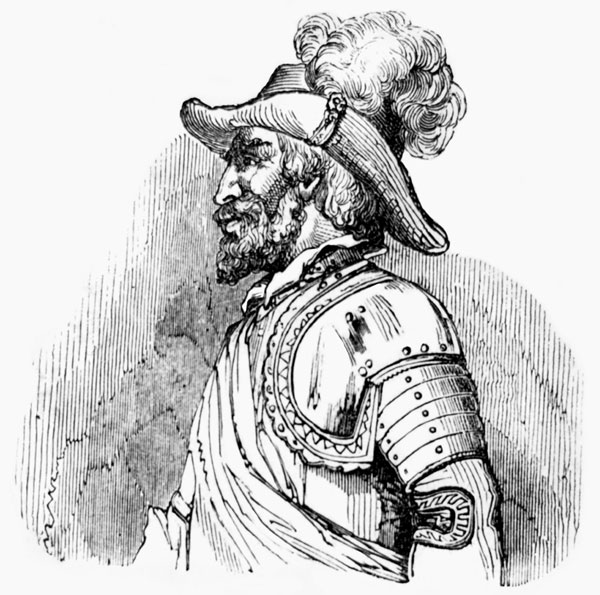 Following this expedition in search of Bimini, Ponce returned to Spain for what he had intended to be a brief visit, during which the king appointed him a captain general. Ponce de Leon received a grant by King Ferdinand to explore and settle in Florida, even bestowing the title of adelantado upon the explorer. The conquistador delayed his return to the New World for a few years, however, burdened by his wife's recent death and with the raising of his daughters. With the news of Cortés's success in Mexico, the lure of potential wealth and prestige proved too much to ignore, and Ponce again traveled to America.
Between 1519 and 1521, Ponce made several trips to Florida. He eventually charted most of peninsular Florida by 1521, though not enough to determine the land was part of a greater continent. He also discovered the Gulf Stream, a warm current of water that passes through part of the Caribbean and parallels the southeastern coast of North America. This current proved crucial to Spanish cross-Atlantic shipments of gold and other goods from the Americas.
Still believing Florida was an island, Ponce de León left for Florida from Puerto Rico on February 20, 1521, determined to reach Bimini. His expedition of some 200 men instead landed on the western coast of Florida. Ponce de León hoped to establish a Spanish colony there, but the fledgling settlement soon fell under attack by hostile natives, and the Spaniards abandoned the site in short order. Wounded during one of the skirmishes, Ponce de León died soon after arriving in Havana, Cuba, from an infection inflicted by a Calusa arrow in July 1521.
See also: Adelantado; Columbus, Christopher; Conquistador.
Resources
Juan Ponce de Leon and the Spanish Discovery of Puerto Rico and Florida

. McDonald & Woodward

Blacksburg VA

, 2000.
Galloway, Patricia

, ed

The Hernando de Soto Expedition: History, Historiography, and "Discovery" in the Southeast

. University of Nebraska Press

Lincoln

, 2005.
Accidental Explorers: Surprises and Side Trips in the History of Discovery

. Oxford University Press

New York

, 1992.
.
Conquest: Montezuma, Cortés, and the Fall of Old Mexico

. Simon & Schuster

New York

, 1993.
.
The Spanish Frontier in North America

. Yale University Press

New Haven

, 1992.
Related Articles
---
Chambers Biographical Dictionary
1460-1521 Spanish explorer Born in San Servas, he was a court page, served against the Moors and became governor, first of part of Hispaniola, then (
The Macmillan Encyclopedia
He accompanied Columbus on his second voyage to Central America (1493-96) and in 1508-09 founded the first settlement in...
Chambers Dictionary of World History
Spanish explorer. Born in San Servas, he was a court page, served against the Moors and became Governor, first of part of Hispaniola, then...
See more from Credo